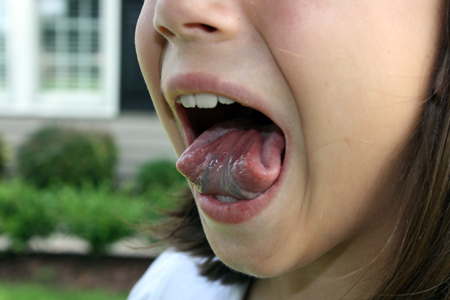 Remember my beautiful youngest daughter, Helena, and her freaky tongue that she can fold on command like a sandwich? Seriously, she slaps that thing in half faster than you can blink, which is a good thing because that means your eyeballs have a better chance at staying protected from the spittle that comes flying out of her mouth when that tongue comes splashing down.
It's like a little miniature Shamu tail living in her mouth.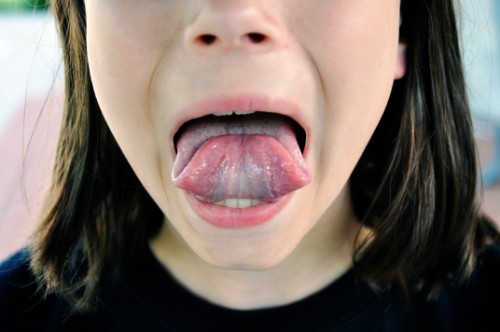 I took this photo today, just so I could show you that the practice of tongue yoga is alive and well and flourishing in upstate New York, inside Helena's mouth.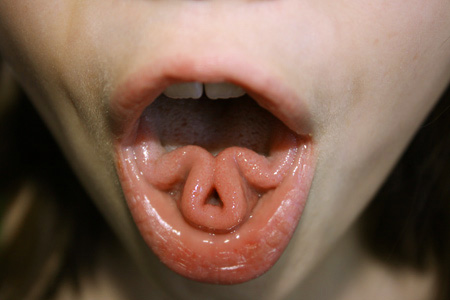 Remember the clover/flower thing she could do?
UGH.
Be careful where you step, would you? My stomach just lurched and I think it might be hanging out on the floor somewhere.
Remember I told you that no one else in our entire family could do this? Nobody in our immediate or extended family? That in our house, Helena was special? Unique? An anomaly? But this time, in a good way?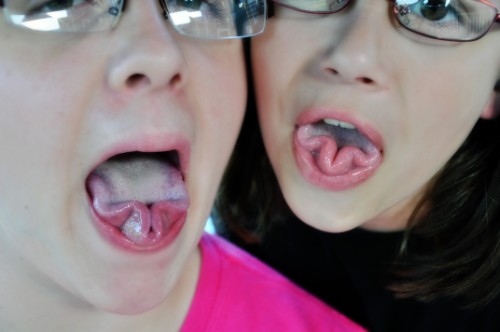 My eldest daughter, Zoe, decided to make a liar out of me today. She simply sat down and without warning, she and Helena curled their tongues in unison right in front of me, leaving me no choice but to stand there and shriek in terror while trying to adjust the focus and white balance on my camera.
It's hard to photograph stuff that makes you wig out.
Honestly, for me? Watching my kids do this is like watching aliens swoop down into their skulls and then blow raspberries at me. Double jointed raspberries.
The genetic fluke responsible for this talent must come from me because I am the only DNA my kids have in common as they have different fathers. Just so you know, in case you're new around here, I'm divorced from Zoe's dad and I'm married to Helena's dad, lest you think I'm blogging from the set of Maury Povitch while taping a WHO MY BABY DADDY segment.
So, I must be the culprit responsible for this freak show. And yet, while I can manage to roll my tongue without killing myself, I cannot get my tongue to do anything remotely like this, much to Nate's disappointment. And just in case you're still new around here, Nate is Helena's dad, lest you think I've got something going on the side and I'm blogging from the set of Maury Povitch while taping a I'M CHEATING ON MY HUSBAND WITH MY BABY DADDY, WHOEVER HE IS segment.
Don't lie now … how many of you are curling, twisting or otherwise contorting your tongue at this very moment?
And looking wildly about in a sudden panic that people on the Internet are watching you?
I just want to make sure I'm not alone.
.
.