Are you familiar with the saying "what doesn't kill you makes you stronger?" If you replace the last part with "makes you writhe in pain, become feverish and chilled simultaneously, hyperventilate, lapse into a pain-induced temporary coma, become delusional and end up feeling like a used, wet, smelly dish rag that somebody forget to wring out and left on the kitchen floor to be repeatedly stepped on" I would wholeheartedly agree because that pretty much sums up my weekend. All while we had incredible, gorgeous weather: mid-upper seventies, low humidity, blue sky and sun with white, puffy clouds and a slight, cool breeze. Sometimes, God just has a sick sense of humor.
Let's back up a bit. I was already dealing with a horrendous back spasm that had come on earlier in the week and had dropped me to my knees while sorting out laundry. I was hunched over like a 90 year old woman shuffling around the house and it got so bad that I actually popped a muscle relaxant which, within ten minutes, made me stop in mid-sentence and fall sideways onto the couch and into a coma for about three hours at which time I woke up with a huge face indentation from my glasses and felt like overcooked spaghetti for the next ten hours. I hate muscle relaxants. I wound up being driven to the doctor the next day by Nate and discussing my options for immediate pain relief with my doctor, which options are severely limited given the fact that I won't take a narcotic (they all make me throw up something fierce) and I abhor relaxants (see above) and basically, hate all medication of all kind and do everything in my power not to take any and, actually, not to visit any doctors of any kind if I can at all avoid doing so and my doctor knows this and still continues to treat me.
As a side note, I love my doctor. He's the one I go to when I get to the point that death is a viable option. He's been my doctor for the last couple of years, having been referred to him by my aunt who was eighty at the time. Every time I go there, the waiting room is filled with people of the white hair/balding/wrinkly/stooped over persuasion, making me suspicious that he took me on simply as a favor to my aunt, but it doesn't really matter because if you ignored the age difference, I actually look like a lot of them and how sad is that? My doctor is so nice, he actually apologizes when he's running late and he actually spends time with me, talking about what's happening with this decrepit body of mine and he actually listens to what I have to say. He doesn't run me out the door and dare I say it, he might actually know the color of my eyes because he takes the time to actually look at me when he speaks to me. Can I possibly use the word "actually" any more frequently?
This is the same doctor that a year ago diagnosed my aunt with a staph infection and drove her to the hospital himself in his own car and admitted her himself to ensure she was OK. The same doctor that held my hand when he diagnosed me with Bells Palsy a few years ago and told me that I didn't have to suffer through it alone, that he would be with me every step of the way and he let me lay my disfigured face on his shoulder and cry. If I could, I'd adopt him, even if he is older than me.
So anyway, while there for my back, he also diagnosed a bladder infection. That's like standing in the shop and being told your 2000 Honda Civic with 85,000 miles and an expired warranty needs about $1800 worth of work to pass inspection and before the mechanic can even finish telling you whether the car is going to be ready before your next kid's birthday, your bumper completely falls off, crashing to the ground right at your feet and even though you try kicking it under your car and acting like it didn't even happen, it does no good because he already saw it and is busy scribbling away on his estimate sheet. Stupid bladder.
So I shuffled out of there $60 lighter, with a prescription for an anti-inflammatory and an antibiotic, neither of which were wanted, both of which were necessary. And what really pissed me off is that I had to go back there three days later and pay another co-pay for a physical that I had scheduled about five months prior. Because my back and bladder just could not have waited three more lousy days before they putrified.
So I go back to my doctor for my physical and am told that my cholesterol is bordering on the high side and because he knows my reluctance for all things prescription and how hard it was for me to actually take the two from three days ago, we agreed that I would forgo medicine at this point and watch my diet for the next six months and try to lose about twenty pounds to see if that has any effect whatsoever on my cholesterol. Considering that I'm at least 35 pounds overweight, I could have kissed him. The fact that high cholesterol runs rampant in my family means that the odds that I'm eventually going to have to take some sort of medication to treat it are pretty high but still, my doctor supported my decision to hold off for now, saying that just because he's allowed to prescribe pills doesn't mean he likes to do it. I swear to God, if he had four legs and didn't shed and did his business in the toilet and flushed, he'd be sleeping at the foot of my bed this very instant.
The day after my physical was July Fourth. At about 9:00 am, I noticed my bottom lip was a bit hard and I knew immediately that a cold sore was coming on and let me tell you, I could NOT have been more pissed that this stupid thing waited until the morning AFTER my physical because I would have loved to have been able to have my doctor see it without having to pay yet another co-pay. This cold sore was the last squirt of pee atop the pile of doggie doo that was my weekend, health wise. If you remember, the weather was awesome. Let's review: God + sick sense of humor = me.
I got my first cold sore years ago and now I get them at least two or three times a year, often enough so that they've become almost like a member of our family, an unwelcome, disgusting member who drops by unannounced just before a holiday or special occasion with no estimated departure date and two pieces of luggage that she just drops in our driveway and who proceeds to puts her dirty feet on my coffee table and demand my last piece of cherry pie and who eventually leaves used tampons on the floor and a half bitten pickle in the fridge, but a member nonetheless. I think I'll name this one Bernice.
When I got my first cold sore, I had no idea what it was, because it looked nothing at all like the cold sores they show on Abreva commercials. Are they serious? A small red dot? Wait a second, I actually have to squint to see it. And that little speck is going to ruin her romantic dinner and cause her to go into hiding like a leper? And a little Abreva is going to make it disappear, allowing her to raise her glass in a toast with her date, inferring that a lot of sex, a lot of good sex, is in her future? Where do I sign up?
Do they think I was born yesterday? I was not born yesterday and the reason I know that is because it is physically impossible for brand new skin to become this spotted and wrinkly and flabby within a twenty-four period without the use of 50,000 heat lamps, a wind machine, two c-sections and a multitude of donuts, and for your information, I do not even own a heat lamp. Or a wind machine.
Abreva, get real. You have got to be kidding me. How long did your model have to sit in her makeup chair to get that speck painted on her face … three seconds? Where's the seeping, swollen, chapped, gross lip? The swollen glands? The achy face and ear? The body that feels like it's been slammed by a derailed freight train transporting hazardous waste? You want to see a real cold sore? Take note: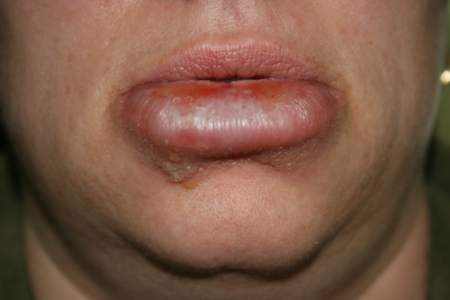 No, I am not pouting, even though I had every right to. This is what happens to my lip when I get a cold sore. This is me, about six hours after onset, coincidentally about the same time we were due at the picnic. Notice the ginormous amount of swelling of the lip and all surrounding areas? The multiple weeping blisters underneath the lip? The swollen glands? I'm not exactly sure which part of this monstrosity is the "sore." Oh, and by the way … cold sores cause double chins. I kid you not.
I bet Abreva won't be knocking on my doorstep anytime soon to model for them and there goes any chance I may have had to earn some extra money for Zoe's college education.
Did I mention that the July Fourth picnic was a picnic where I knew no one except the host/hostess so it would be my first time meeting the remaining 35 guests? You can imagine how wonderful of an experience that was for me. Luckily, everyone was exceptionally nice and waited until after I left the room to vomit into the gardens. I jest! Everyone was very nice and if they felt like vomiting, they didn't show it and made me and my big, fat, horrid lip feel right at home.
And if you feel like you're going to vomit, quick, look at this: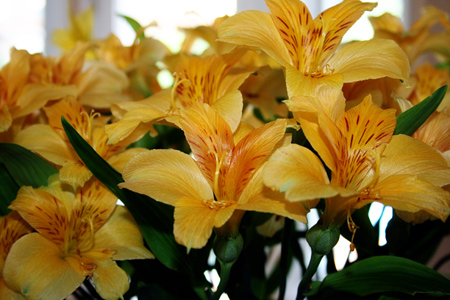 These were my anniversary flowers from Nate. Aren't they pretty?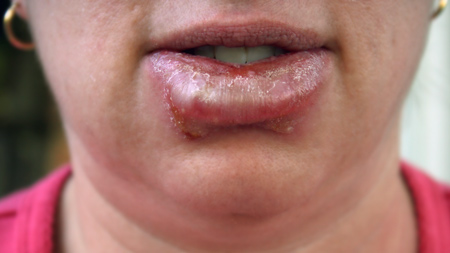 This is what my lip looked like yesterday, a full two days after the onset of the cold sore, after a mega 4 GM dose of Valtrex and after icing it for hours on end. What you can't see in this photo is the bright red swelling inside of my lip which looks like raw hamburger as it's constantly irritated by brushing up against my teeth. You also can't see the 15+ canker sores that are currently eating away at the inside of my lip. From past experience, if all goes as expected, these canker sores will, within hours, melt into one big huge canker sore that will span the width of my lip and remain there for about 24 hours. By the time you read this post today, my chapped lips will have cracked and bled over and over, the blisters will have popped and leaked multiple times and my mouth will basically look like an oily, burnt pepperoni pizza and I'm sorry if that turns you off pizza for awhile, but really, you should thank me for that as pizza is just ten pounds waiting to happen. Oh, and I can't forget the mammoth monsoon of a headache and the feeling of lockjaw that I will have by this afternoon. Just run a jackhammer over my entire body and be done with it already.
And because I care about my readers and don't want to gross you out to the extent that you never visit again, here: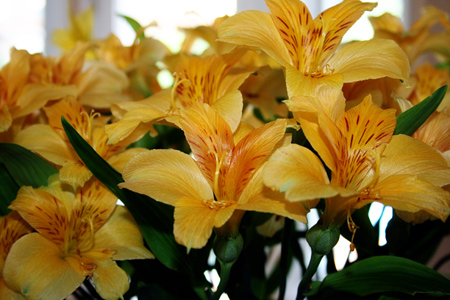 Pretty, pretty, pretty.
As you can imagine, it's very difficult to eat. Actually, it's very difficult to EXIST but eating is quite a painful adventure and the fact that this cold sore came on within twenty-four hours of being told to lose weight by my doctor is making me wonder if this cold sore thinks it's serving a purpose other than simply driving me insane. If so, it's got another think coming because despite the massive amount of crumbs currently scattered across my keyboard and my shirt, I managed to consume most of a chocolate chip cookie. It was low fat, I admit, but a cookie nonetheless. Take that, you piece of shit cold sore.
And yes, I know that in the whole scheme of things, a cold sore is simply a microscopic speck on the banquet that is human suffering but for now, it's a speck that is irritating the bejesus out of me and causing me to question my will to live.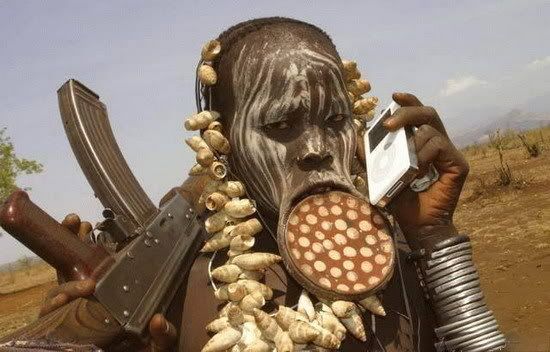 photo from www.ezakwantu.com
And while I know that this is a standard of beauty in some parts of the world, it isn't where I live so I feel it's not too insensitive of me to say OUCH. From one big-lip to another … WHY? Why stretch your lip to these proportions willingly? Mine is completely involuntary and it's killing me.
You can't tell me she's comfortable. She looks the way I feel – rather horrid. While this photo makes my stomach heave, I'm weirdly comforted by the fact that her lip is slightly bigger than mine. Regardless, I feel a big-lip kinship with her. If it weren't for the fact that she is carrying an assault weapon, and her iPod is white whereas mine is red, and she has better taste in accessories than I, we could be twins.
Where's that jackhammer I asked for?