I was so worried to have my first giveaway.
You know that nightmare? The one where you're wearing a pink wig and tassles and flippers and nothing else while playing a kazoo and riding an elephant through downtown Chicago ….
What?
Am I the only one?
Fine.
What I really meant to describe was the one about having a party and no one shows up. That nightmare. I moved that one waaaaaaay up to the top of my "Things To Wig Out About" list when I first considered the giveaway. And there it stayed, mentally flipping me the bird, until I saw your comments. Then I mentally broke its finger and smacked it into oblivion and yelled "HAH! SO THERE!" while sticking out my tongue and blowing a raspberry.
Not really.
But kind of.
I don't like firsts. Firsts make me nervous and clammy and sweaty and I don't do nervous and clammy and sweaty. Just ask anyone who saw me get my first zit or go on my first date or meet my first boss or have my first contraction or get my first jury summons, as well as many other firsts that I won't even mention because my mother reads this blog. In a nutshell, those were all bad hair days. Well … all of my days are bad hair days but when you add buckets of stress sweat into the mixture, they're just plain awful.
What the hell does being in a nutshell have to do with being concise, anyway?
A big, huge shout out to everyone who participated in my first giveaway! You made what could have been a very traumatic experience for me a very fun one.
Where were you guys when I gave birth?
I used Random.Org to pick the winners. Contrary to popular belief, Random.Org is not the title of my autobiography. The title of my autobiography is tentatively called For Shit's Sake, What the Hell? When I have a couple of free hours, I'm going to scribble it all down for posterity, in case posterity ever suffers insomnia and needs a sleeping aid.
Random.Org is a site that picks random numbers from a series of numbers. I just plugged in the number of entries I received (79) and asked it to spit out two random numbers at me and this is what it spat: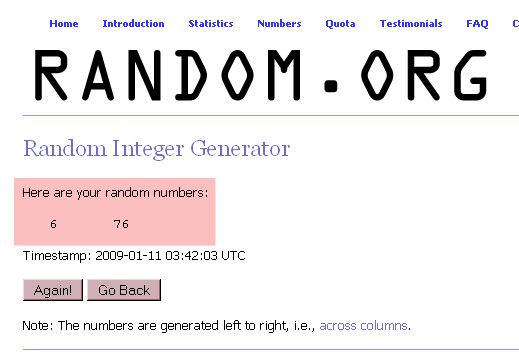 and these are the corresponding winners:


Congratulations Janelle and Kristi! Email me at admin@thecreativejunkie.com to claim your prize!
(And pssssssst Kristi … I love the 2Peas NSBR board but I lurk more than I post because my teflon coated, flame retardant, industrial strength, big girl panties are constantly in my dirty laundry basket.)
Once again, thank you so much for making this such a fun experience. I can't wait to do it again! I'm going to have to dig in my stash and see what I've got. Think anyone will want a really old sterling silver tea set missing the tea pot and held together by tarnish?
As for what to regurgitate this Sunday … well, since it's all about firsts, here's one for you: It's all downhill from here – literally.
It's about my first time skiing.
And my last time skiing.
A very, very, very bad hair day.
.