I'm not regurgitating an older post today because there has been far too much regurgitation around here lately and, as a novice dog owner, I'm still stressed out about it.
Last night, two high schoolers rang my doorbell and I almost got away with pretending I wasn't home except I'm pretty sure they they saw me drop to my knees and try to hide under our window because they waved down to me so I acted like I had accidentally slipped and when I limped to open the door, they didn't even ask me how I was or if maybe my femur was shattered and instead, they just yammered something about field hockey and then they shoved a box of candy bars in front of my face and forced me to buy one and by forced, I mean they asked me.
I immediately ate a bit of it, gave a bit to Helena and then lost my mind and set the remainder on the end table by the couch and then I left the room.
I know. I AM A MENACE TO SOCIETY AND SHOULD BE QUARANTINED SO THAT I CAN'T INFECT ANYONE.
Fifteen minutes later I was on the phone to the emergency vet, sputtering that my seven pound shihpoo had leaped a tall coffee table in a single bound and inhaled half a chocolate peanut butter bar and yes, I know that chocolate is toxic to dogs and no, I didn't give it to him on purpose because despite all evidence to the contrary, I am not an idiot and no, it's not my fault because technically, it's those stupid field hockey girls' faults because they ought to have known better than to offer chocolate to me when in ten minutes I could very well have been high from all the pain meds I'd be taking because of a possible fractured femur and therefore unable to make decisions or operate heavy machinery and don't you think offering a woman with a freshly broken thigh a sugar-laden chocolate peanut butter combo on a Saturday night when she's stuck home watching Operation Repo under the influence and there's nothing in the house to eat for dinner except a jar of pimentos and a fiber bar, both of which are way the hell over there, is a little sadistic to her puppy? And yes, I know I'm passing the buck but it makes me feel better to assess blame and WHAT THE HELL DO YOU MEAN, MAKE HIM VOMIT? LIKE, ON PURPOSE?
One minute later, Nate was running out to Wegmans for hydrogen peroxide and I was doing what any self respecting blogger would do under these circumstances which was tweeting and facebooking my predicament and including a plea for everyone to tell me that my fur baby was going to be OK and that I should stop freaking the hell out immediately.
Nate came home with the hydrogen peroxide and we chased Ollie around the house and then poured one teaspoon of the stuff down Ollie's throat and I shit you not, two minutes later he heaved up the entire contents of his stomach and I was never so happy to have big piles of vomit scattered around my kitchen floor in all my life.
Five minutes later, Oliver was totally relaxed and asleep on my lap. I, on the other hand, was so tense, you could have strung a guitar with my neck muscles.
Today, I plan on putting all of our furniture on stilts and installing Invisible Fence around each piece, just in case more hooligans knock on my door and force me to fake break more body parts.
If schools would just stop cutting their damn budgets already, puppies everywhere would be a lot safer.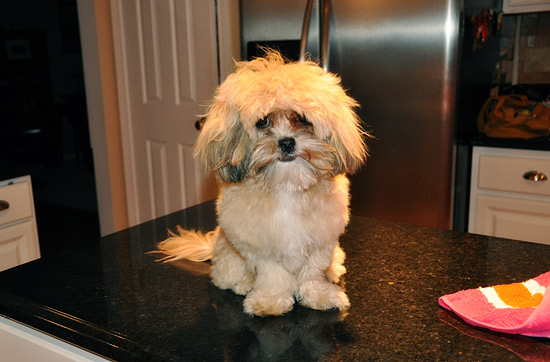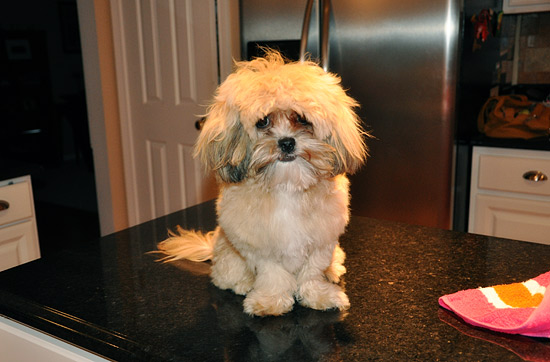 .
.