I am in the throes of waging a good war on my body, otherwise known as getting healthy and losing weight.
I won't bore you with the gory details of my battle because honestly, how many times can I find different ways of saying THIS BLOWS before I repeat myself?
Thirteen.
Just in case you're counting.
I always count and keep score and maintain precise and accurate records. They're very useful for those times when your husband whines that you guys haven't fooled around in "forever" because then, you can just whip out your handy dandy Excel spreadsheet and inform him with pinpoint accuracy as to the last time the moon was in the seventh house and Jupiter aligned with Mars, which was after he chose to answer his crackberry instead of your question but before he bought a 50″ LCD HDTV after you specifically asked him not to, making the last time you guys conjugated more than just verbs fall well short of "forever." Chew on that, Mr. Drama Queen. SO THERE.
Where was I?
No gory details of my battle scars. Instead, I'm going to concentrate on what I'm going to do after I lose the weight and win the war.
After my cholesterol levels come down from cavorting in the stratosphere and my doctor cries tears of joy rather than horror.
After my jeans fall off my new slim and trim body, right down to the floor, and I wind up mooning my entire family as I take my meatloaf out of the oven.
After I give my kids a healthy dose of eye bleach and schedule them for some therapy.
One of the first things I am going to do for my brand new body is get it a new hairstyle and by new, I mean one that doesn't look like I picked it up out of a dumpster after the homeless woman in front of me tossed it away in disgust.
I'm a natural brunette who has suffered from premature gray since I was sixteen.
Sixteen. My entire body teetering on the cusp of womanhood with the exception of my hair which was busy teetering on the cusp of senior citizenship. So in addition to carving out time in my schedule to earn A's and learn how to drive and get a job and make out with my boyfriend, I had to reserve several hours a month trying not to look like my mother.
Twenty-five years, two husbands, one teenage daughter and one wannabe tween daughter later, my hair now isn't so much gray as it is a blinding shade of HOLY SHIT, ARE YOU AWARE THERE'S A LONG, FAT ALBINO PERCHED ON YOUR HEAD? Every few weeks or so, I am mistaken for a skunk, causing people to either run screaming in the opposite direction or stand perfectly still and stop breathing. Sometimes, if they opt for the latter, I'll mess with them a little by turning around and wiggling my bottom at them, at which point they spontaneously morph into the former. This is exactly how I managed to clear all ten aisles of Staples three years ago and buy the one and only TI-84+ calculator available for sale in our district.
Coloring my hair every few weeks is not only a colossal pain in the ass but also exorbitantly expensive because it needs to be professionally done. The pearly whites atop my head are bitchy, ornery, stubborn and don't like to be told what to do and where they got that set of personality traits is beyond me so don't even go there. I mean it. Don't even. STOP EYEBALLING ME, NUMNUTS.
OTC remedies fail miserably and typically result in a rainbow of bizarre colors which have not been invented yet. The farther away they are from the color spectrum is directly proportional to the amount of tip I give my hair stylist to make me look human again.
I can't do it anymore.
I don't want to do it anymore.
I'm giving up.
Giving in.
Resigning myself.
Capitulating.
Surrendering.
Conceding.
Ceasing and desisting.
UNCLE, UNCLE, FREAKING UNCLE ALREADY.
I am going to embrace my natural alabaster-white follicled, forty-two year old mammal self.
When I get my new body, I want to spend time doing fun things with it like putting bras on without fear of asphyxiation and maybe even bending over without blacking out. I do not want to trek to the salon every few weeks and park my much smaller ass in a chair and have smelly goop slopped onto my head for two hours, only to have my roots glow in the dark and then pop up two weeks later yelling SURPRISE, LOSER in my rear view mirror, blinding me and causing a ten car pileup on I390.
So the second I am able to glance down at my toes without sucking anything in, I'm driving straight to the salon and instructing my stylist to cut off most of my hair and extract all the color from 95% of what's left, leaving it mostly stark white with little bits of black peeking out here and there. My hope is that when my naturally white hair grows in, it will blend in seamlessly and I will no longer feel compelled to yank it all out and knit a sweater with it.
This is the look I'm after, albeit much shorter: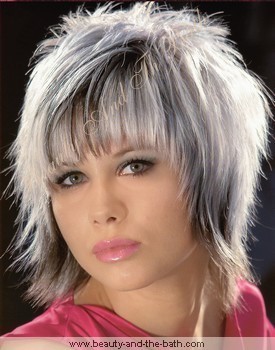 And maybe if I have time, I'll do a faceplant onto a tray of Botox syringes and score a few high colonics from the fountain of youth and then it will be just like looking in a mirror, don't you think?
And then, who knows?
Maybe that whole "birds of a feather" thing will work in my favor, even if we are both mammals.
.
.