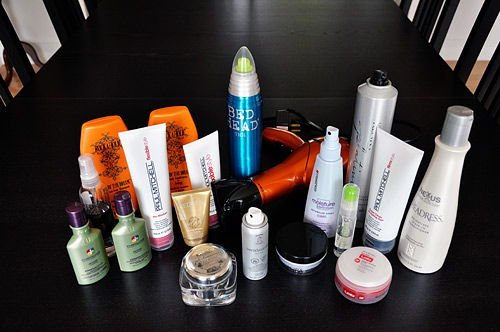 Ready? Set! Here we go:
The above photo is evidence of which of the following:
(1) That I am a hair product whore.
To clarify … I'm a professional hair product whore. Better yet, I'm a professional hair salon product whore.

What I mean to say is … I'm a whore for professional hair salon products, not a professional whore.

Not that there's anything wrong with that!

Just so we're clear … I'm not dissing professional whores. Or amateur ones either! We all have to start somewhere, right?

And by we, I mean "we as a people" not "we" as in you and me because I'm not a professional whore and you probably aren't either.

Unless you are? In which case, go you! Must be nice to have people spend money on you!

So to clarify:  (a) I am not a professional whore; (b) I am a professional hair salon product whore; (c) I'm not dissing whores; (d) I'm not calling you a whore unless you want me to because you really are one in which case, you go whore! Way to represent! And finally, (e) I think it's nice that people spend money on whores.
(2)  That when it comes to hair product, I obviously cannot make up my mind. Actually, when it comes to anything, really, although you can't really tell that from this photo. Can you? Regardless, I am indecisive. Or wishy-washy. Unsure? Ambivalent? No, it's indecisive. Definitely indecisive. Wait! Maybe vacillating?
(3) That I am gullible, susceptible, or otherwise easily influenced, persuaded, convinced or whatever synonym describes a beauty advertiser's wet dream. In a nutshell, it if were made to smell like lemon drops and packaged in something shiny and neatly stacked on the shelves of ULTA or Sephora, I would buy my own poo, even if I didn't have a coupon and it wasn't on sale.
(4) Is anyone still reading this?
(5) If you made it this far, I'm sorry I called you a whore. Even though I don't think I did, really? But I apologize, nevertheless. Because I'm nice like that. You know what else would be nice? If we lived in a world where we could call each other whore and not be insulted. I mean, whores are people too and they need awesome looking hair, just like the rest of us. In fact, they probably need it more than us, when you think about it. Who wants a whore with crappy hair? And, of course, it goes without saying that by "us," I mean those of us who are not whores. Why do people say "it goes without saying" and then proceed to say whatever is supposed to go without saying?
(6) That I should not blog after taking an antihistamine.
.
.