… a big yellow chariot pulled up in front of our house, scooped up my eldest princess and carried her away to a faraway land of lockers, study halls, labs, mascara, lip liner, high heels and hotties in lacrosse and football jerseys.
A little over an hour later, a second big yellow chariot came along and whisked my youngest princess away to a different faraway land filled with desks, cubbies, pencil boxes, chapstick, flip flops, recess and disgusting cootie-filled *gag* boys.
Immediately thereafter, the skies opened up and big, fluffy, white unicorns dropped from the Heavens, floated amongst the clouds and farted lemon scented, cotton candy rainbows fringed with gold and spiked with kahlua and amaretto all around me.
For today is one of the holiest of all days in this household … the first day of school.
*cue chorus of angels*
That rush of air you just felt whipping by you was the breath I have been holding in since June.
It was a long, hot summer. And not the good kind, like, with Paul Newman or anything.
Later today, I will ponder, contemplate and reflect. And with more than a tinge of regret I will wish, as I always do every single year at summer's end, that I had been a better mom for the past two and a half months. A more patient, fun loving, less frazzled one. One with a better handle on things, the tough, sturdy kind of handle that she didn't fly off of every hour on the hour. The kind of mom who didn't care about soggy, moldy towels outside on the deck or inside on the bathroom floor. One who could fill a glass half full every single day by referring to the incessant, deafening roar of the smackdown between her kids as "miscommunication." The kind that didn't threaten to disembowel the next person who rolled their eyes or asked to be driven somewhere.
But for now, at least for the next couple of minutes or so, I'm going to take in the silence and bask in the quiet and just enjoy the fact that for the first time in a long time, someone is not telling her sister to SHUT IT, YOU LITTLE FREAK and someone else is not telling her sister to BACK OFF, YOU BIG LOSER MORON and neither of them is yelling MOOOOOOOOOOOOM! SHE STARTED IT! YOU ALWAYS TAKE HER SIDE! I HATE THIS HOUSE to their mother.
Once upon a time, I used to cry on the first day of school.
Now I cry on the last.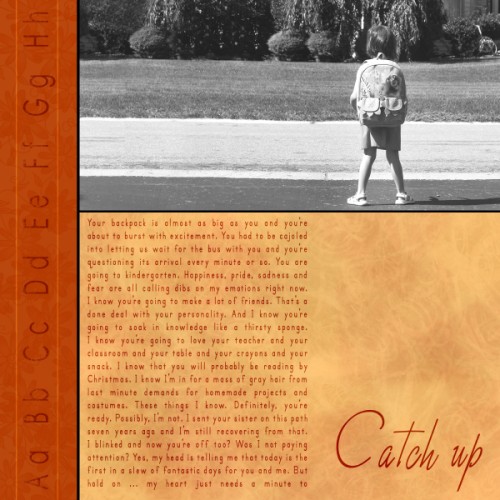 (From kindergarten 2005) —- Your backpack is almost as big as you and you're about to burst with excitement. You had to be cajoled into letting us wait for the bus with you and you're questioning its arrival every minute or so. You are going to kindergarten. Happiness, pride, sadness and fear are all calling dibs on my emotions right now. I know you're going to make a lot of friends. That's a done deal with your personality. And I know you're going to soak in knowledge like a thirsty sponge. I know you're going to love your teacher and your classroom and your table and your crayons and your snack. I know that you will probably be reading by Christmas. I know I'm in for a mess of gray hair from last minute demands for homemade projects and costumes. These things I know. Definitely, you're ready. Possibly, I'm not. I sent your sister on this path six years ago and I'm still recovering from that. I blinked and now you're off too? Was I not paying attention? Yes, my head is telling me that today is the first in a slew of fantastic days for you and me. But hold on … my heart just needs a minute to catch up.
I miss those once upon a time days.
.
.