Personally, 2011 can't come soon enough for me. Despite a few highs here and there, 2010 ultimately wound up sucking a ginormous, pus-oozing wazoo out of an ocean of thick phlegm through a really thin straw. And that's all I'll say about that.
As a blogger, I often get emails asking to buy advertising space on my blog. Sometimes I say yes, sometimes I say no, sometimes I say maybe and sometimes I say Um, could you type that louder? I'm not wearing my glasses so I can't hear what you're saying. But that's only when I'm confused which, granted, happens often but that's another blog post entirely.

Last week, I was working late and heard that unmistakable *Ding!* that lets me know an email has popped into my inbox and usually I jump up and down all around my office whenever a *Ding!* comes a-knocking because OH MY GOD, SOMEONE CARES THAT I'M ALIVE AND WANTS TO TALK TO ME but it was late and I was really tired so I simply high-fived myself and clicked over to my inbox and found this waiting for me: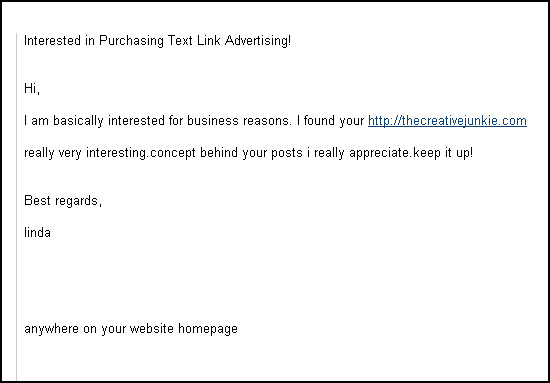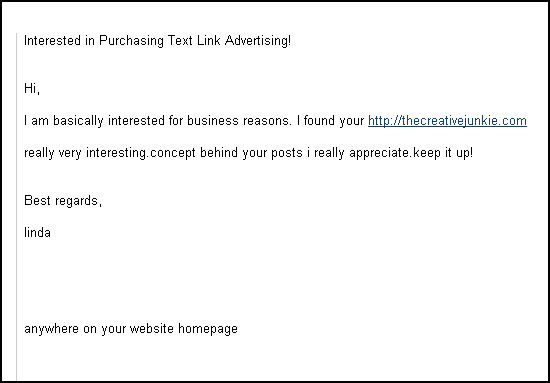 It completely reeked of spam but I was feeling generous because hey, it was the holidays and who knows? Maybe Linda wasn't some short, greasy, little Viagra-hocking assy douche noodle squatting in India somewhere. Maybe he was a recent immigrant to our country and English wasn't his native language and he was a stay-at-home mom looking for a little extra income and having trouble typing in complete sentences because he was trying to wrangle his toddler triplets who were busy greasing and flouring all the shoes in their house.
I like to give everyone the benefit of the doubt before taking a hammer and chisel to the massive boulder in my garden and forever engraving their faces on my own personal shit list or, as we like to call it here, the Mt. Rushmore of the East.
I responded to Linda, thanking her for contacting me and then providing her with my advertising policy and guidelines.
Two minutes later, *Ding!*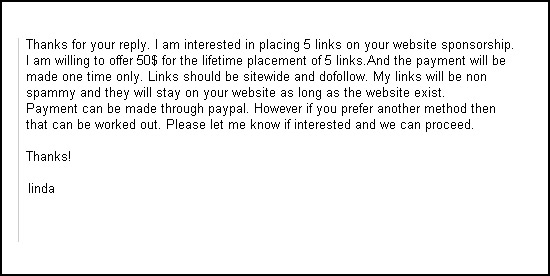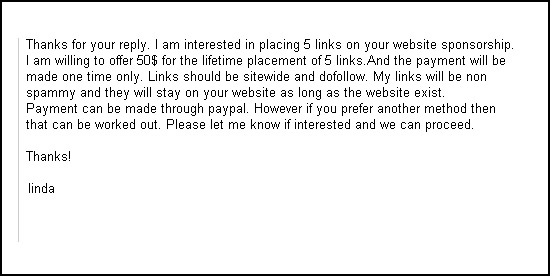 Call it gut instinct. Call it a sixth sense. Call it SOMEBODY GET MY UMBILICAL CORD FROM YESTERDAY SO I CAN SLAP HER SILLY WITH IT but I was pretty sure Linda was, in fact, an assy douche noodle. Whereabouts unknown but judging from her ridiculously low offer, I assumed it was somewhere below sea level.
But as I am not one to jump to conclusions, mostly because jumping requires effort which might result in sweat and we all know how I feel about sweating if an orgasm is not involved, I requested clarification: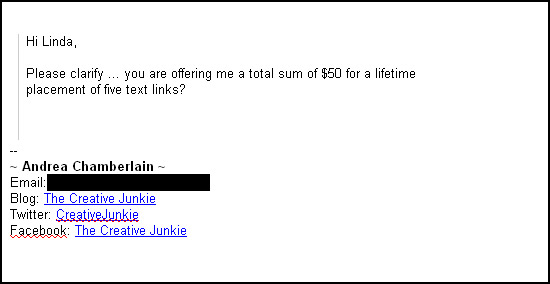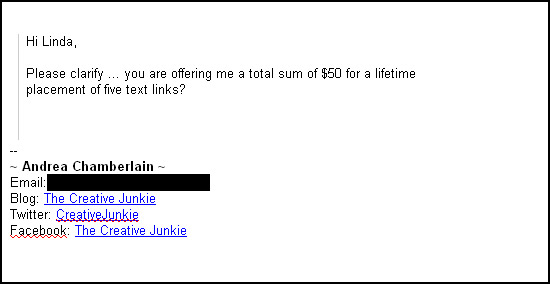 And then … *Ding!*


Subterranean assy douche noodle confirmed.
Thirty-six seconds later … *Ding!*


Ooooh! Impatient subterranean assy douche noodle, no less. One willing to negotiate.
OH MY GOD, CHRISTMAS CAME EARLY! GET READY, SANTA, I'M ABOUT TO KISS YOU WITH TONGUE.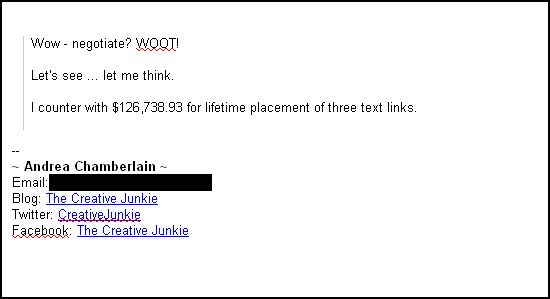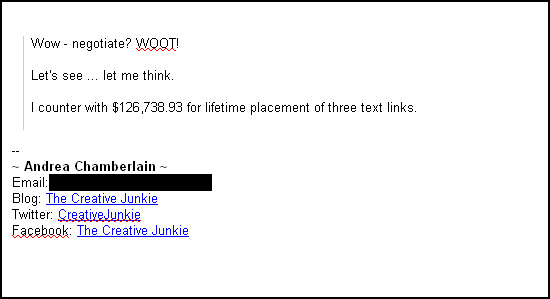 I clicked "send" and waited.
And not two minutes later … *Ding!*


Game on.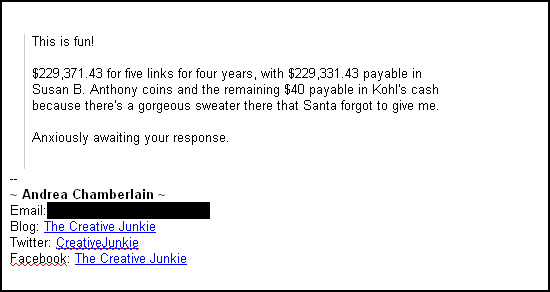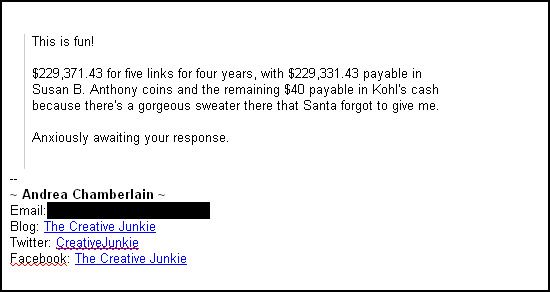 You're turn!
But then … *Ding!*


Except it was more like a … ding.
A lifeless, boring ding. With frowny faces all over it. Like a fat, bloodshot, constipated basset hound of an email shlumped into my inbox instead of the bouncy, happy, yippy, let-me-hump-your-leg-for-an-hour puppy of an onomatopoeia *Ding!*
Game over.
Hardly worth the effort.
See what I mean about potential sweaty effort without orgasms?
Disappointing, isn't it?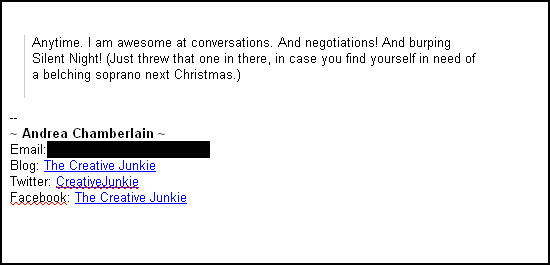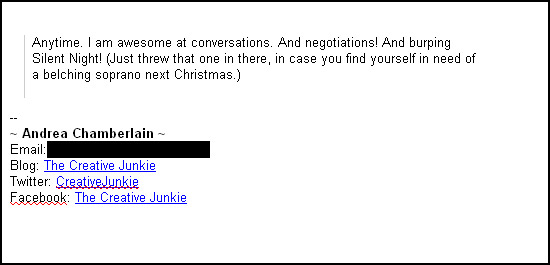 But nevertheless, I was magnanimous in my victory.
Needless to say, I didn't get a response.
Anti-climactic, to say the least, and pretty much representative of 2010.
Here's hoping for a better 2011 for all of us. May it bring us good news, smiles, laughter and lots of bouncy, happy, yippy, let-me-hump-your-leg-for-an-hour puppies of onomatopoeia *Ding!*emails.
And sweaty orgasms worth the effort.
.
.