.
** PLEASE NOTE: I'm asking for your feedback at the end of this post! **
.I have an ambivalent relationship with change.
When it comes to home decor, I love it, which explains why we have three billion nail holes in our walls and why, this weekend, our laundry room will be painted for the third time in as many weeks, much to Nate's dismay.
When it comes to everything else in life, I loathe and despise it with the heat of a thousand suns, which goes a long way in explaining why I curl up into a fetal position in aisle 7 of Wegmans when the peanut butter is not where it was last week.
Blog decor kind of falls into both categories.
On the one hand, I love to tweak it because (1) I am a tweakaholic; and (2) my blog is like my second home and just like my real home, I get a really wiggly bug up my bum every so often and feel compelled to slap a new color on its walls and rearrange the furniture.
On the other hand, I hate it because unlike my real home, this simply cannot be done with only a can of paint, a paintbrush and a husband who had better find some way to make up for the PlayStation 3 he bought last week over his wife's adamant objections.
Rather than using a blog template, I work with the Thesis wordpress theme which requires you to know a hefty amount of CSS and HTML to get it to look different than the default.
Did I mentioned that I am a CSS and HTML idiot to the tenth power? So I'm sitting here crossing my fingers and toes and hoping that this blog design is working and you all are seeing what I'm seeing and not staring at a bunch of crap that makes no sense, although I realize it may be hard to tell the difference on my blog. I hear you.
But Murphy's Law governs my every move so while I'm crossing every appendage I own and forcing my kids to assume various yoga positions with their respective fingers, toes, arms and legs, I'm going to stop short of holding my breath because I've got a bazillion things to do this weekend and I can't very well do any of them if I'm dead by asphyxiation.
You should be seeing something like this: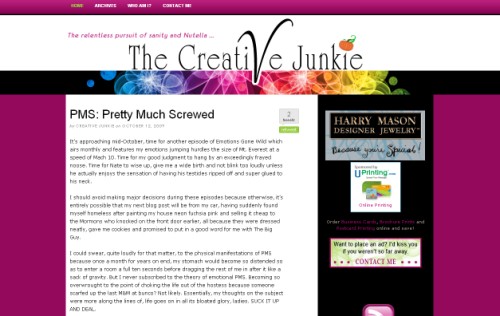 .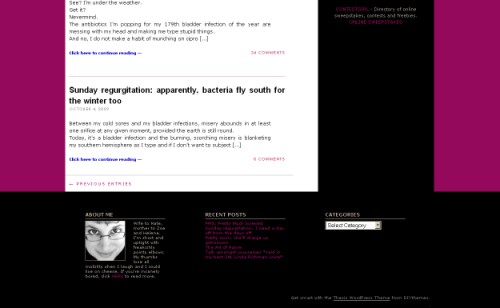 .
I know that everyone works with different monitor resolutions so some of you may not see all of the pink border on the sides, but I'm at least hoping that you can all see the header, navigation menu, posts and sidebar?
I'm going to ask you guys to do me a huge favor and let me know your opinions on this design – is it good? Bad? It has a nice personality but no way would you date it?
Would you mind leaving me a comment and letting me know what, if any, problems you are encountering on my blog? It would help me tremendously if you could tell me what browser and its version you are using and what problems you are having … can't see something? Something is cutoff or overlapping something else (if this is the case, please tell me your monitor resolution.) Links aren't working? Loads slower than my brain trying to comprehend fourth grade math? My picture is an abomination and I should go wither and die somewhere?
You can just keep that last one to yourself, if you don't mind.
I appreciate any feedback you can give me – I'd send you homemade cookies but I happen to like you and I wouldn't want to inflict that kind of pain on anyone.
Thank you!
.
.