I know I shouldn't have been, because Harry is so darn talented, but I have to admit it … I was shocked at how many of you guys were already familiar with Harry Mason and shared my obsession with his jewelry! Here I was, thinking that I finally had a scoop on something! Albeit an old scoop since I had my first eargasm back in 1988, but a scoop nonetheless!
I am now scoopless. Without scoop. Scoop barren. Devoid of any scoop.
Why can't I ever be the first to discover something? Other than my own bellybutton lint? See that loop everyone is standing in? I can't, because I'm standing way the hell over here. Three miles west of outer space.
BREAKING NEWS ALERT!
As if offering a $100 shopping spree wasn't generous enough, Harry would like to show his appreciation to all of you who entered this giveaway. So … if you entered this giveaway, please email Harry at harrymason @ harrymason . com (delete the spaces, please!) with a copy of your comment you left on the giveaway post HERE. Make sure to put the letters "BIGO" in the subject line of your email. Harry will then send you a surprise gift. I have a pretty good idea as to what the gift is and let me tell you, you do not want to miss out on it!
Honestly, Harry is like a skinny Santa, don't you think? Except with better grooming and fashion sense.
And now … on to the grand winner of the $100 shopping spree!
As of 9:00 pm eastern time yesterday, there were 584 entries to the Harry Mason $100 Shopping Spree Giveaway. I asked random.org to choose one random number between 1 and 584, inclusive, and this is what it shot out at me: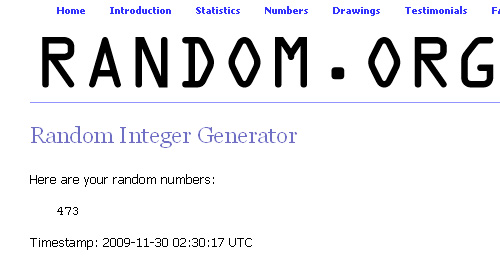 .
And the winning comment is: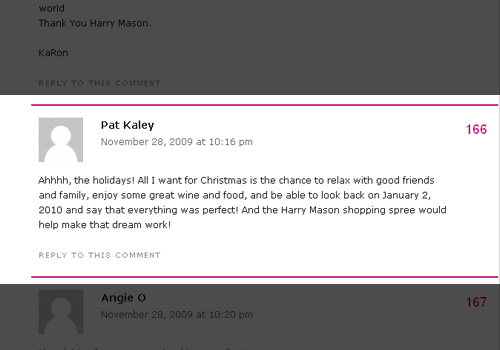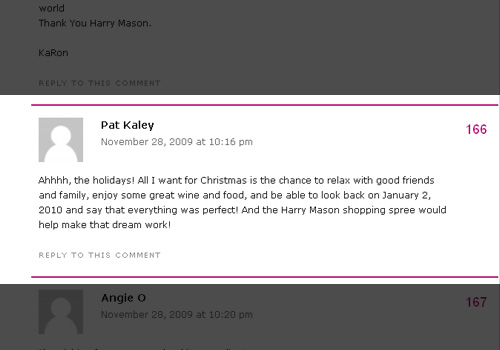 .
Congratulations Pat Kaley! Email me at admin@thecreativejunkie.com within forty-eight hours to claim your prize, you lucky little ducky!
Wait! Before you all send me emails saying HELLO, YOU ARE AN IDIOT, I realize that Pat's comment number shows as #166 which, unless you've been drinking copious amount of alcohol, does not in any way, shape or form resemble random.org's choice of #473.
Remember when I mentioned in the giveaway post that I use Thesis as my blog theme and that for reasons known only to it and to its whacked out God, it refuses to continue sequential numbering of any comments that spill over to a second page and instead, begins numbering any comments on a second page back at #1 again? So, in essence, I get two sets of comments? This is why I mentioned it – in the event whoever won wound up having a comment on the second page, which Pat did. So I have one page of comments numbered #1-307 and a second page of comments which should have been numbered #308-584 but instead, were numbered #1-277 because Thesis is an asshat. But if Thesis had behaved itself and continued to sequentially number the comments like it was supposed to do, Pat's winning comment #166 would have instead been correctly numbered as #473. In other words, 307 (comments on first page) + 166 (Pat's comment) = 473.
Whoever has not yet dropped dead out of boredom, raise your hands.
I cannot believe that I inflicted math upon you. MATH SUCKS THE FUN OUT OF EVERYTHING.
I'm sorry. Somebody go beat up Thesis for me.
For God's sake, if anyone uses Thesis and can tell me how to fix this stupid asinine feature, please tell me. Please. I will give you a million dollars, provided you accept Monopoly money. It's colorful and pretty and probably worth more than actual American dollars nowadays anyway.
To all my readers, thank you so very much for participating in this giveaway! I loved hearing what you wanted for the holidays. Some of your answers made me laugh, some made me tear up and some made me think long and hard about what's really important in life. You guys rock. Don't forget to email Harry for your surprise gift!
And a huge, profound thank you to Harry Mason for his generous spirit and his unparalleled talent. I adore you, Harry. You are one of the reasons I leave my heart in San Francisco every time I visit.
.
.