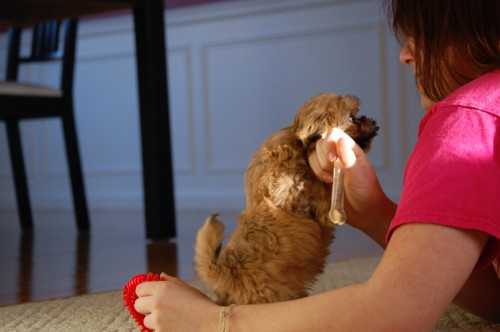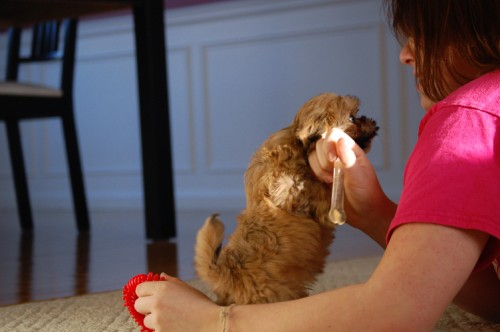 What in God's name was I smoking when I agreed to this?
Whatever it was? I'd like some more, please.
Having a puppy is almost like having a newborn baby, except that my boobs are not engorged and I can't shoot my uterus across the room by sneezing.
A newborn baby is easier than a puppy because newborn babies come with diapers.
Puppy diapers are truly an excellent idea. Someone go invent them. Thank you.
I'm worried people are going to think I shrunk a real dog in the dryer.
You can turn a tiny, happy puppy into a furious, demented hyena simply by placing him in a crate.
If you'd prefer a screeching, rabid, pissed-off, psychotic hyena instead, one who acts as if his testicles are being french braided and then pureed in a Cuisinart, place that tiny, happy puppy in a crate and then walk out of the room.
I will never take another shower in peace and quiet.
I don't remember what peace and quiet sounds like.
Puppies keep your feet warmer than fleece slippers.
There is something to be said for unconditional love that doesn't come equipped with an I HAVE NOTHING TO WEAR! WHEN ARE YOU GOING TO DO LAUNDRY? OH MY GOD, I CAN'T WEAR THIS! MY LIFE SUCKS gene.
Puppy breath smells like ass. With infected hemorrhoids.
Dog food and treats don't smell much better.
I thought I'd never meet another mammal who could produce ten times its weight in pee within a 24 hour period without benefit of a raging bladder infection.
Puppies are mammals, right?
Puppies are softer than clouds.
Puppy poop looks like milk chocolate covered pretzels.
Puppy poop on cream carpet looks like dark chocolate covered pretzels.
My carpet is scared.
I am scared.
I now know what it feels like to have my own personal stalker.
I did not think it was possible to love any living thing like I do my own kids.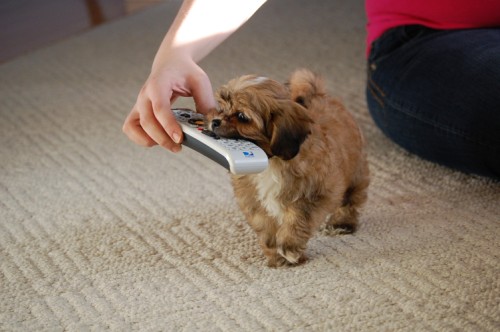 .
.