My father is recuperating nicely from the stroke he suffered last October. He is almost done with physical and occupational therapy, his left side is steadily growing stronger and he is *this* close to finishing with his walker and throwing it into the nearest sand trap. Pretty good for a man who wasn't expected to live through the night four months ago. Occasionally he'll ask Who am I and what am I doing here? But he used to do that before the stroke so no biggie and honestly, I wouldn't put it past him to ask such a thing just so he can sit back and recline, watch Days of Our Lives at 242 decibels and get out of doing the dishes. In fact, except for the broken rib sustained from the joyride he took around his office on his swivel chair that led to a tumble onto the carpet and a phone call from my mother yelling LET ME TELL YOU WHAT YOUR CRAZY FATHER JUST DID, he's doing wonderfully and we could not be happier with his progress.
One of the projects my brother and I undertook while down in North Carolina last October was getting Mom up to speed on handling all of their bills since we had no idea how long Dad was going to be whooping it up in the ICU. This was no easy task because, for as long as I can remember, Mom has approached bills and all other financial matters much the same way she approached my taste in boyfriends which is to say, she simply closed her eyes and loudly prayed for them to trip, stumble and fall off the face of the earth straight into the depths of Hell.
We knew that in order to accomplish this task, we were going to have to mess around with our father's most prized possession, second only to his golf clubs. Oh, and maybe that brown leather satchel/briefcase thing that he has used since he was an embryo and no one can fathom why. Specifically, we were going to have to tackle Dad's desk, that black metal and faux wood icon that I suspect escaped from Lou Grant's office on the set of the Mary Tyler Moore show although I can't prove it except to say that this one doesn't have bottles of booze tucked away in its file cabinets.
The top of his desk hadn't changed a bit from how I remembered it in the eighties. Stacks of papers neatly positioned on the edges. Golf figurines against the wall.  The same electronic pencil sharpener in the upper left hand corner, the one I used the morning of my SAT exam. His stapler that weighed ten pounds and approximated the size of a french baguette. The desk light that I hurriedly turned off one night so as not to get caught with my high school boyfriend when all four of our feet were not firmly planted on the floor at the same time.
Tino and I always knew our father had been something of an organizing, detail fanatic, having been tipped off at an early age when we pulled into a gas station, watched Dad pump gas and then waited as he reached into the glove compartment, pulled out a notebook, flipped past a few hundred pages and then neatly notated the date, odometer reading, number of gallons, price per gallon and total amount paid, all while we cried from the back seat WE'RE NEVER GOING TO BE THERE YET, ARE WE MOM?
The number one rule when Tino and I became licensed drivers was not, as one might think, to keep our eyes on the road and our hands on the wheel but rather, record all gas consumption. What's the point of making a fuss about veering off into oncoming traffic if you don't know how much it cost you in gas to do so?
But the extent to which my father either kept or recorded every minutia of his life was breathtaking and to be perfectly honest, impressive. I kind of wanted to fling the entire desk into my trunk and haul it to the nearest kindergarten for show and tell, maybe swinging by the ICU on my way and dragging Dad and his ventilator with me for some über cool visual aids.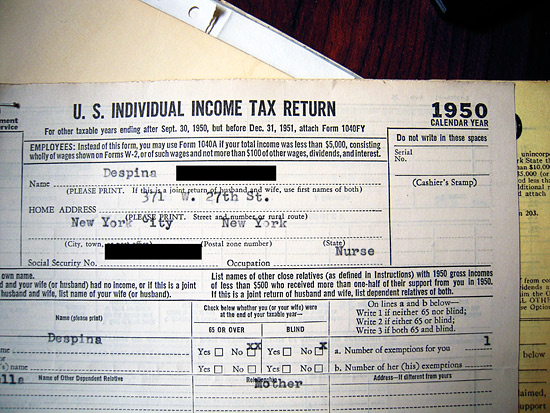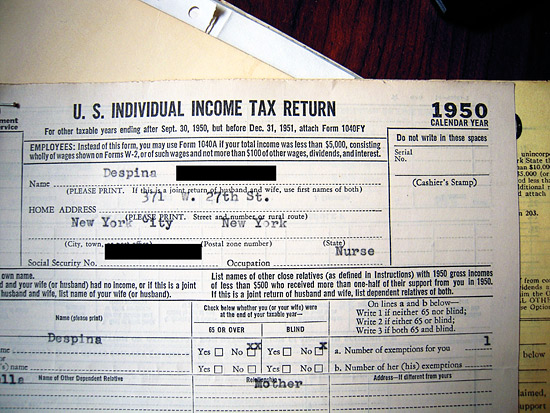 But I didn't think six year olds could fully appreciate a man who kept his wife's income tax return from 1950. Twelve full years before they even knew each other.
You never know when the great grandchildren of retired or dead IRS agents are going to get nostalgic and decide to audit you.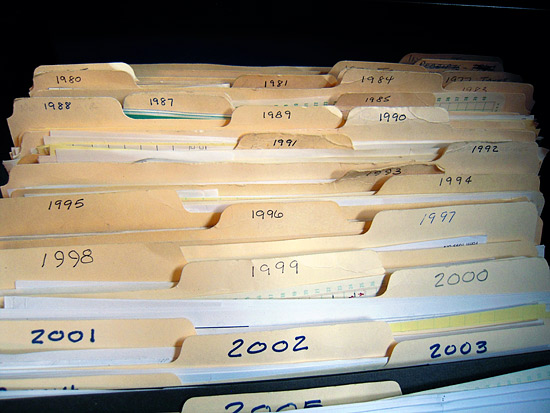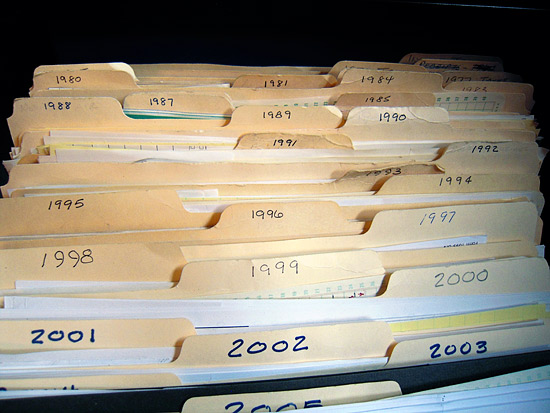 He had  miscellaneous files for every single year. You can't see them in this photo but they go all the way back to 300 B.C.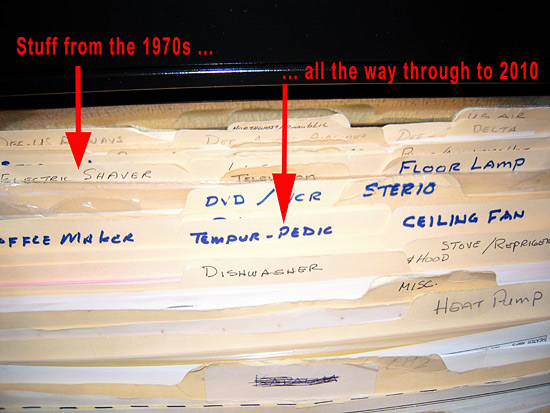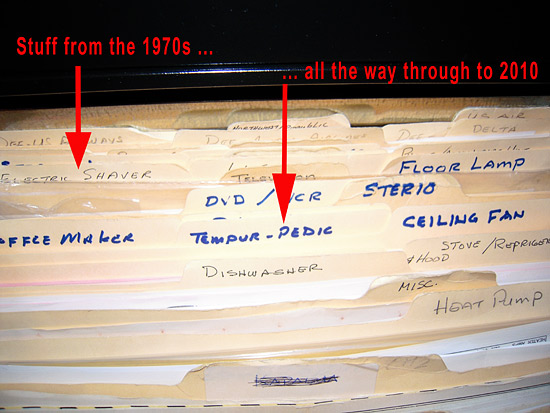 He also had subject specific folders.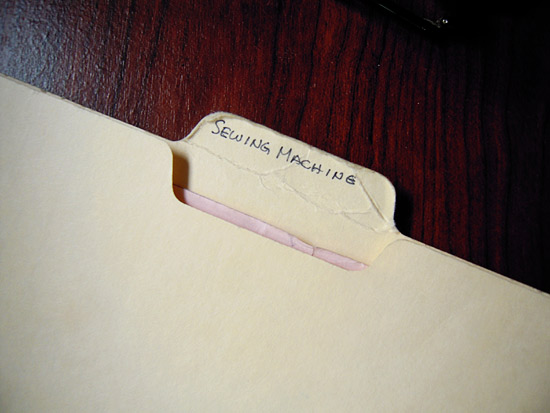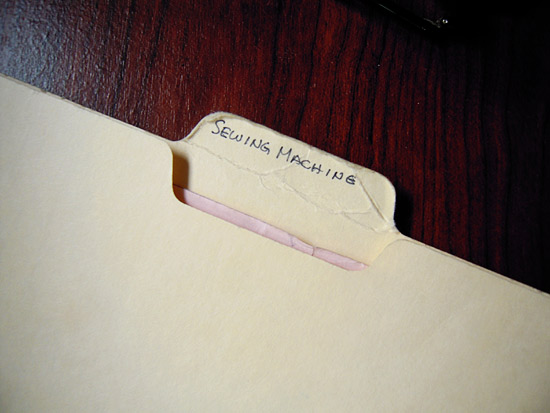 Like this one.
That contained receipts …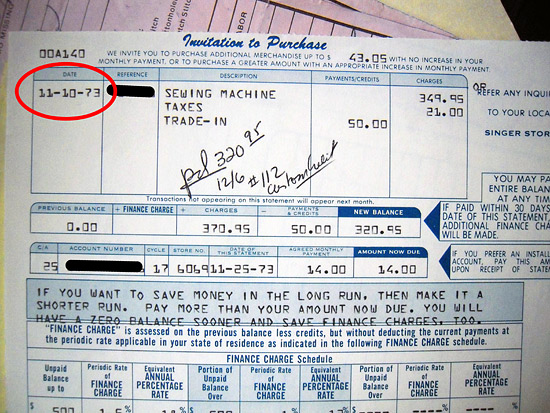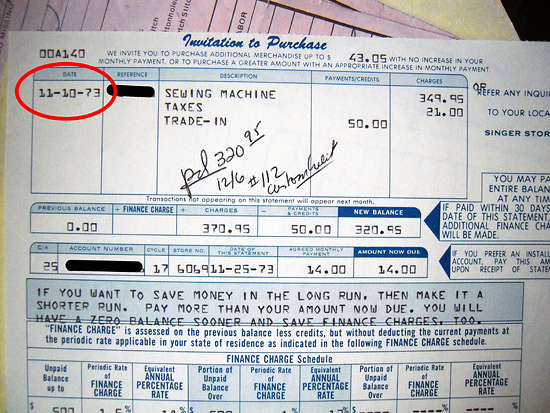 … like this one.
Mom's sewing machine from 1973.
I think that might have been the one I broke when I decided to get all homespunny and stitch some of my stuffed animals together because I wanted wall-to-wall shag carpet in my bedroom like all the rest of my friends.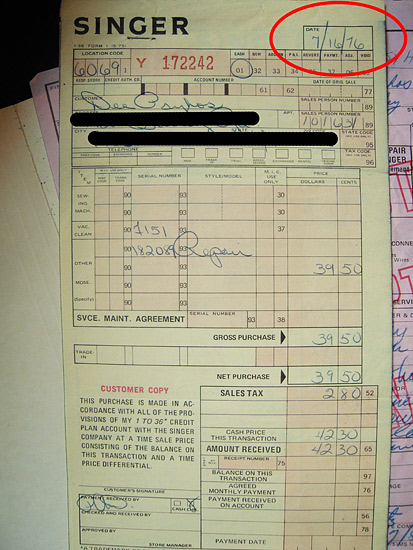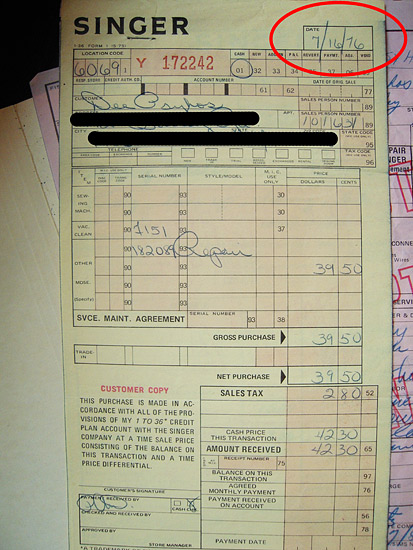 And Dad had to pay $42.30 to repair it.
I hope my junior high Home Ec teacher reads my blog. This post might help explain how the apron I made in eighth grade came to be and then maybe the lambs will stop screaming.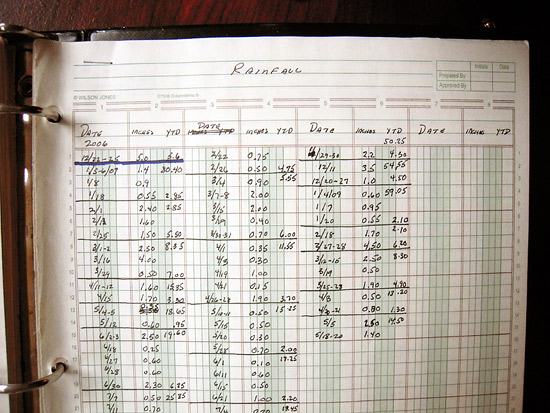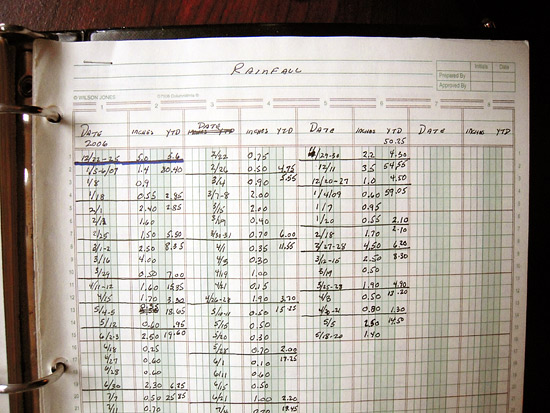 There was an entire binder dedicated to precipitation.
I photocopied the whole thing, just in case one day either one of my kids has to utter the phrase I'll take Average Rainfall in Upstate New York During the Spring of 1972 for $800, Alex.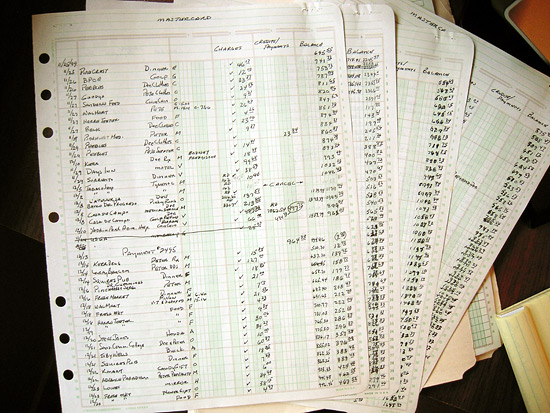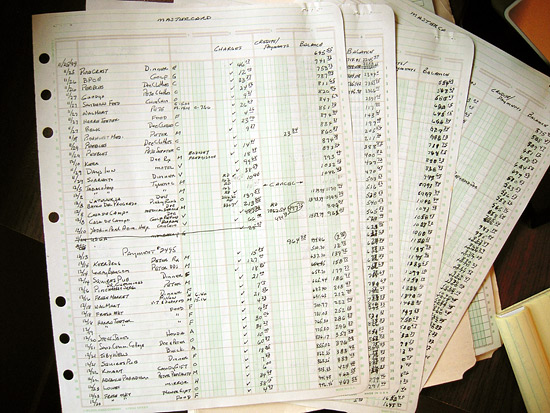 There were entire ledgers filled with years and years of credit card tracking. They were in the folder located next to the one containing years and years worth of credit card statements.
Now I know why my father was so tired all those years. Reinventing the wheel must be exhausting.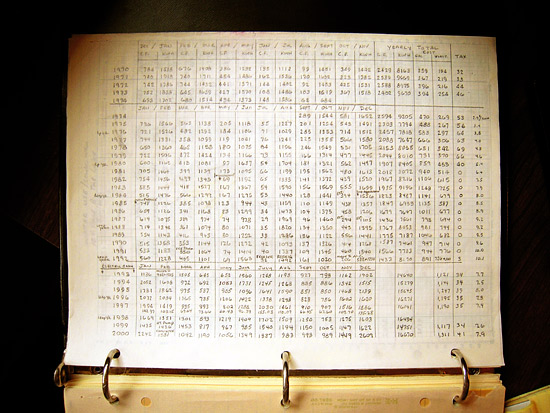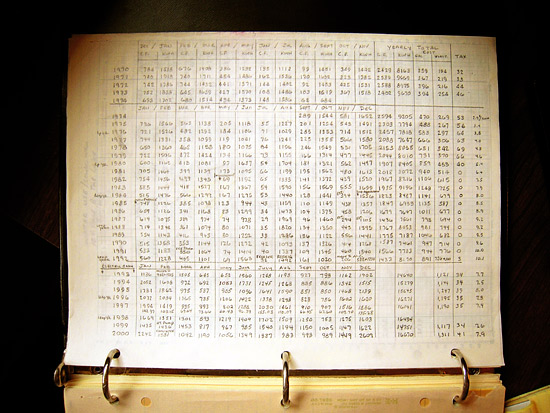 I have no idea what this spread sheet is for but it's a work of art, don't you think? There was an entire binder full of others just like it. With painstakingly handwritten, uniform numbers written in black, felt tip pen. My father's penmanship is truly a wonder to behold.
There's something very Ten Minutes to Wapner-ish about this compilation, all 11,479 pages of it.
I know I'm poking a bit of fun at my dad but I think he knows I do so out of affection but just in case he doesn't, Mom will be there to smack him upside the head and tell him so, right after she calls me to make sure. I had a ball going through this stuff. It was fascinating knowing exactly how much money my mother made a year as a nurse before she married Dad in 1962 ($2,100 a year), the price they paid for a gallon of milk in 1962 ($0.49), their monthly mortgage payment in 1978 ($289), how much rain fell on January 6, 2006 in Southern Pines, North Carolina (1.25 inches) and the total amount they paid for electric in the year 1970 ($194).
I'm not sure why my father kept these records, whether it was a desire born out of some latent OCD tendency or anal-retentive compulsion, but I'd like to think that a small part of him hoped that his children and grandchildren would one day see value in his work and get a glimpse of what life used to be like and be inspired to have a conversation. Not the kind which takes place over a wifi connection as is typical these days but the best kind, the kind that takes place around a dinner table.
Dad, I can't wait until we come down and see you in a couple of months and find out whether your efforts were as successful as I believe them to be. And if you can find your spread sheet about how much it cost you to keep your set of twins in diapers in 1968, factoring in the countless pairs that were whipped off by chubby little fingers and used to decorate bodies, walls and cribs with feces, I'll gladly do the dishes.
.
.