I'd like to thank all of you who commented on my last post and sent me emails about our family getting a puppy. So many of you offered me suggestions and recommendations and I think only a few agreed that I may have suffered a blow to the head from a wayward meteorite, except they were kind enough to phrase it as ARE YOU EFFING INSANE? And to those people I say I'M NOT SURE. LET ME ASK THE BUTTER.
After some examination, we've narrowed our search to the following:
Must be purebred (or a mix)
Must be a boy (or a girl)
Must come from a rescue (or a breeder)
Leaps and bounds of progress!
Or not.
Maybe we should just bag the research and ask the butter.
In the meantime, I'll introduce you to a puppy of a different kind, whom I shall refer to as Clarence, simply because I suck at names and if we had gone with my first choice, Zoe would have been named Cinnamon, despite my former father-in-law's dubious stare and subsequent query of "What the hell are you going to name your second? Paprika?"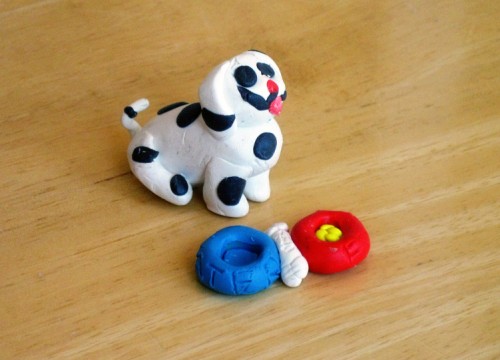 Clarence was born late last year from the imagination of my nine year old, Helena, in response to my frustrated shout of NO, YOU CANNOT HAVE A FACEBOOK ACCOUNT. GO FIND SOMETHING TO DO.
I think Clarence is a lot better than any old Facebook account. She didn't use a pattern or drawing or instructions or anything – she just stomped into the dining room, muttering something about Zoe getting all the breaks and life being one big rip-off in general and emerged a few hours later with Clarence and dog dish in hand. She plopped him in my hand, shouted I SUPPOSE I CAN'T HAVE A CELL PHONE EITHER and then ran outside, jumped in the pool and stayed under water for 43 minutes to prove her point, whatever it may have been.
And I just stared at Clarence, thinking he was a pretty damn good effort for a pissed off nine year old winging it on the fly and I sat there, wondering where in the world she got the ability to mold something so clever out of nothing and if I denied her Ugg boots, might she sculpt me some built-ins for our living room?
As I contemplated Clarence, I'm sure I had the same expression on my face that my current father-in-law had as he stared at our beautifully remodeled master bath that took Nate almost a year to finish. You know …  like maybe we should swab our kids' mouths when they're not looking and spring for a few DNA tests.
Helena asked me to bake Clarence and his dog dish so that she could give them to her teacher who is a lover of all things dalmatian and I finally did three months later because not only do I suck at names, I also suck at time management as well.
The kids are writing a list of potential names for our actual puppy and I suggested they wait until we actually get a puppy before doing so because as of yet, we have no idea what our puppy will look like and shouldn't we base its name on its appearance, as politically incorrect as that may sound?
Thankfully we humans don't practice this method with our own offspring because otherwise, Helena would have been named Wrinkly Big Lipped Squawking Pot Roast.
Which, to Nate and Zoe and everyone else who stared at me as if I had three eyeballs, would have been preferable to my first choices of Zeus and Cosmos.
But, only if she had been a boy!
I'm not totally crazy, you know.
Just ask the butter.
.
.