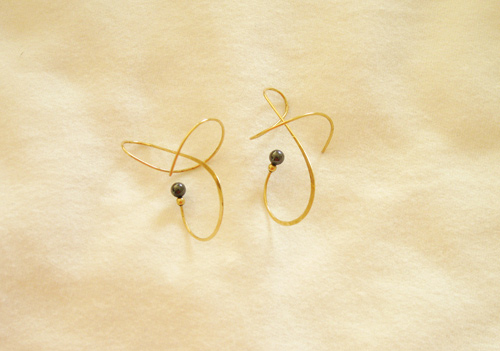 I'm feeling really awake and alert and a little smart today so I'm going to wear my Harry Mason earrings.
I don't wear these earrings if I'm feeling tired or frustrated or disoriented or whackadoodlish or batshit crazy because it takes a lot of effort and ginkgo biloba to wear these suckers since you don't put them on so much as twist, turn, roll and wind them in. You really need to be in total control of your faculties and be able to concentrate. Hence, I wear them approximately once a year.
These ain't your momma's earrings, although I'm a momma and I wear them so maybe they could be your momma's earrings, provided your momma is nothing like my momma and actually possesses a sense of direction. My momma has no sense of direction and substitutes frantic hand gestures accompanied by shouts of THERE! OVER THERE! for "left" and SHIT, WE MISSED IT for "right." These earrings would send my momma screaming off a cliff.
I love my Harry Mason spirals. I got them twenty years ago while visiting my sister in San Francisco. I had one entire day to spend at Pier 39 by myself and I spent a good portion of that day at Ghirardelli Square, mesmerized by their chocolates and another good portion of the day at the Harry Mason shop, mesmerized by their spirals. I secretly wondered how the hell you were supposed to put them on? The spirals, not the chocolate, silly! I don't wear chocolate. It messes up the sheets and melts too quickly.
Oops! I hope no one heard me type that.
The spirals confounded me at first. Where were the posts? The backs? The clasps? The little plastic and metal things that are forever losing their counterparts, getting lost on the floor somewhere and winding up embedded in the bottom of your foot as you're running around the house screaming WHERE THE HELL IS THE BACK TO THIS STUPID EARRING because your date is going to be there any second and the last thing of yours that you want him to see naked is your earlobes. And the back of your thighs, but that's a different post entirely.
Back at Pier 39, the befuddled look on my face alerted the saleswoman to my confusion. Or it could have been the what the hell are these things that I blurted out loud to myself. Either way, she came over and schooled me in the ways of Harry Mason. No sooner did she decorate my earlobe with a spiral and face me toward a mirror when my tummy did a flip flop and my vision blurred and I had a big "OH!" moment, not to be confused with the other big "O" moment which I also had as I gazed at that beautiful piece of lusciousness hanging from my ear. But I won't dwell on that because my mother reads this blog and she's probably already pissed about the cliff comment. Talking about the big "O" might cause her to go screaming off yet another cliff in the opposite direction, provided she knew what direction she was headed in the first place.
Any woman who has fallen in love with a piece of jewelry knows exactly what I'm talking about, right? The piece you've been looking for your whole life and when you find it, it fits perfectly, like it was made just for you. It makes you writhe with excitement and moan with pleasure, sweeps you off your feet and carries you on a tidal wave to a place of ecstasy and joy and almost makes you pass out.
WHEW.
Excuse me. I need a moment.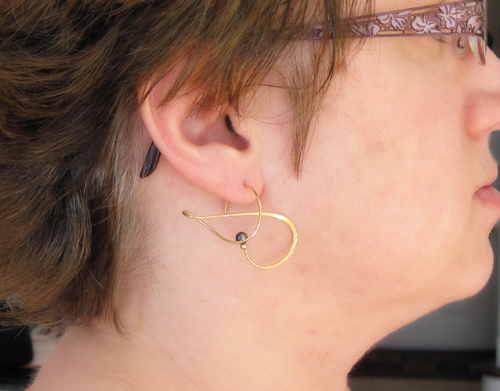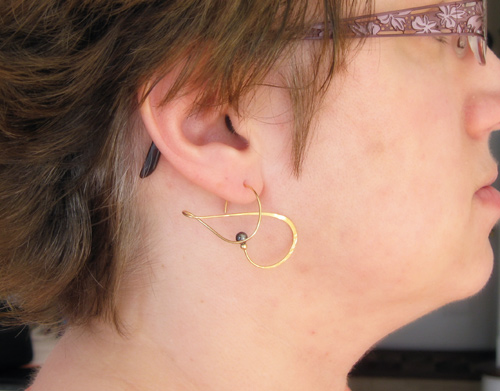 To wear a spiral, you insert it into your earlobe sideways and then gently twist it through, along the natural curve of the earring. I find it easier not to look in a mirror and just do it by feel because the mirrored image only serves to confuse me as to what direction I'm supposed to be twisting. If I try to twist a spiral according to a mirrored image, I will inevitably encounter that whole LEFT! TURN LEFT! WHY THE HELL IS IT TURNING RIGHT? AAARRGGH scenario which inevitably irritates the utter bejesus out of me.
I really don't want to annoy my bejesus. It might abandon me and where would I be without my bejesus?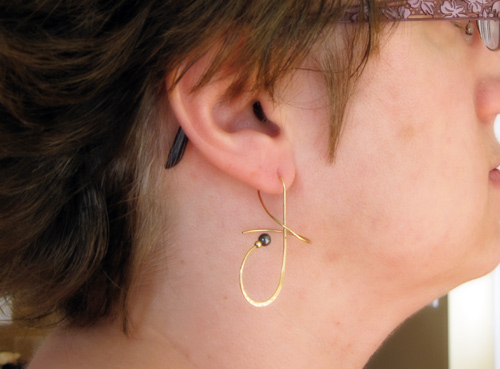 It's just perfect. Just like that. Oooooooooooh! Aaahhhh! Yes! Just like that! Yes! Don't stop …
Nevermind.
Twenty years ago, I bought my first pair of spirals shown above and ten years later, when Nate and I went to San Francisco for our honeymoon, I must have somehow OD'd on ginkgo because I bought these: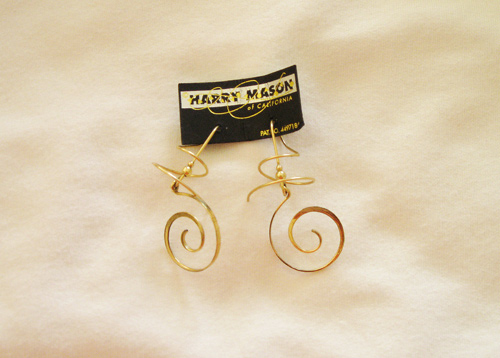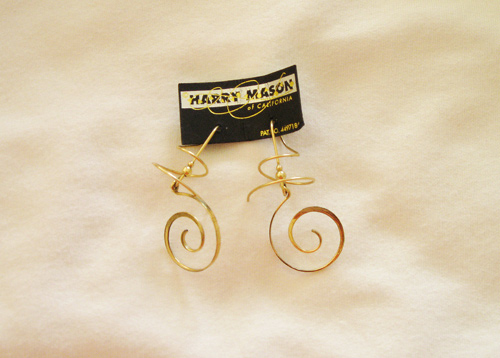 I would not recommend these spirals to anyone who is drunk or strung out on meth or entering perimenopause. Trust me on this. Your earlobes will thank me later, even the one ripped to shreds and decaying in the corner where you threw it in a fit of rage known as HOLY MOTHER OF GOD, WHY THE HELL DID I BUY THESE THINGS?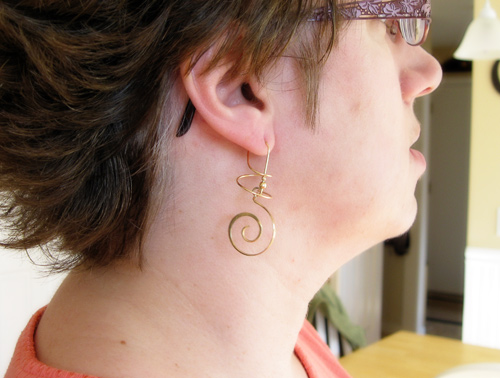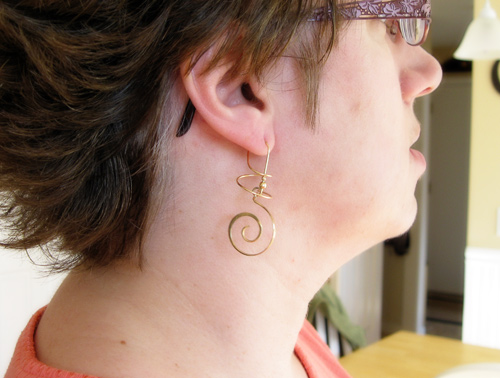 .
Just remember … you bought them because of the "O" factor. Just don't tell your mother. Or mine.
.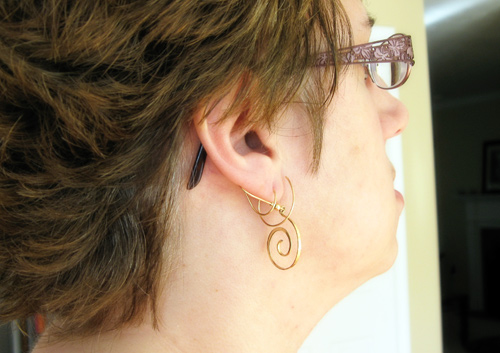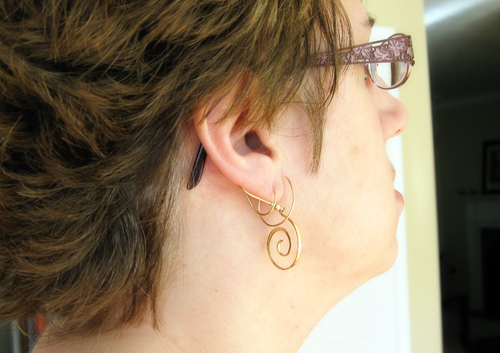 Sometimes, as in the above photo, you don't have time for the big "O" or any kind of vowel for that matter.
Because sometimes, you have a mammogram scheduled in a half hour for which you cannot wear deodorant and you've just spent twenty minutes and a bucket of perspiration trying to manipulate a spiral through your earlobe and you are failing miserably so you find yourself standing in a big sweaty puddle of DAMMIT DAMMIT DAMMIT ALL TO HELL which occurs when the spiral flips you the bird and refuses to budge, leaving you with a dilemma: do you continue or do you yank off your entire ear and shove it down the garbage disposal and call it a day? Then you realize that you don't have time to do either so you leave the spiral askew as you speed to the mammogram where you continue to fiddle with it as the technician named Satan busies herself by smashing your boobs to death in a torture device. As she flings your left boob over your shoulder to make room for the right one, she asks why you are crying and as you try in vain to keep an eye on your left mammary gland lest it make a run for it out the door, you assure her that it's not her technique that she so obviously mastered in some Nazi death camp that is making you sob uncontrollably. It's simply that thirty minutes before, you were feeling smart and now, you are not. Now, you are feeling decidedly unsmart. And sweaty and smelly with a pair of lopsided double d's which don't look at all like they did when you first walked into the room and instead, resemble two huge undercooked pancakes. Not to mention that your earlobe appears to have given birth to a corkscrew for no apparent reason.
Thank God mammograms are only once a year.
By the way, I'm not sure who that person is in these photos, but I wish she'd touch up the gray. Just saying. Although I do like her glasses. They almost, but not quite, divert your attention from the rather fleshy neck.
We're thinking of taking a trip to San Francisco to celebrate our tenth anniversary this year. If we do, you can bet I'll be in Harry's shop, buying my third pair. I'm eyeing these beauties: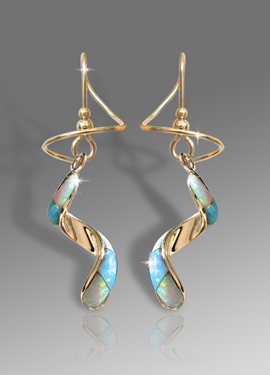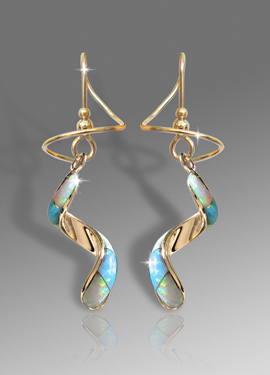 Or these: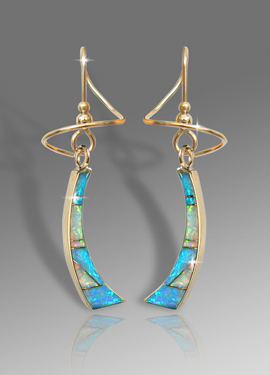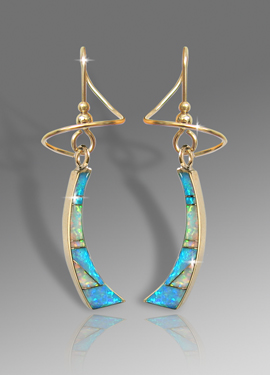 It's our tenth anniversary.
I totally intend to experience the big "O" in more ways than one.
.
.