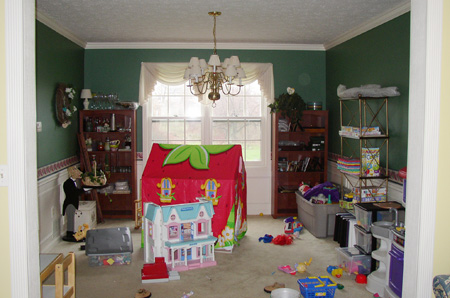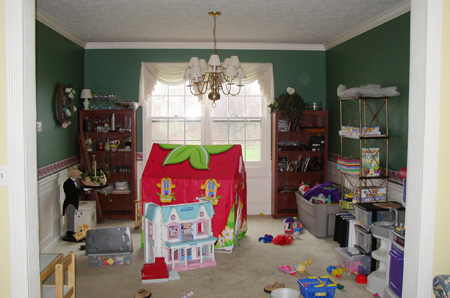 Remember my old dining room?
The one from six years ago, when we first moved into our house? With the dark green walls and the stained carpet and a wallpaper border straight from the clearance section of www.we-sell-ugly.com? Did I mention that the previous owners kept a bird cage in there? With a real, live bird in it and everything? And by everything, I mean feces?
For the first couple of months we lived here, we used this room as a set design for a show called Hoarders which hadn't even been invented yet. Of course, it helped immensely that Helena had been born with her umbilical cord attached to Toys 'R Us.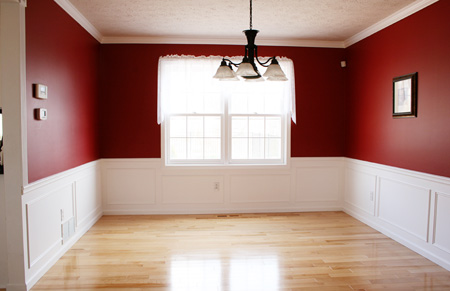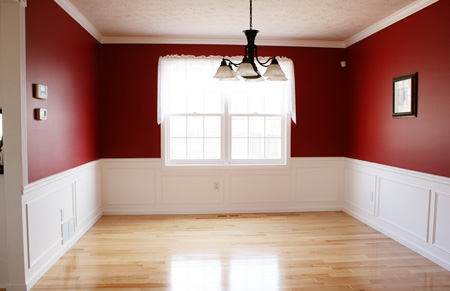 This was the next phase in the evolution of our dining room, after one spouse yelled to the other spouse HOW CAN I POSSIBLY BE IN THE MOOD WHEN OUR DINING ROOM IS BEYOND HIDEOUS?
I won't bother telling you which spouse I was. I like to keep you guessing!
So we ripped out the carpeting, installed hardwoods and painted. Of course, Helena needed convincing before she would relocate her life up to her bedroom where it belonged but all it took were a few popsicle bribes, mixed in with the occasional Do you want Santa to trip over your Polly Pockets and fall and get a concussion and cancel Christmas? And then she was good to go. It's amazing what a little positive reinforcement will get you.
Our dining room looked like this for years. A deep, rich, empty red shrine to the echo. Every December, we'd drag the folding tables up from the basement, clamp them together, throw some tablecloths over them and feed fifteen or more people for Christmas Eve dinner. One year, we even kept the tables up and fed eighteen more people for Christmas dinner the next day and then hosted New Year's Eve to boot! I like to refer to that particular year as OH MY GOD, WHY ARE THERE PEOPLE STILL IN MY HOUSE?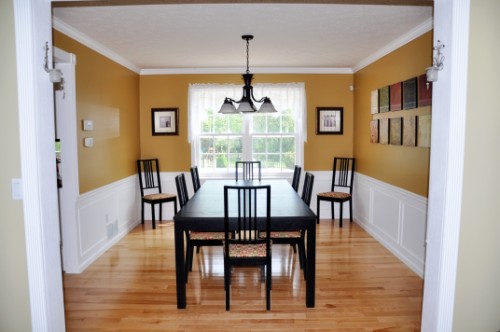 This is what our dining room looks like today, after one spouse yelled to the other spouse HOW CAN I POSSIBLY BE IN THE MOOD WHEN OUR DINING ROOM IS BEREFT OF SOUL? AND I USED A BIG WORD. I WIN.
Guess which spouse I was?
All it took was painter's tape, one can of gold-tinted primer, one can of gold paint, a trip to IKEA and one entire morning of climbing up and down chairs because God forgot to include height in my DNA. Of course, if you've got a husband who thinks it's a good idea to wake up at 11:30 a.m., four hours after you started priming, only to comment This is all you've got done? Hey, you missed a spot while he's sipping his coffee? Well, then, you've also got a husband who must remove the paint brush from his esophagus and finish up the entire room by himself if he ever wants to have sex again.
With me, anyway.
Figuratively speaking, of course! Because it's not like your husband would want to have sex with me!
Would he?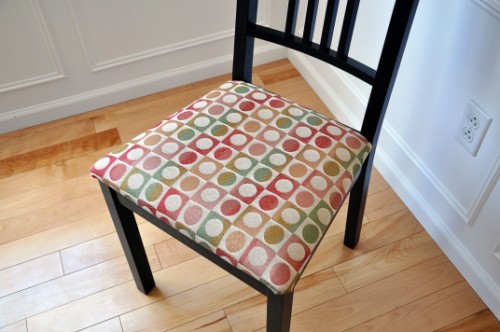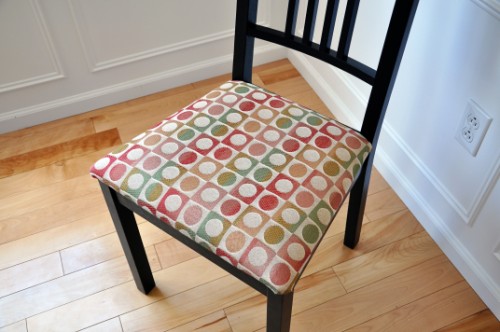 My newly recovered dining room chairs look phenomenal with the new paint, if I do say so myself!
Which I do. This reminds me …
*TOOT TOOT TOOT TOOT*
That's me, tooting my own horn! If I waited for Nate or my kids to do it for me, I would be tootless for a long damn time.
Being tootless sucks, in case you weren't aware.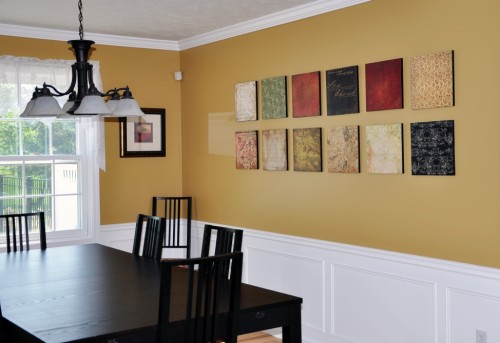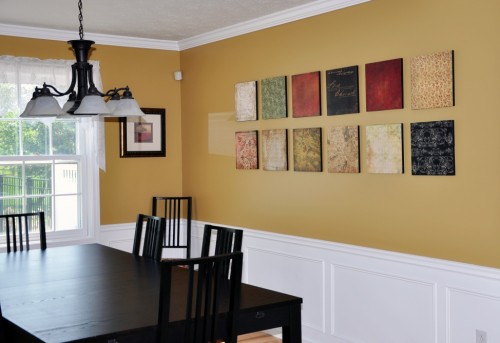 The paint came from Sherwin Williams (it's called mannered gold), the table and chairs from IKEA and the wall art from … yours truly!
I couldn't find anything anywhere that I liked well enough to hang up. You know, with nails? On our walls? Our brand spankin' new, pristine walls that were freshly painted less than forty-eight hours prior?
*THUD* <———— Nate, passing out from the desecration of it all.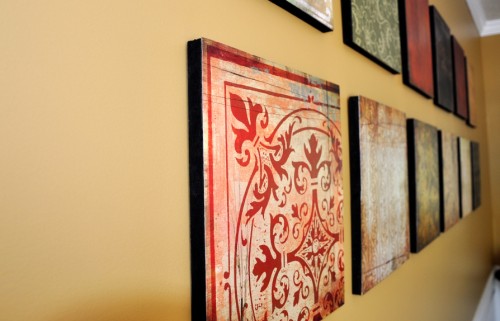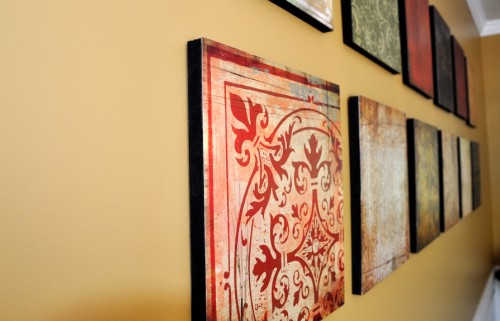 I used something called particle board from the lumber aisle at Lowes. It was less than $4.00 for one 1 x 6 board. I bought two boards and Nate cut them into one foot squares for me. Then I sanded them which was a colossal waste of time because particle board is rough all the way through and I sanded until the cows came home and all I got for my efforts was a nose full of sawdust and a garage full of cows.
Then I painted them black. The squares, not the cows.
Then I used three coats of Mod Podge to glue patterned paper on them. Again, the squares, not the cows.
Then I accidentally dripped Mod Podge down my shirt and glued my mammary glands together and invented the mono boob.
Then I sealed them with two coats of Rust-Oleum's Painter's Touch Crystal Clear Matte sealant.
The squares, not my boobs.
I love how they turned out! Again, that would be the squares, not my boobs.
By the way, I have no idea what that whitish rectangle thing is to the left of the wall art. I got all excited, thinking I was witnessing some paranormal activity, like maybe a ghost-wife was inspired to show her ghost-husband how she could do the same exact thing on their walls in purgatory! How cool would that be? But Nate said Calm down, it's only a glare from the window and I said Well, excuse me, Mr. Killjoy, for not being a pragmatist like you. And I just used a big word so I win. And he said Win what? And do you even know what pragmatist means? And I said I know you are but what am I? And he said You are weird.
And I said Hello? I have a mono boob. TELL ME SOMETHING I DON'T KNOW.
.
.