Buy your sixteen year old an umbrella.
Have your sixteen year old lose the umbrella.
Repeat steps 1 & 2 no less than 157 times.
After the 158th time, buy one last umbrella and holler SUPERGLUE THIS ONE TO YOUR FACE BECAUSE THIS IS THE LAST TIME I'M GOING ALL MARY POPPINS FOR YOU, SO HELP ME GOD to anyone who will listen which is no one.
Say Goodbye! Love you! to your sixteen year old when she walks out the door to the bus stop at 6:40 a.m.
Say Hey! Long time no see! to your sixteen year old when she walks back in the door four seconds later, sopping wet and complaining It's raining!
Listen as she continues I can't find my umbrella. Do you know where it is?
*THINK HAPPY THOUGHTS*
Patiently answer No, I do not. Where did you put it?
Calmly listen to her response of Ummm, if I knew that, I'd know where it is.
Try to restrain yourself from putting her up for adoption on the spot.
*THINK OF PUPPIES*
Ask Are you being smart with me?
Don't believe her when she responds No.
Ask What exactly do you expect me to do?
Hear her say accusingly I don't know! Something? Act like you care?
Don't act like you care.
*THINK OF BUNNIES*
Momentarily consider a calm and rational dissertation on personal accountability and the relationships between cause and effect, actions and consequences.
Ha ha ha ha ha ha ha ha ha ha ha ha ha ha ha ha.
Offer to nail Mother Nature's ass to the wall and/or use scissors and duct tape to whip up a poncho out of Hefty garbage bags so as to introduce an aspect of levity to the situation and lighten the mood.
Duck and cover as great, big chunks of morbidly obese, blackened mood come crashing down all around you as your sixteen year old complains Thanks a lot, Mom. You're awesome. Way to be there for me. What am I gonna do now? Can I borrow your jacket, at least? I can't find mine. And it doesn't have a hood, anyway.
Immediately recall all those numbers you recently wrote on a check for a brand spankin' new swim jacket.
Speculate as to what exactly is making your left retina throb so painfully: paying full price for a partial jacket or paying full price for a lost jacket.
Decide it's both.
*THINK OF CHOKING PUPPIES AND BUNNIES AND STOMPING THE GUTS OUT OF THEIR LIFELESS BODIES*
Drop an "F" bomb or three.
Silently yell DON'T YOU DARE JUDGE ME to all the blog readers who will read this and judge you.
Stand in the middle of your kitchen in your jammies and listen to (1)  the blood as it gushes behind your eyeballs; (2) the sheets of rain as they splatter against the windows; (3) the muffled chugging of the school bus as it slowly passes by your house sans one sixteen year old, umbrella-less passenger; (4) your day as it's being blindfolded and shot to death by a firing squad at 6:43 a.m.
Try to remember that there must have been a good reason why you tweeted this two week ago: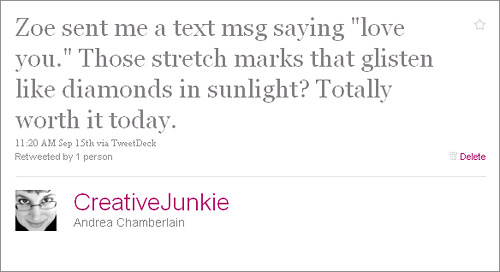 .
.