Hah!
I am the man!
My new blog is live!
I whipped CSS' ass and wiped the floor with it!
Except not really.
To be completely candid, it wiped the floor with me, as well as the windows and the inside of the chimney and the neighbor kid's runny nose.
Did I mention that I will never design a blog again?
I really, really, really, meant it. As in, REALLY.
The last twenty-four hours have been a profound nightmare and I called my brother, who is pretty proficient at coding, approximately 1,836 times and he answered approximately once.
I kid! He answered lots of times and only twice did he tell me in a weird, falsetto voice that I had reached a wrong number and to stop harassing him. He lives on the opposite coast and works nights. Therefore, his optimal time for calmly walking me through div tags and attributes and OH MY GOD, STOP THE WORLD, I WANT TO GET OFF is late afternoon. Coincidentally, because God just has a sick sense of humor sometimes, late afternoon is my kids' optimal time for Can so-and-so come over? Can I go over so-and-so's house? Can you drive me here? Can you drive me there? What is 48 divided by 8? Why? Can you help me deconstruct The Hobbit and write a thesis on how it relates to the modern world?

So while Tino tried to help me decipher code, I tried to type while simultaneously cooking dinner, praticing multiplication and division facts, shouting JUST BECAUSE IT IS, THAT'S WHY and building a reasonable facsimile of Stonehenge out of blocks of cream cheese.
I'd like to thank my brother profusely for helping me off the ledge 37 times but I don't think he's taking my calls anymore, let alone reflecting fondly upon our time together as roomies in the same womb.
One of the most important things I found out about designing for the web, other than the fact that I am not cut out whatsoever to design for the web, is that there are huge differences with web browsers. I use Firefox and once I got something looking peachy keen in Firefox, it would look like dried up vomit in Internet Explorer. After eating hotdogs.
I'd fix it in Explorer and it would look like diarrhea in Firefox. After eating corn.
I went back and forth between hotdoggy vomit and corny diarreah for about a millennium and then, rather than gnawing my fingernails up to my freakishly pointy elbows, I finally gave up and resigned myself to the fact that Internet Explorer has a big, permanent, prickly bug up its tightly wound ass. Thusly, it will be included on my list entitled INANIMATE OBJECTS AND OPERATING SYSTEMS THAT HATE ME FOR NO REASON. I'm going to have it laminated and use it as a runway at our local airport.
Lucky for me, my brother took pity on me and provided me with a custom function that allowed me to tweak code in Internet Explorer while leaving my Firefox code pristine and untouched and virginal. Just like me! Except for the untouched and virginal part. And the pristine part, if you want to be technical. And mean.
I stopped tweaking this site late last night, once I caught my cerebral cortex sneaking out the door with my will to live.
My managed to tackle my will to live and shove it back into my soul through my eye socket but my cerebral cortex is still AWOL.
Who are you again?
I miss my cerebral cortex. It's probably hanging out somewhere, partying it up with my waist, remembering the good old days.
Anyway, to sum it up, I hate web design. I would rather give birth to a gigantic, scared, pissed-off porcupine strung out on meth than do it again. I find it stressful, aggravating, frustrating, exasperating and down right shitty.
Did you know that I wanted to write a thesaurus once? I decided to write a blog instead. See where that got me?
If you all would do me a favor … would you mind clicking around the site and letting me know if something appears wonky? Are links working? Pages loading OK? Something missing? Is my profile photo scaring the heebie jeebies out of you? Save me the green ones.
If you find anything amiss, or even a mrs., please let me know. And let me know what browser you're using as well.
I leave you with this: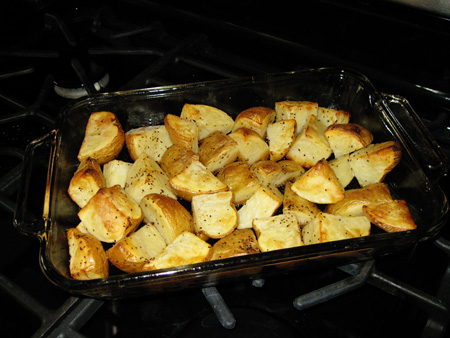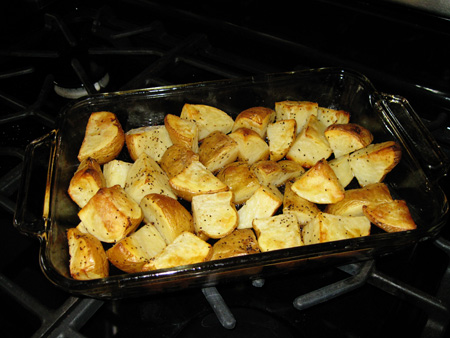 My roasted potatoes. They were yummy and totally made me forget about the rancid, pus-oozing, flaming genital wart that is web design for about ten minutes last night.
.
.