My parents are in town which means by the time you read this, I'm probably (1) completely immersed in the inner workings of their brand new point and shoot camera which apparently holds photos hostage and I SIMPLY CANNOT FATHOM WHY, JEEE-SUS CHRRRR-IIII-SSSST, according to my mother; (2) knee deep in conspiracy theories as to why my twin brother Tino and I accidentally on purpose broke mom's favorite crystal vase in 1972; (3) asking my mother why she insists on pronouncing vase as "vaws" and "aunt" as "awnt" because last I checked, we grew up in Hilton and there weren't no such swanky accents in them thar parts; and (4) in a fetal position in the corner, sucking my thumb and re-evaluating my life.
This week is going to be a busy one, filled with lunches, self-doubt, yelling YOU TOLD THAT STORY FIVE MINUTES AGO, dinners, shopping, guilt, movies, playing "Where the Hell is Aunt VeVe?", Scrabble marathons and figuring out new and exciting answers to "What exactly is going on with your hair?" and "So, are laundry baskets the new 'in' thing this year for interior design?" and my personal favorite, "Hey, did I ever tell you the story of how you broke my favorite crystal vaws in 1972?"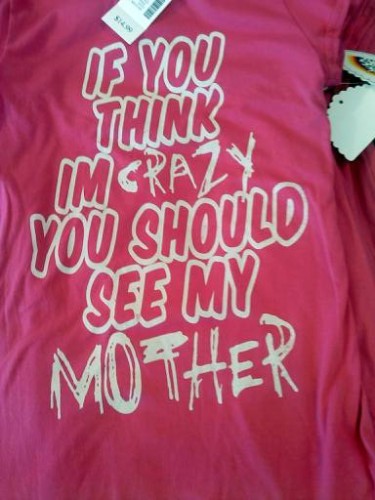 By the way, I'm having lunch with my mom today and I'm wearing this shirt.
.
.