There are few places on this earth which make me hyperventilate and literally quiver with excitement at the mere thought of visiting:
San Francisco
New York City
My bathroom
Anderson Cooper's lap
Pier 1
I've been fortunate enough to visit both #1 and #2 this year which was so much damn fun, I can't even begin to tell you. And thanks to the rotting, battered, decrepit piece of crap that is my personal waste management system, I've practically moved into #3 where I've done so much #1 and #2 of a totally different sort, which was so not fun, I can't even begin to tell you that either.
Unless you want me to? Because I've got nothing to blog about this week so … maybe?
Let me know.
As for #4, I'm still working on it. Stupid restraining orders.
This past weekend, I visited #5. I adore Pier 1. Adore it. I'd move in there if I didn't think my family would find me in less than thirty minutes and drag me away to make them dinner. How is it that they have an uncanny ability to hunt me down, no matter how far away I've run? I'm beginning to wonder if I came equipped with GPS. If and when I ever meet The Big Guy, this is definitely going to be included on my list of discussion topics called WHAT THE HELL WERE YOU THINKING, right after ultra low rise jeans, fat free cheese and Jon Gosselin.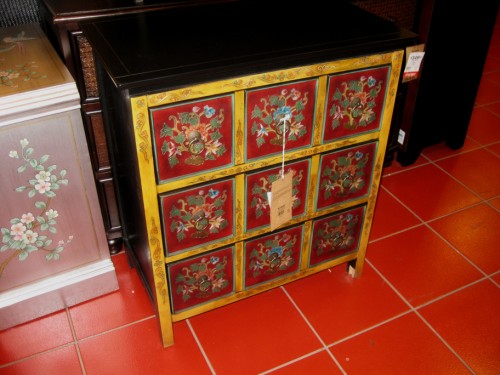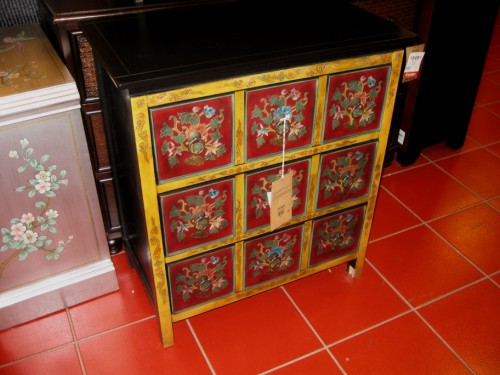 I've had my eye on this at Pier 1 for awhile now. I have no idea what I'd do with it. I just like it. It's funky and colorful and different.
Come to think of it, those are the three criteria guaranteed to send Nate hurtling toward psychosis.
Not that that's any incentive, mind you!
At least, not consciously.
Subconsciously? That's possibly a definite maybe.
.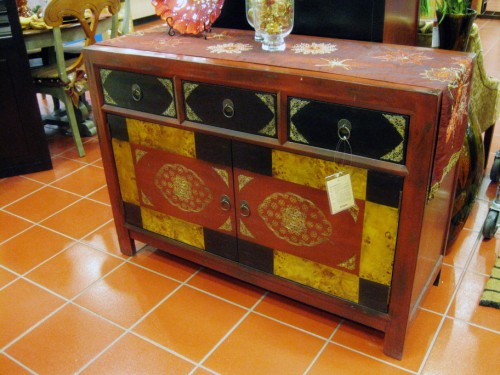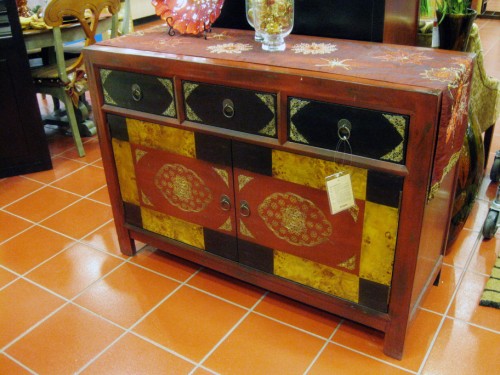 I like this one too, for pretty much the same reasons.
And it's bigger!
Go big or go home, if you ask me!
No one ever asks me.
.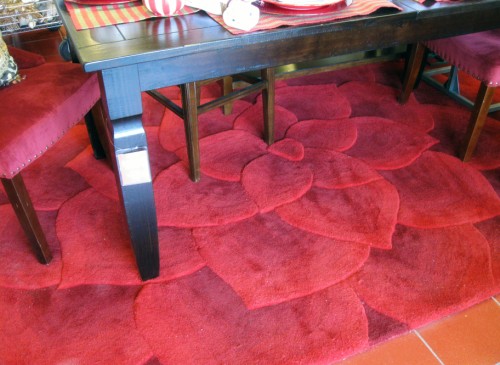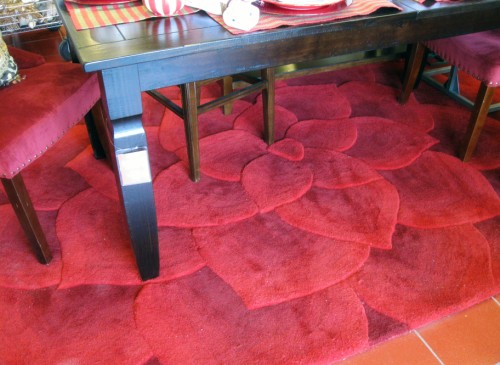 I'd like that one even better if it were sitting on this rug.  I can see both the dresser and this rug in my dining room. Quite clearly, in fact, because there's nothing else in my dining room to obscure my view, like a table or chairs. But that's OK because I'd be perfectly content to simply stand on this rug and admire that dresser without any additional distractions. Besides, if I had a table and chairs in there, people might sit down and actually expect me to feed them.
I've got enough of that nonsense going on in the kitchen. No need to let it spread to the rest of the house, like some hideous, infectious disease from which there is no recovery.
.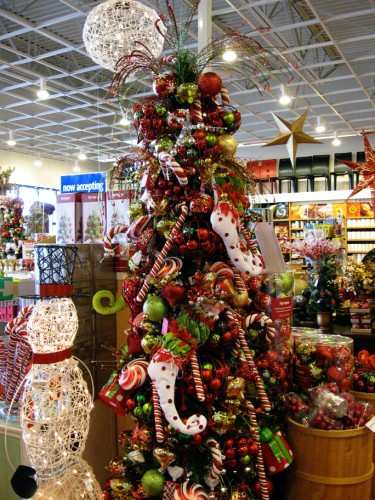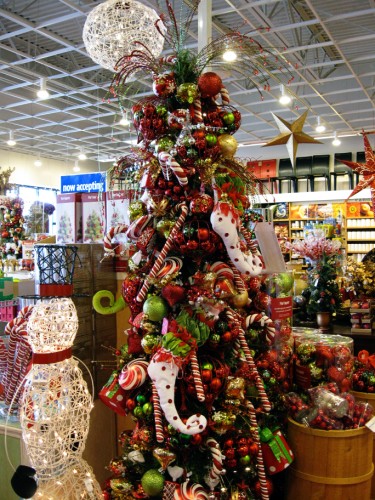 But what I LOVE LOVE LOVE the most about Pier 1 is their holiday decor!
Every year, I look forward to their Christmas trees.
.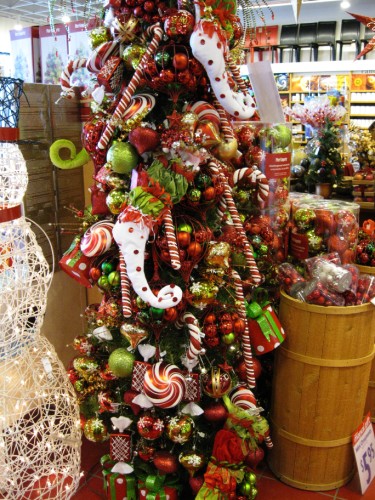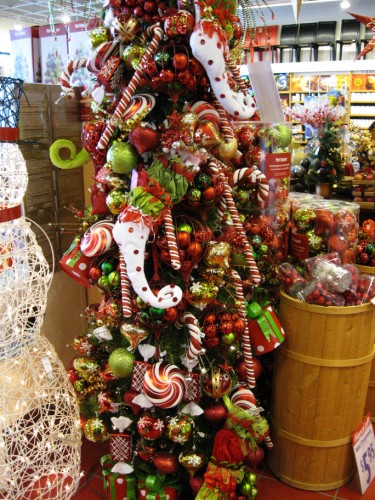 They are literally STUFFED with happy.
.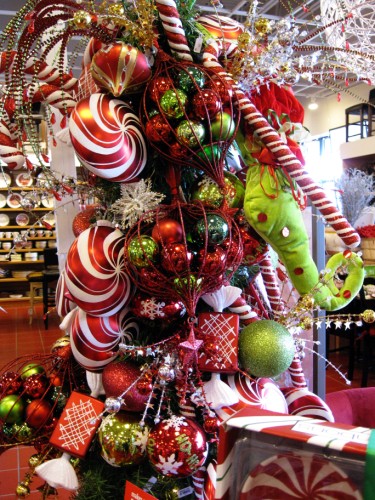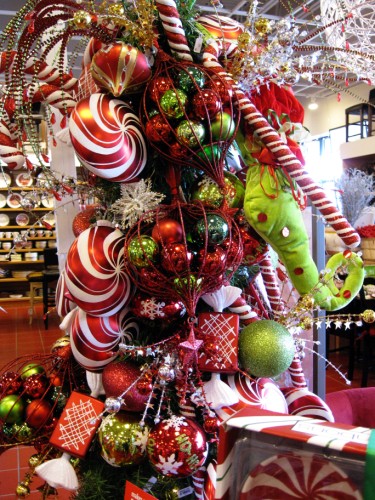 Nate doesn't like them because they're gaudy and don't look like trees. In fact, he doesn't even believe there's an actual tree under there. He thinks the North Pole had an orgy with Las Vegas and this here is their bastard spawn.
I love the man, but he's in serious need of a Ho Ho Ho adjustment.
.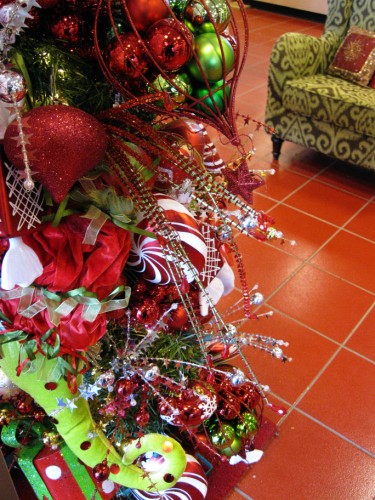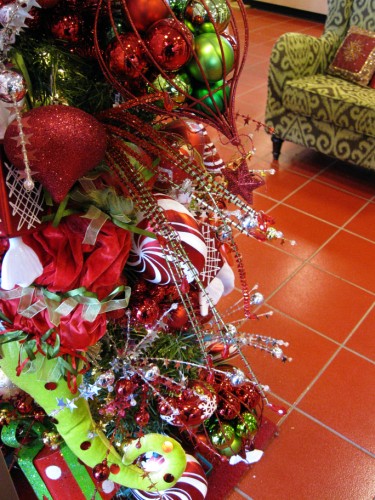 It's the absolute excess of these trees that I love! The sheer overkill. The utter, enormous, exorbitant extravagance of them!
For the record, I'm all for unprotected sex between consenting hedonistic geographical regions.
And adjectives that start with vowels.
.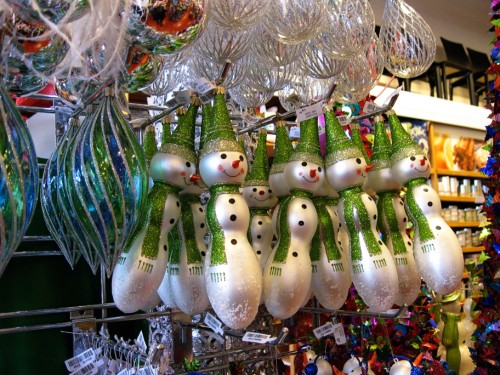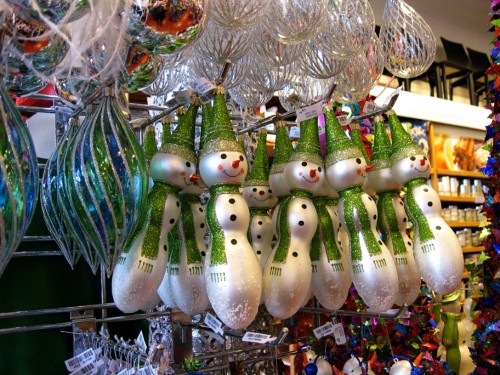 I want these ornaments.
.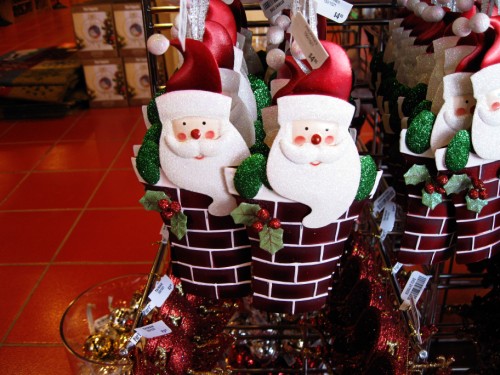 And these.
.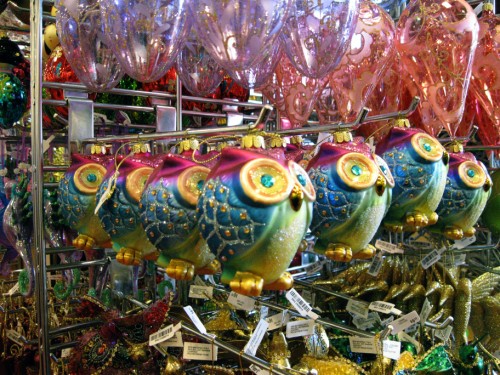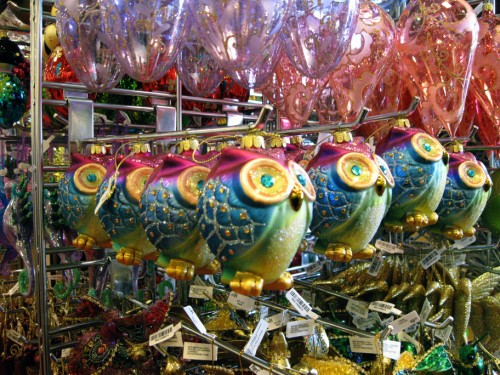 I'm on the fence with the owls, though. They don't look very Christmas-y to me. Then again, I have a thing about owls. Did you know that my mom used to collect owls? And that I bought her this really pretty owl sculpture for her birthday one year, when I was young and had no taste? And that I caught her trying to sell it at a garage sale over fifteen years ago? And that for the past fifteen years, I've never let her forget that she tried to sell a symbol of my love for $1.00 or best offer?
I told this little story to the sales clerk and she looked at me funny and then backed away. Slowly.
Obviously, she has no idea what I went through.
.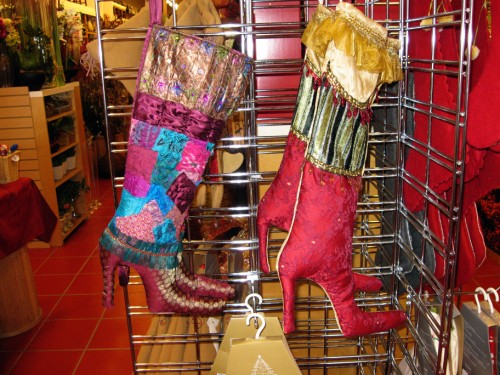 These high heeled stockings remind me of my younger, carefree days. Stick them on some shapely legs under a shorty short black leather mini skirt, take a picture and you've got yourself a photographic memoir of my ill spent youth.
I miss the eighties.
.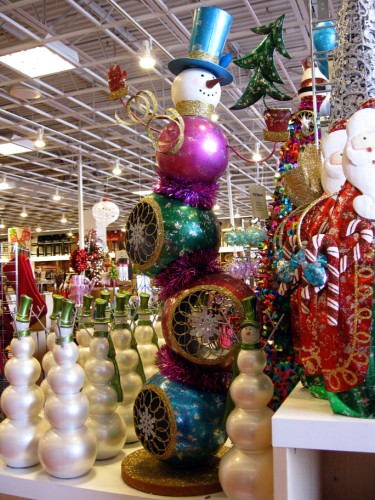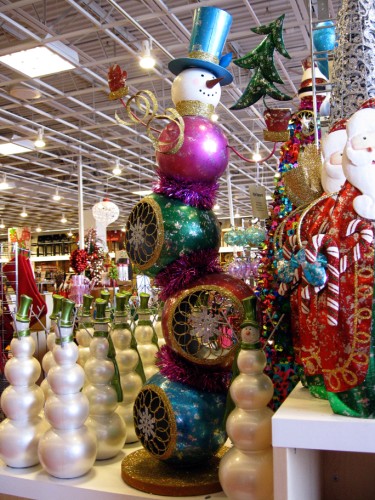 I love this guy. He reminds me of my vertebrae, only taller. And more festive.
Next time I go to Pier 1, I'm going to take out a loan and buy one of those trees. And maybe I'll get lucky and score a few of those stockings too. And after I pester Nate to put the tree up in our living room, maybe I'll try those stockings on before hanging them on the mantle. Who knows? Maybe Nate will get lucky himself and score something as well.
And finally get his Ho Ho Ho adjustment after all.
.
.