Remember Bear and how emotionally attached my nine year old Helena still is to him? And how we live in fear that he's going to sneak into Helena's dorm and dance with her at her wedding and probably be godfather to her children?
Right now, he's in my office staring at me reproachfully while sprawled atop my printer where he was flung by yours truly in a fit of annoyance after I unwittingly rolled my office chair over his tattered body and nearly decapitated him. Twice. In my defense, he should know better than to play hide and seek under the desk of a hunger-ridden, delusional lunatic who is sweating the minutes until weigh-in.
Bear remains a constant source of aggravation in this house because he is everywhere he shouldn't be.
At, on, under or otherwise within a two foot perimeter of the kitchen table.
Swinging from the bannister.
Camped out next to the keyboard with his toe! Jammed under! The! Exclamation! Point!
!!!
Waiting patiently on the toilet.
Hitching a ride to Wegmans.
Bear has managed to raise the act of being a nuisance to an art form and as such, he gets flung a lot.
And not just by those who are restricted to twenty measly, God-forsaken, HOW CAN ANYONE BE EXPECTED TO EXIST ON THIS AND NOT KILL SOMEONE points a day.
.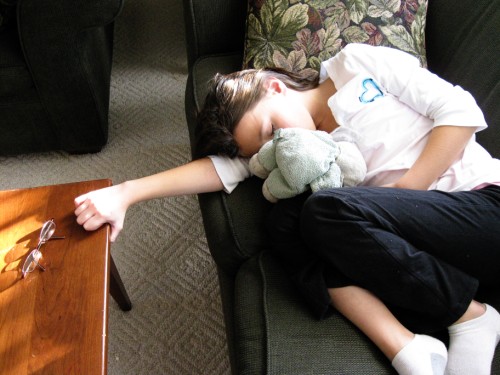 But sometimes, when Helena comes home from school with a tummy ache and headache and fever …
when she falls asleep on the couch while maintaining some sort of weird death grip on the coffee table …
.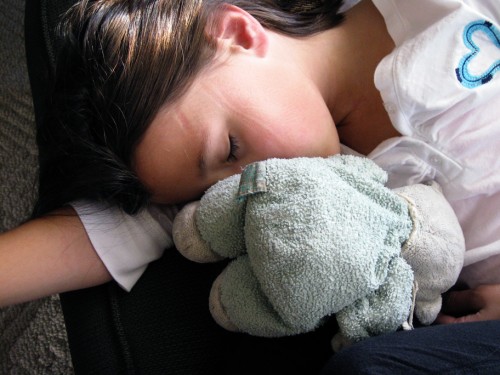 when she's earning a pillow fossil on her cheek in the process …
sometimes it's hard to find fault with Bear …
.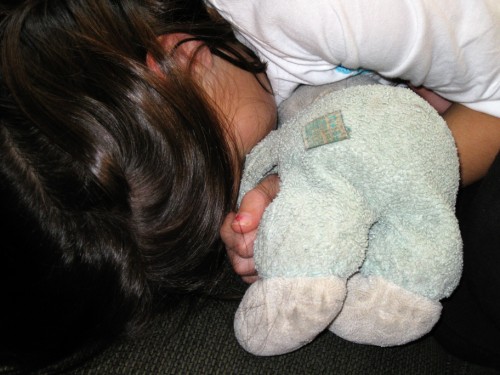 because he's exactly where he's supposed to be.
.
.