One of the best things about hosting a giveaway is reading everyone's entries! Every time my inbox *beeps* at me with an entry, it's like opening Forrest Gump's box of chocolates. I never know what I'm going to get, but I know I'm going to enjoy it.
A little trivia for you: Forrest Gump is one of my favorite movies of all time. So now you're all set if Alex Trebek ever asks that question on Jeopardy. You're welcome.
Your vacation bucket lists consisted of, among other destinations, Hawaii, Greece, Alaska, Japan, Italy, Australia and Ireland to name just a very few. There were even a few votes for Machu Picchu and Vietnam! Who knew you guys were such an adventurous bunch? By the way, you're going to be paying up the ying yang for baggage fees, you know. Your ying yang is going to yell at you.
I've always known it but it bears repeating: I have awesome readers. If you were my children, I'd tell you to go get yourselves an extra piece of ice cream cake because you deserve it.
And then I'd tell you to shut the freezer door, for God's sake, YOU CAN'T FIGHT GLOBAL WARMING WITH OUR FRIGIDAIRE. OH, AND BRING ME A SKINNY COW. HURRY UP, DESPERATE HOUSEWIVES IS ALMOST ON.
As of 9:00 pm eastern time yesterday, there were 506 entries to the $100 Harry Mason Shopping Spree giveaway. I asked random.org to choose one random number between 1 and 506, inclusive, and this is what it shot back at me:
.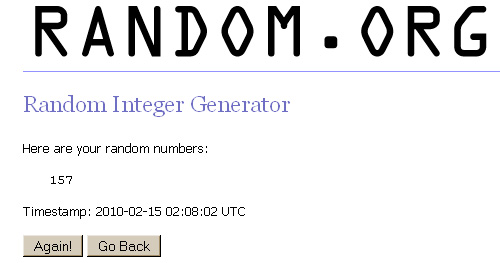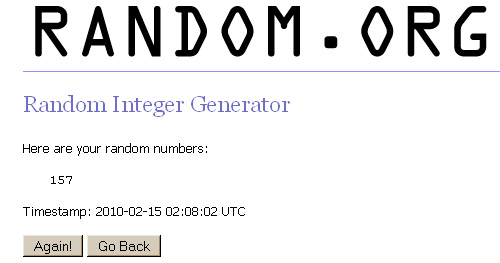 .
And the winning comment #157 belongs to:
.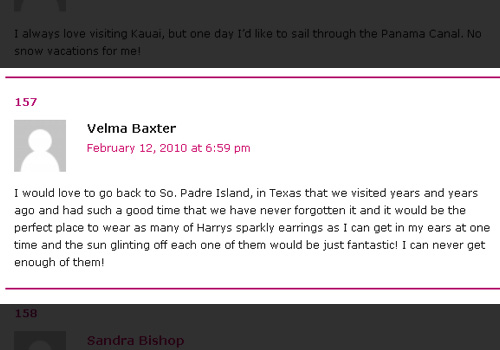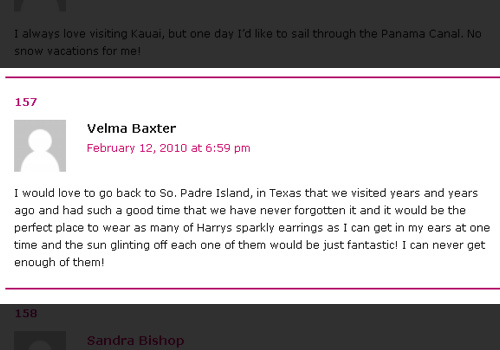 .
Congratulations Velma! Contact me at admin@thecreativejunkie.com within 48 hours to claim your prize! And if you ever get to Texas, take me with you. I've always wanted to visit there and touch a real live cowboy. Will that get me arrested? Not that that's a deal breaker.
And hey, do you remember? Everyone who entered this giveaway is eligible for a prize! Just email Harry at harry mason @ harry mason . com (delete the spaces!) with a copy/paste of the comment you left on the giveaway post. Be sure to put "BIGO" in the subject line of your email. In return, Harry will set you up with a $25 shopping spree with any $100 purchase!
Thank you, Harry, for yet another fabulous giveaway!
And thank you, readers, for joining in on the fun! What would I do without you? Besides go grocery shopping, eat my weight in Twinkies and bug Nate 24/7 by asking WHAT THE HELL SHOULD I DO WITH MY LIFE?
Without you, my pantry would probably be full but my inbox would be an empty, desolate, barren place, indeed.
.
.