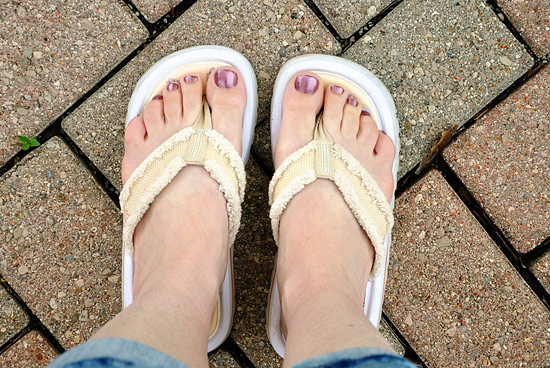 Every spring and summer, after the warm weather hits and my feet wake up from hibernating in their cocoon of socks and Danskos, I treat myself to a pedicure. This is my latest, done earlier this month when I took advantage of a Groupon deal at my favorite salon. That's OPI's "Meet Me On the Star Ferry" gracing my toes. And for anyone who's interested, that's Mother Nature's "Meet Me on the Dry, Scaly, Crocodile Skin Ferry" gracing my legs.
It's only the second week of May and the snow has been gone for only a couple of weeks but this is already my second pedicure. My first one took place in mid-April, the night before we were due to leave for our trip down south and was the result of running out of time and common sense and anything remotely resembling good decision making skills. I'd like to lump it all under the guise of trying to be spontaneous but those who know me best know that the last time I was spontaneous, I was an embryo.
That first pedicure took place at a local salon that I had not visited before and will never visit again. I do not know why I stayed for the full pedicure. I'd like to say that I was simply trying to be polite and not cause a scene because that's how I roll but those same people who know me best would collapse to the floor in a fit of hysterical laughter.
My first inkling  that perhaps the pedicure wasn't meant to be was when I pulled into the parking lot at 7:05 p.m., on a whim, only to discover they had closed five minutes prior.
My second inkling was when I tried to drive away and had to slam on the breaks to avoid killing the short, animated, Asian woman who came flying out the front door and flung her body onto my windshield while yelling YOU WANT MANICURE? PEDICURE? WE OPEN! NO DRIVE AWAY! WE OPEN! COME IN!
My first flat-out clue that all was not going to go well was when I was directed to soak my feet in lukewarm water, after which I was promptly forgotten about for almost thirty minutes.
My second was when a nail technician finally came over to work on me and she did not wear gloves, causing every germaphobic fiber of my being to break out into a cold sweat.
My first Holy shit, woman … get the hell out of here moment was when she took a pink nylon scrubby sponge thing from a drawer, used it to furiously exfoliate the sole of my left foot right down to its subcutaneous fat layer, and then touched the side and back of my foot with it, ripping off a few layers of skin on my ankle bone and heel, after which she apologized and then dunked my bleeding foot back into the water.
My second Run while you still have feet to run with moment was when she did the same exact thing to my right foot.
My final moment of overwhelming colossal stupidity for staying longer than thirty seconds in that place was when she took that pink nylon scrubby sponge thing, the same one that had come into contact with my dead skin and live blood, and quickly rinsed it in the same water my bleeding feet were soaking in and then returned it back to the drawer from which she found it.
I should have listened to my gut instinct, the one that was screaming YOU ARE A MORON. IF YOU DON'T LEAVE RIGHT NOW, YOU DESERVE TO WALK OUT OF HERE THE WALKING PERSONIFICATION OF A STAPH INFECTION. WHEN YOU DIE OF MRSA WITHIN A WEEK, DON'T COME CRYING TO ME.
I have no idea why I didn't follow my instincts and rip that nail technician up one side and down the other before getting the hell out of Dodge. None whatsoever. It's so completely, totally and utterly unlike me not to make an enormous stink about something like this. This will come back to bite me in the ass the next time time I yell at my kids because they didn't take the laundry upstairs the seventeenth time I asked them to. Oh sure. You get mad at your own flesh and blood over some stupid underwear but you'll let a complete stranger practically skin you alive and not say a word. What kind of mom are you?

Have you ever had a bad experience at a salon? How did you handle it?
.
.