Tsk, tsk, tsk.
You do know that I'm married with children, right?
And no, my name is not Peg and I'm not married to Al and my last name does not rhyme with … hmmm.
Here's Blank. I just drew him.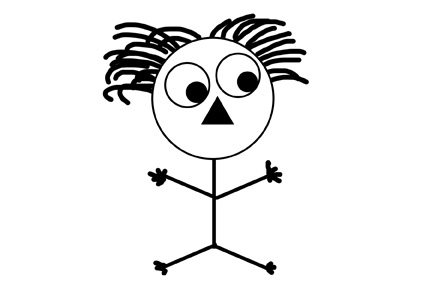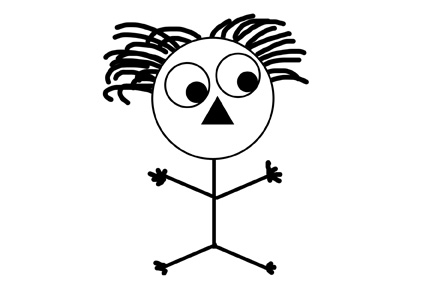 What rhymes with Bundy anyway?
Nevermind.
I'm married with children, right? Two girls? One's a teenager? So I take deflowering very seriously and the only deflowering going on in this house better be when I throw out the umpteenth African Violet that I've managed to kill. Because otherwise? Don't even bother shooting me as I'm sure the brain aneurysm I'll have will do the job nicely and in a much neater fashion.
So in order to clarify: soon, as in … by the end of this post … I will no longer be a virgin in a strictly "blog giveaway" sense.
That's right!
I'm about to offer my very first blog giveaway. I've been blogging for almost nine months now. That's just about long enough to conceive and gestate a little human being and to celebrate the fact that I no longer conceive and gestate little human beings, I thought I'd do a giveaway.
My uterus is doing the happy dance all over my office as I type. It's a little distracting, I must say.
Once upon a time, I made these: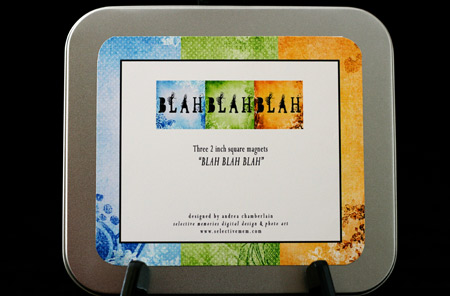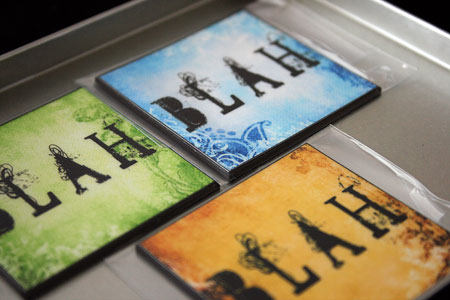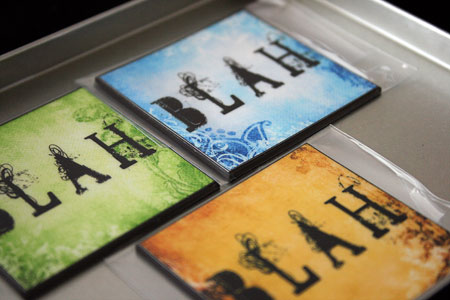 They're two inch square magnets, designed by Moi when I had my custom digital design business.
Ha! I used the word Moi! Somebody call my mother and tell her those three years of French class and that trip to France in my junior year finally paid off.
The set below was created with photos I took one year from the Rochester Lilac Festival. If I had a better camera instead of my DSLRTCALOM (my dslr that I lovingly refer to as Damn Stupid Little Ratshit That Cost A Lot Of Money), then maybe my photo wouldn't be out of focus and you'd actually be able to tell that the magnets spell out b*l*o*o*m.
Maybe I should just shut up and pretend that it's crystal clear. That way I could loudly exclaim, "What do you mean, blurry? I think you should go get your eyes checked. And I think you should bring me back a donut."
Maybe I should just shut up.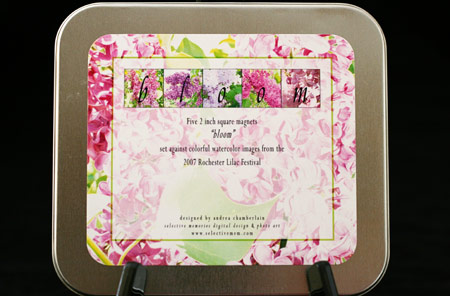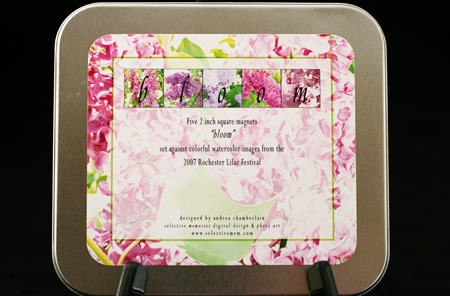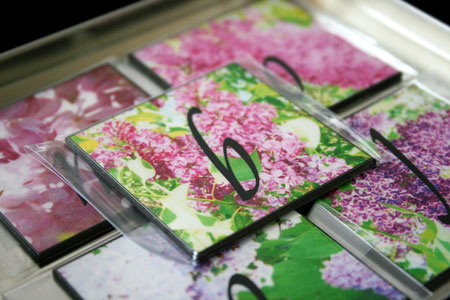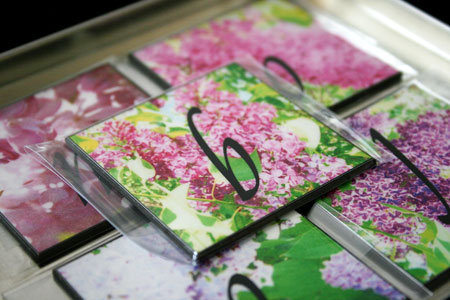 I love these magnets. They're ultra thick and durable and I had to stop Zoe from hanging Helena up on the fridge with them one day. I'm the only one allowed to hang people up in this house. Apparently, Zoe never got that memo..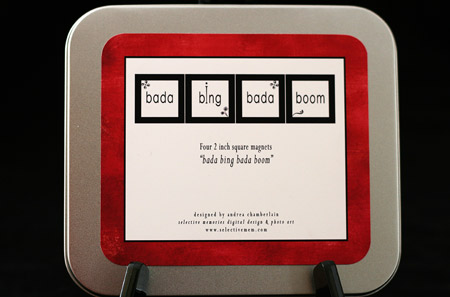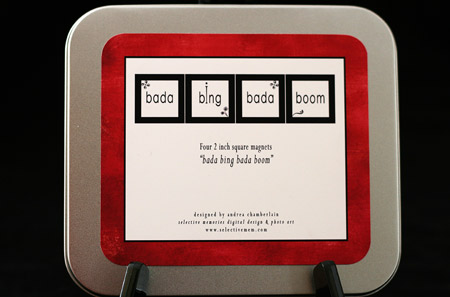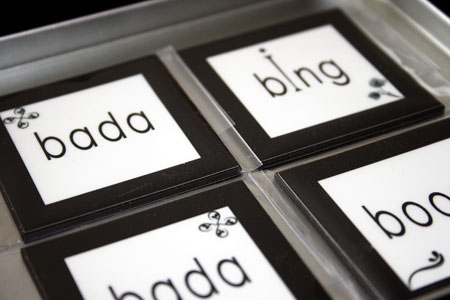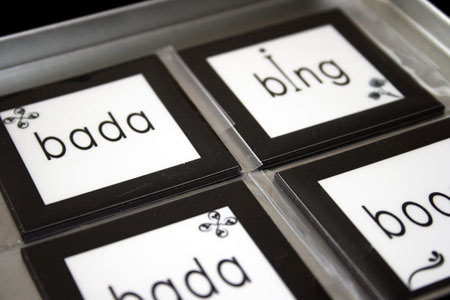 I think I was channeling someone named Vinnie Boombotz when I created this set. Either that, or the Sopranos threw up all over my muse.
I'm not sure..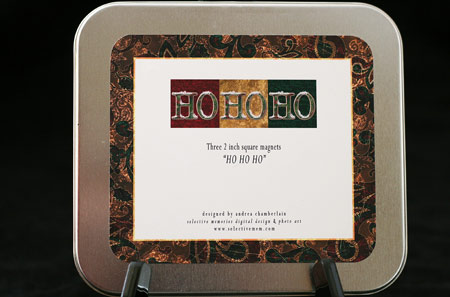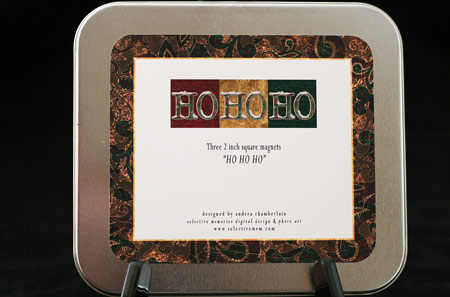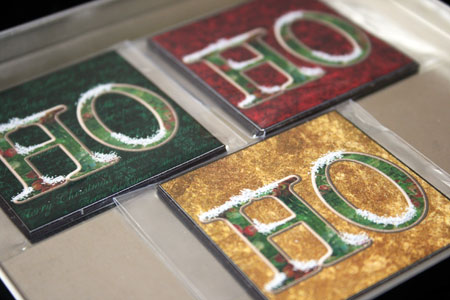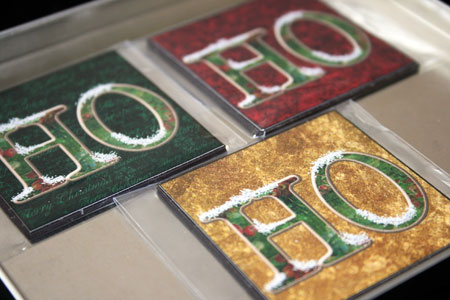 Each magnet comes encased in its own protective plastic wrapping.
I've ordered a bubbled version of this protective wrapping so that I can wrap up Zoe like a mummy in hopes of warding off any more broken bones.
Then again, she'd probably be allergic to it and go into anaphylactic shock and we'd be right back in the hospital.
Decision, decisions..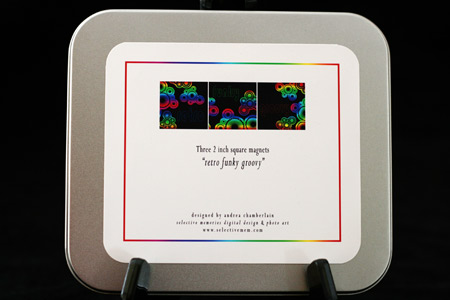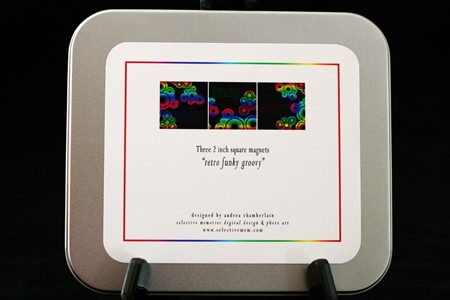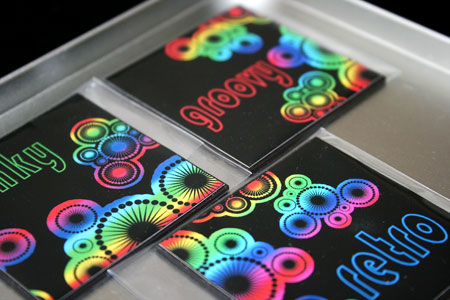 Oh, come on! The tin clearly says "retro, funky, groovy." What do you mean, blurry? I think you should go get your eyes checked. And I think you should bring me back a donut.
This is simply to give you a sense of their size. It's my former business card.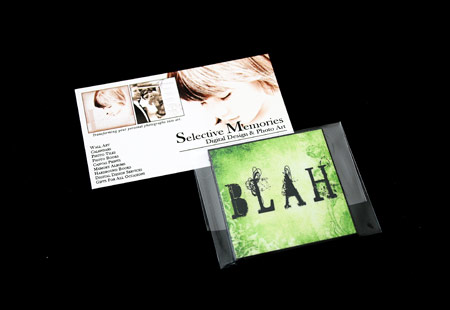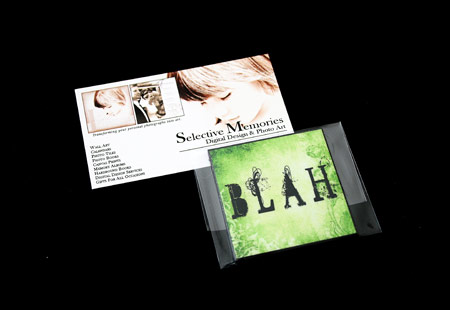 That's Helena there. On my business card, lest you think I was describing Helena as "blah."
As if.
Helena is so far from blah that you can't even see her from there.
And I know that makes no sense but I'm going to pretend it does because I don't feel like retyping it.
I thought I'd give away two of these magnet sets, winners' choice. I have two each of the Bloom, Blah and Funky. I have one Bada Bing and one Ho.
I wish I had two Ho's. Then I'd have a HoHo.
I'm hungry.
Here's the scoop:
To enter, leave a comment in this post telling me if you like them or hate them or can't make up your mind or there was this one time in band camp …
I'll randomly select two winners. Those of you who are familiar with my blog know that I tend to be a bit random on occasion.
Hugh Hefner is a wrinkly, dirty old man.
This is my first giveaway so please, I beg you … don't enter more than once because that will make my head hurt and spin off my body. I won't be able to take Helena to gymnastics without a head and then she'll be mad.
Don't worry if your comment doesn't show up right away. I have no idea why, but some need approval and it just means I'm laptopless and can't approve a comment immediately. Mark my words, this will be the only kind of topless I will ever be in my life. You're welcome.
No entries after 2:00 pm eastern time on Saturday because that's when I'll be busy yelling at Nate to get his cute butt into the shower because we have a wedding to go to that night. He won't comply until 4:25 pm which is five minutes before we have to leave, but that's another post entirely.
I'll announce the winners on my Sunday Regurgitation post.
Sound good?
Let the giveaway begin!
Excuse me while I go tackle my uterus.
.

.