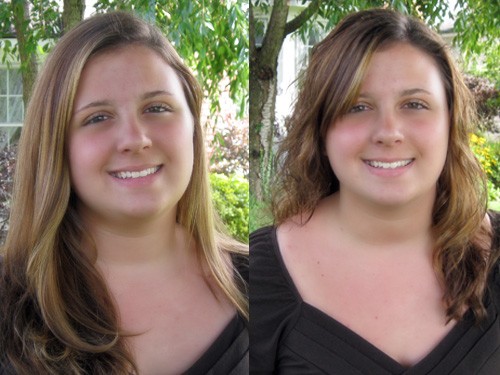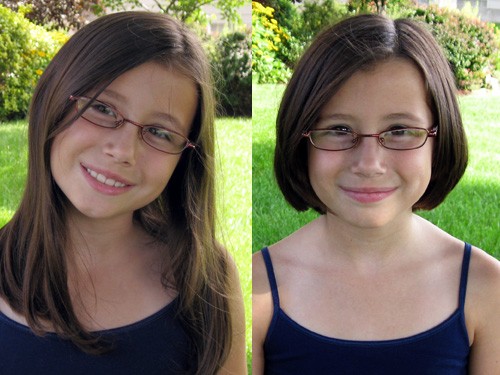 Both of my girls got their hair chopped off last week. I absolutely love it. And it was by their own choice and there was no dragging, kicking, screaming or hysterical sobbing involved at all.
Well, maybe just a little. But it was my first day back on a certain weight loss plan that I had vowed never to do again and which shall remain nameless. And in my defense, there might have been a donut involved.
Anyhoo, I'll have you know that I kept my mouth shut the entire time we were in the salon and by "entire time" I mean a full five minutes and for that, I totally deserved that donut. Just sayin'.
To my credit, I did not cringe at the first snip, I did not gasp at all the hair clippings on the floor and I have no idea who that uptight woman with a bug up her bottom was or why she insisted on parking herself between the girls and their reflections no less than 32 times while asking "are you sure?" Nor do I know why the girls kept referring to her as MOM, STOP IT. I'll have to remind them of the dangers of talking to strangers.
My girls knew exactly what they wanted before they even sat down in the chair and they did not hesitate or second guess themselves and let me tell you, it took all of my will power to stop myself from tackling them to the ground and yanking out a hair from each of their heads for a DNA sample.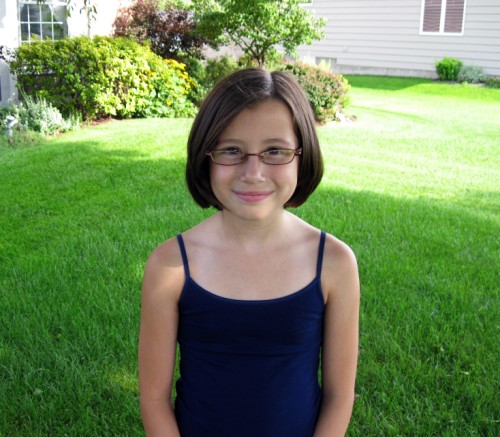 By the way, this one?
This one is going to turn nine tomorrow.
Happy birthday, peanut!
.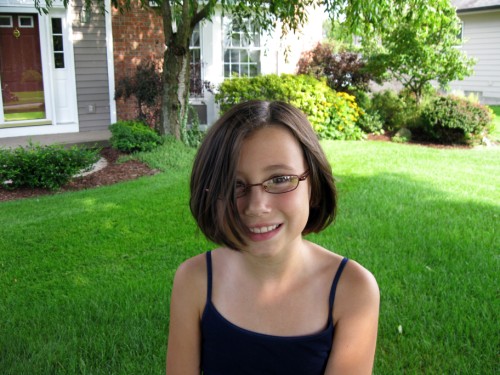 She is totally worth the stretch marks. All 86 of them.
.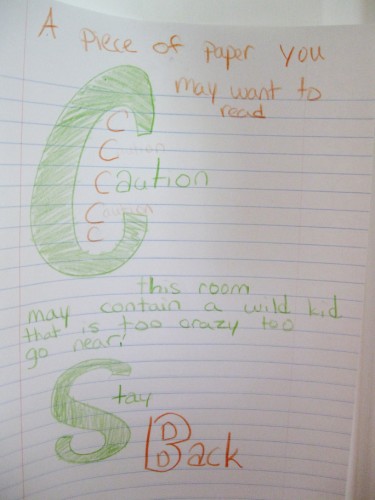 She's developing a very quirky personality lately as evidenced by this warning she slapped up on her bedroom door the other day.
As I read it, I wondered what was going through Helena's mind when she wrote it because if I don't mentally break down every single one of my kids' actions and thoughts processes and analyze them under a microscope, what is my purpose here on earth? Then I immediately whipped out my handy dandy, color coded excel spreadsheet entitled THINGS I ABSOLUTELY MUST WORRY ABOUT OR I WILL SURELY DIE to determine if there was space to plug in one more item in the column labeled Are My Kids Normal? There was not, probably because the microscope I use is one of those fancy electron beam ones right from the set of CSI: New York and thusly, I've spent the last year or so conducting autopsies on my kids' psyches.
Hey, here's a random tidbit for you: Neither one of my kids is wound tighter than a jack-in-the-box on crack. Go figure.
So I grabbed a pen and jotted down possible spastic tendencies on the bottom of the spreadsheet under Helena's subcategories, assigned it a threat level code of yellow, and then quickly shoved the entire thing into my mouth after Helena suddenly opened her door and demanded to know why I was standing there, didn't I read the sign?
.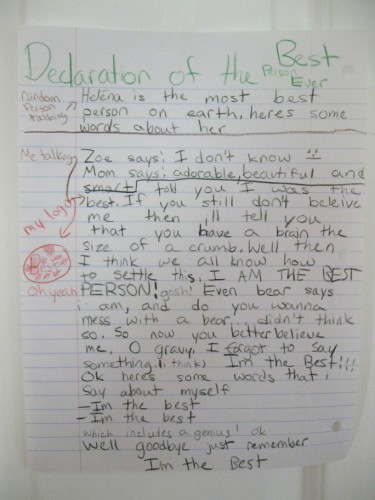 Oh my God.
Was this hiding underneath all her hair this whole time?
I had to update my color coded excel spreadsheet with Potential Narcissistic Egomaniac, Investigate re: personality disorder, concussion or Daddy's fault? Threat level: RED

Then I re-read the entire thing and started to really freak out and added a further update of Determine origin of "O gravy;" Investigate re: when did she turn 90? Threat level: BLOOD GUSHING FROM MY BRAIN RED

Depending on what my investigation turns up, I'm seriously considering not letting her partake of any of the cookie cake we got for her birthday and instead, serving her a big, fat piece of humble pie instead. I'll just have to eat her share of the cookie cake and to hell with my thighs and that certain weight loss plan that I had vowed never to do again and which shall remain nameless.
My daughter's psychological well being is worth it.
.
.