Remember way back when? When Valentine's Day meant you got high from the pungent scent of roses delivered that afternoon? When you showered and shaved and waxed and plucked? And then troweled your face with makeup and used a curling iron and flat iron and hair spray, right before you shimmied into a brand new dress and admired your brand new high heeled pumps? All for a romantic evening at a fancy restaurant with cocktails and a steak dinner and a decadent chocolate dessert that the both of you shared?
Me neither.
And for the record, the day I share a decadent chocolate dessert will be the day I share my actual weight with a real, live, human being.
Nate and I did go to Toronto for Valentine's Day once years ago. We saw Phantom of the Opera and Nate gave me a beautiful diamond necklace and it was very romantic.
Sigh.
That was before we had two kids and two mortgages. Before my waist relocated to another time zone.
Before I required nothing short of a court order to shave and wear heels.
Now, the only things that separate Valentine's Day from every other day of the year are the cards we exchange after dinner. If we're feeling really romantic, we might give each other a big smooch in front of the kids so they can screech UGH, GROSS! PUKE! I'M GONNA HURL right before they cover their eyes and run screaming from the room for fear of prolonged exposure to ushy, gushy, mushy toxins.
Then the moment passes and Nate and I logon to our respective computers and call it a night.
This Valentine's Day, as I was scrubbing and scouring and mopping our entire downstairs and trying not to pass out from my own stench, Nate decided to shock me into a stupor by declaring that he intended to grocery shop and prepare dinner. And not just his infamous "hamburger and noodles" consisting of 80% lean hamburger, macaroni, a bucket of salt and a myocardial infarction.
No, he was going to make fettuccine alfredo with chicken. And garlic bread. And a salad.
I stood there, dripping grimy sweat from every single one of my pores and briefly wondered if Nate had hit his head that morning and if so, what exactly should I do to ensure I didn't interfere with his concussion? Because quite honestly, if he had morphed into an Anderson Cooper sundae and I had morphed into a spoon, I couldn't have been happier.
And yes, I'm aware of the AC rumors and no, I don't care because I'm perfectly content to live in denial. It's always sunny there with no humidity and my thighs don't rub against each other EVER.
.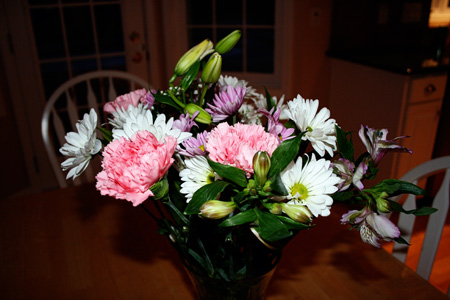 These are the flowers Nate bought me while grocery shopping. I think Helena picked them out.
Yes, he actually took Helena with him to a grocery store. Voluntarily.
I wish he'd hit his head more often.
In a good way, of course.
Who do I talk to about that?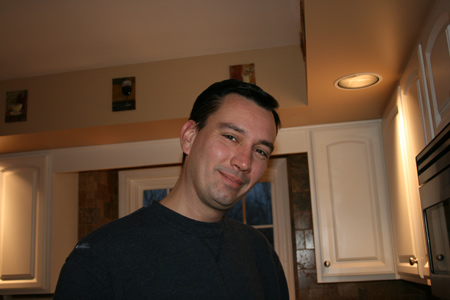 This is Nate before he started cooking. He looks so calm and relaxed.
That's white paint on his shoulder because he had been priming our master bathroom that morning.
I bet that's where he hit his head.
In the bathroom, not on his shoulder. You can't smack your head against your shoulder hard enough to give you a concussion, can you?
.
.
.
For future reference, no … you cannot. You can, however, give yourself whiplash.
Motrin, anyone?
Anyone?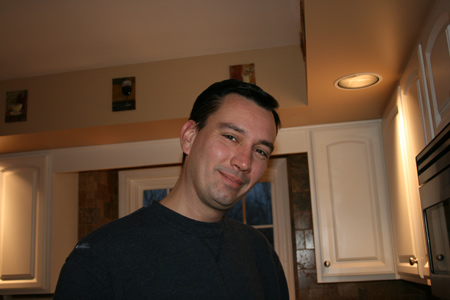 He's cute, isn't he?
I just love him.
But I hate that he looks so much younger than me. It's not fair.
IT'S NOT FAIR.
Maybe I should go hit my head. Then I wouldn't care anymore.
Except that I'd have to hit it every day for the rest of my life and that would get old, just like me.
LIFE IS NOT FAIR.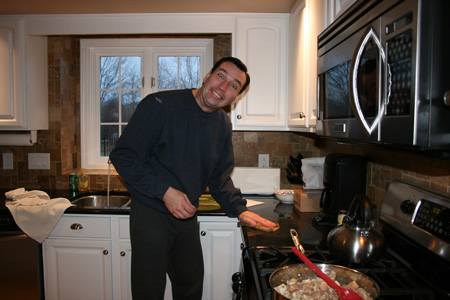 This is Nate twenty minutes later, after I asked him to smile for the 17th time because I could not figure out my manual settings on my camera.
He doesn't look relaxed anymore.
He looks a little psychotic.
It also looks like he's got a Gumby thing going on, with his head about ready to explode, presumably because it has sucked all of the muscle and fat from his thighs, causing his nether regions to move due south for the winter.
Gosh, I hope they come back soon.
And for crying out loud, somebody shut that water off behind him before I scratch my eyes out. For the love of God, I can't stand to have water just run needlessly.
Can't.stand.it.
Stop it.  Stop it.  Stop it. Stop it.  Stop it.  Stop it. Stop it.  Stop it.  Stop it.
OH MY GOD, WHERE'S MY HAPPY PLACE?
There it is!
This is the garlic bread Nate made for me.
Wonder what everyone else is going to have?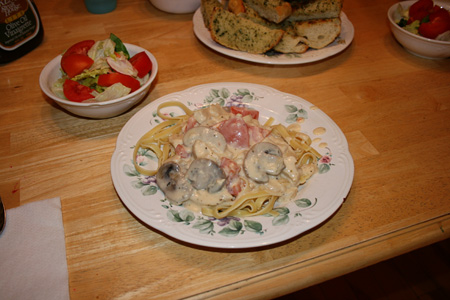 I don't have any photos of the meal in process because my camera and I have a mutual I HATE YOUR STUPID GUTS relationship.
But this is the final result. Doesn't look too appetizing but you know what? It tasted pretty damn good. I think it was all of that I DIDN'T HAVE TO COOK IT that made it taste so delicious.
I love that he made me dinner.
You know what would make it taste even better?
If he served it up unexpectedly on a boring old Monday night in the middle of July, far removed from any holiday, birthday, anniversary or apology.
With a big heaping of JUST FOR THE HELL OF IT mixed in.
Don't you think?
.
.