I was in my office yesterday and banged my toe on a big box under my desk. I had no idea what was in the box so I proceeded to pull at it and promptly dislocated my shoulder. Then I crawled under my desk to get at it, thereby wrenching my back. I tried to push it out from under my desk with my feet and out of the corner of my eye, I spotted my L1 – L5 vertebrae making a break for it out the window. I cried like a baby for two minutes and then heaved my entire weight against the box which, any other day of the week, results in enough force to move a small building but because it was Thursday, resulted in only a few inches and 47 herniated discs.
After a few hours, I finally managed to get the box to where I could open it, which I did with my teeth since my fingers had bled out.
Inside, I found remnants of my previous life as a custom designer which reminded me of a story.
Once upon a time, there was a short, prematurely gray, high strung, donut loving woman who lived in suburbia with her two kids and husband.
She had her mind.
She lost her mind.
She ate more donuts.
The end.
Wasn't that fascinating?
Sitting atop the mountain of stuff that represented five years of my life was this little project: a wedding tin invitation.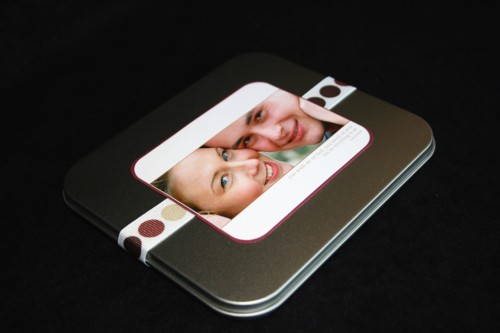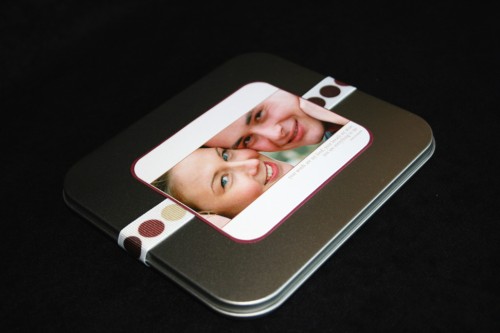 It's pretty, isn't it?
You'd never guess that it's an evil, bloodsucking leech upon humanity, right? And by humanity, I mean me.
For such a tiny little thing, it packs a powerful wallop and caused more damage to my psyche than the time I was sixteen and watched my babysitting career come to a screeching halt after four hours of cleaning up little Satan's poo, which happened to be on the walls at the time. And the floor. And ceiling. Mixed with his pee, it was like Jackson Pollock had thrown up all over the room. For two weeks.
Where was I?
The wedding tin invitation sucked all of my brain cells out of my head through a very long, skinny straw. It wasn't so much the design of the invitation itself that caused me such angst. Surprisingly, that came relatively easily.
The design, not the angst, although I am very proficient at angst, if I do say so myself.
No, it was the assembly of the invitation that caused me to sob and weep and cry and otherwise drown in my own salty sea of despair.
Not that I'm dramatic or anything. But the simple truth of the matter is, assembling this sucker was more painful than sunbathing on the sun. Drenched in pork fat.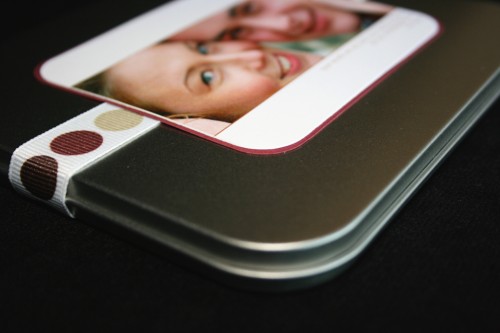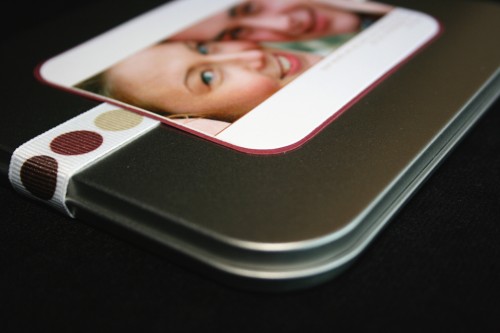 I had to find the right tin at the right price, which I ultimately wound up ordering from Canada because even with the shipping, they were cheaper than the USA equivalent. Which reminds me …
Dear Canada,
I like you.
Won't you be my neighbor?
Signed,
Mr. Rogers. With boobs, eh?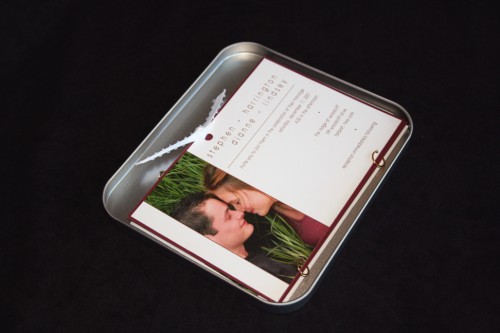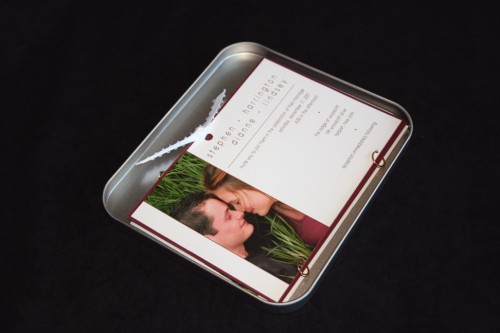 I had to find the right paper. This meant dragging my six year old to the Xpex store so often that they once called me and asked me where the hell I was, it was noon and my parking space was getting cold.
Do you know how many kinds of paper there are? Approximately one billion, give or take three lifetimes.
I would drag my six year old with me to the store, fill up a box with samples, drive home, print on every single sheet and methodically and painstakingly document my results. Then I'd look out the window and, through my bionic eyeglasses, see the Xpedx store ten miles away with the perfect paper still sitting on its shelves.
Well, not the paper exactly. More like the idea of the paper.
You know how some ideas can seem brilliant at the time but then wind up sending you on the express line straight to hell with no drink service? Like telling your six year old that she can have ten of her friends sleep over on her birthday?
Or wearing shorts?
I'd throw my six year old back in the car, drive back to the store, fill up another box with samples, come home and print all over again.
Then I'd ask my husband Nate which one he preferred and he'd say THEY LOOK EXACTLY THE SAME. WHAT'S FOR DINNER? and then I'd cry and give my six year old a snack. Then she'd pat my head and share her fruit loops with me and once again, I'd find the will to live.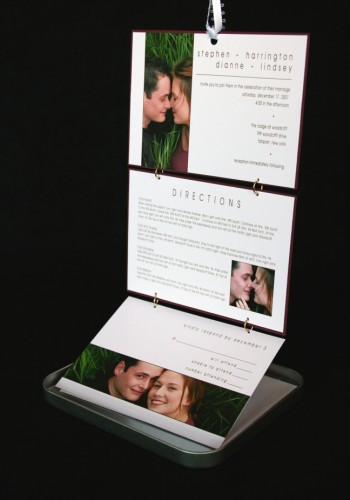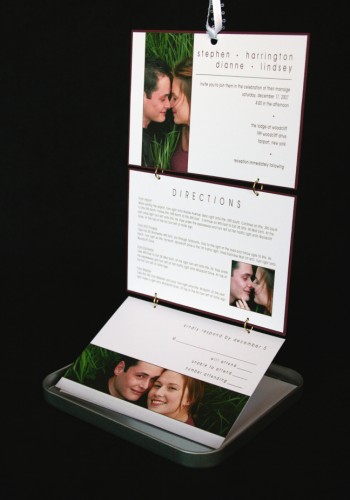 I had to find the right ribbon, for the inside and the outside.
Picture this, if you will: I'm standing in the ribbon aisle of Michaels.
That's all you really need to know. The rest is just fodder for the book I'm writing on Post Traumatic Stress Disorder tentatively titled How I Killed Myself with a 40% Off Coupon.
Look for it at a Barnes & Noble near you.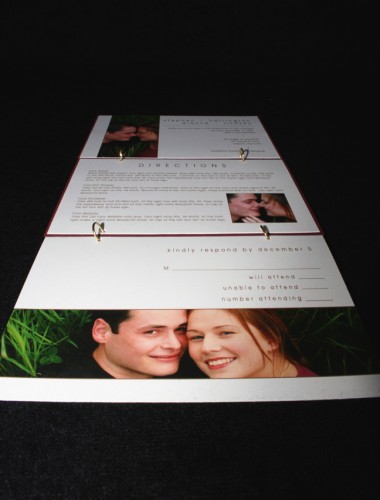 I had to find the right cardstock to mount the invite.
Cardstock comes in every color under every rainbow as well as every color in the rainbow's extended family, which happens to be polygamous and extremely fertile.
I no longer like to mount things.
Sorry, Nate.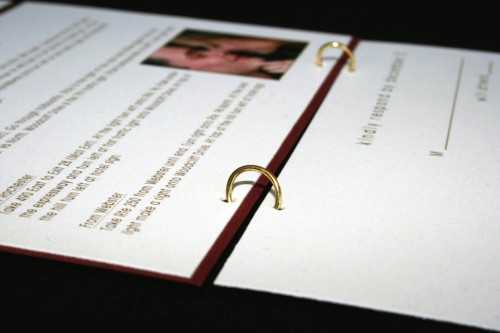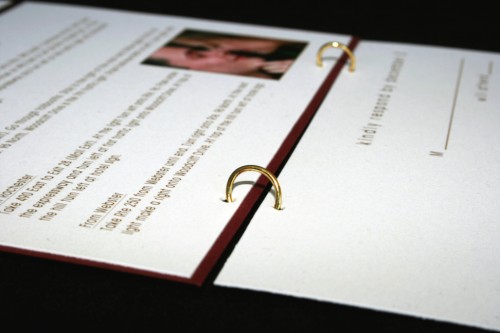 If I told you how long it took me to find the perfect jump rings, you would laugh yourself silly. And then back up very slowly.
So I won't tell you.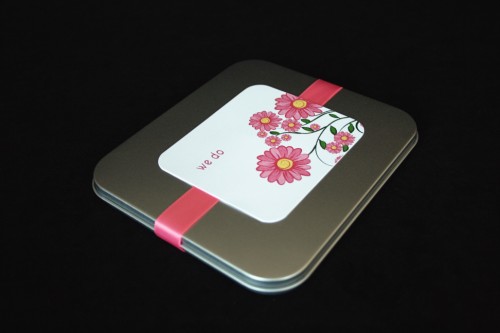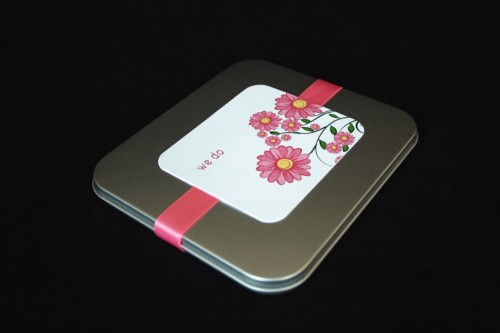 See this second tin?
Pretend I've copied and pasted all of the above sentences right here.
OK?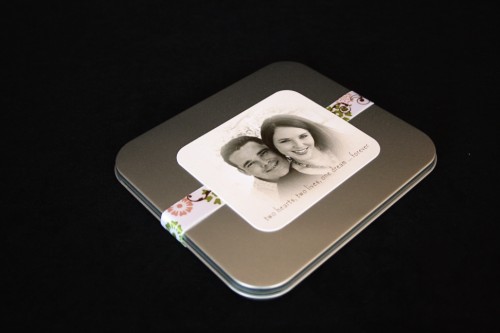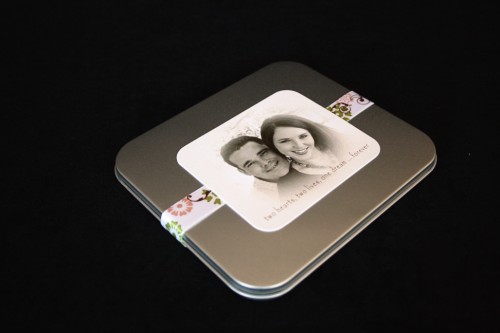 If you don't mind, do the same thing here.
I paid a big, steaming pile of money that we didn't have to a bridal magazine to market my tins. I knew it was risky. After all, I was a little tiny fish swimming with the whales in the big, wide, open ocean. Wearing swimmies that cost as much as our patio.
I should have known better than to swim where my brethren poop.
But I still had hope, despite knowing full well that it was probably misguided and that the last time I had misguided hope, it cost me $39.99 for a pair of size six jeans which are presently growing roots in my bottom dresser draw. Right next to the 36C bra. And thong.
Did you know that there aren't enough fruit loops in the world to make you feel better when you swim with whales and they gobble you up and burp out your soul? Together with your swimmies which are torn to shreds and covered with undigested plankton?
I think I will take these tins and place them in my bottom dresser drawer, right next to the size six jeans. And the next time I come up with an idea, like deciding to ride the Tilt-A-Whirl at Darien Lake or volunteering to churn butter on Pioneer Days, I will open this drawer and get a size six dose of reality, encased in a pretty cool-looking tin.
.
.