Long ago, in a galaxy far far away, I was a senior paralegal to a senior partner in a prestigious law firm.
I took at least an hour to dress myself up in pantyhose, power suits, high heels, make-up, jewelry, contact lenses, hairspray and perfume.
I drove into the big city.
I supervised five or more support staff.
I "did" lunch.
I "took" calls.
I signed my name in ink.
Then I was gifted with my second child.
After that, I took five minutes or less to dress myself in baggy sweats or whatever was hanging off my bed that didn't smell.
I drove to the grocery store, then home, then back to the store, then back home, times ten million.
I had no staff.
I made lunch but don't ever remember eating it.
I prayed for calls.
I signed my name in glitter glue.
As my girls grew older and more independent, I dreamed of nicer clothes, an actual hairstyle, shoes that didn't *thwack* when I walked and, in general, a life. Preferably one that was not focused around bowel movements.
Then I was gifted with a puppy named Oliver who had a bladder the size of a freckle and bowels the size of eggplants.
Now I don't get dressed until 10:00 a.m., or I determine exactly where Oliver has hoarded every single pair of undies in the entire house, whichever comes first.
I have no staffers because they're in school. Which is a convenient cop-out if you ask me.
I drive myself crazy and back because I spend half my time taking Ollie outside to potty and the other half spritzing Nature's Miracle behind the couch because he accidentally-on-purpose did the very thing back there that I just waited outside twenty minutes for him to do. WHAT.THE HELL.
I make lunch so that Ollie can leap small furniture in a single bound to snarf it up the second I blink.
I call Nate and yell IS IT NORMAL FOR A SEVEN POUND PUPPY TO EAT THREE TIMES HIS WEIGHT IN DIRTY UNDERWEAR AND USED TAMPONS?
I don't sign my name anymore because all of our writing utensils, no matter how rudimentary, have been relocated to the general vicinity of Oliver's intestines, together with my cell phone recharger, a USB cable, my INXS cd and the front of my brand new left gladiator sandal.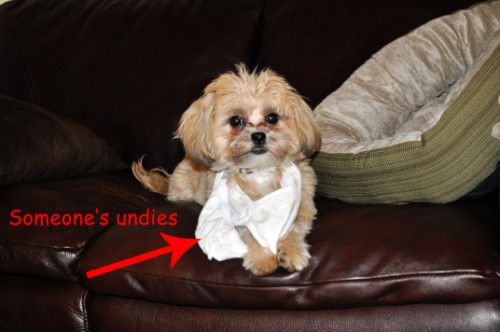 .
.