I was not aware that something worth celebrating was afoot yesterday. And for all of you wondering why I would celebrate a foot yesterday, or any day for that matter, please go take your meds. I don't even like feet. I tolerate them only because I love shoes. Also, feet are the only things stopping all of us from toppling over onto each other and I'm not much into touching strangers, no matter what you've heard. Feet are hideous. Unless, of course, they are attached to pudgy babies. Or my own ankles but even then, I can only bear to look at them if I get a pedicure in which case I'm apt to fling you to the ground, sit on your groin, throw my feet in your face and yell LOOK AT THEM! AREN'T THEY GORGEOUS?
Apparently, yesterday was National Delurker Day, a day when blog readers come out from hiding to say "HI" to their favorite bloggers and maybe even throw them some candy and gifts and, if he's available, Anderson Cooper.
I may be wrong about that last part, depending on who you ask and whether or not he works for CNN and is currently reporting from Haiti. While we're at it, I'm probably wrong about everything that came after "favorite bloggers" as well but if you feel inclined to throw a Milky Way or a Nikon D90 my way, who am I to stop you?
I wasn't even aware of the existence of National Delurker Day until it was too late and this is because I not only reside in a different zip code than the loop, I reside in a different galaxy and nobody will issue me a passport or hail a space shuttle for me. I'm trying not to take it personally. Therefore I had no time to get a decent post up and even less time for an indecent one as those take much longer to write since they require a lot more adjectives and creative ways in which to fit certain words in, like "thrust" and "enormous member" and "produce aisle."
On behalf of all of us who are so far behind the times that we can't even see them from here, I'd like to declare today as National Belated Delurker Day For Those Who Suffer From Short Squatty Leg Syndrome and are Perpetually One or Seventeen Steps Behind The Rest of the World (NBDDFTWSFSSLSAAPOSSBTROTW for short.)
Cool?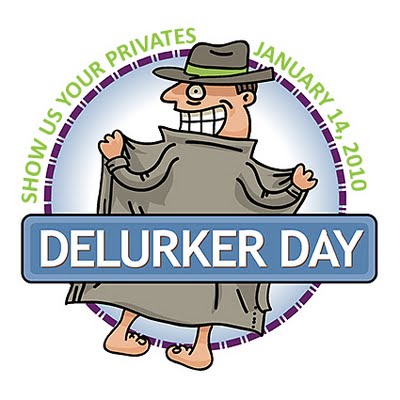 So without further ado … THANK GOD and YOU'RE WELCOME … if you read my blog, delurk for a moment and leave me a comment to say HI, won't you? If you're shy, just type softly. I'll hear you! You don't have to expose your darkest secrets or anything, although I'm awesome at keeping secrets! I mean, I've been blogging for almost two years and you guys still don't know about Nate's third nipple.
Kidding! But now you'll always wonder, won't you?
I know you guys are out there.
*peering into my monitor*
Don't let this post die a lonely, barren, isolated death in vain.
Hello?
*tap tap*
Is this thing on?
.
.