First things first … there's still time to get in on my St. Patrick's Day giveaway! It ends at 9pm eastern tonight and you can win a $50 shopping spree from one of Ireland's finest: janmarydesigns.com. Don't forget, those who type their comments with an Irish accent while riding piggy back on a leprechaun get special consideration!
JUST KIDDING <——— In case anyone is reading this without a sense of humor and is one click away from reporting me to the FTC for fraud. And if you are such a person? You go right ahead and sprinkle a little more pee on your Cheerios.
Second things second … I would like to announce that I have been officially "discovered" and am now on the verge of becoming famous. Yes, that's famous, with a capital F as in "F" YOU, ALL YOU ASSHATS I EVER DATED! LOOK AT ME NOW! MAY YOU CHOKE ON THE BITTER TASTE OF REGRET!
I may have the arm strength of Gumby but I can still hold a grudge for a long damn time. Not that I'm a bitter old hag or anything.
A couple of weeks ago, I received an email from Lorilei Murphy and let me tell you, she's a little smartypants, don't you think?


.
For all of you who are new here, I am a *smidge* fond of Anderson Cooper and by *smidge* I mean that I would yank my uterus back from the dead, vomit for nine months and give birth to his illegitimate child and 79 more stretch marks and cook him dinner if he asked me to. Nate said he would do the exact same thing for Zoe Saldana from Avatar but that's only because in his maniacal obsession with being competitive, he totally forgot he doesn't own a uterus. And that no self-respecting actress is going to give it up for greasy hamburger and noodles.
When I saw the email in my inbox, the first thing I did was pee in my pants a little from excitement because OH MY GOD, I LOVE YOU ANDERSON. The second thing I did was change my undies. The third thing I did was actually read the email and that was how I was introduced to Lorilei (Lor) Murphy, a digital scrapbook designer at Studio Rosey Posey at Scrapbookgraphics.com.
Lor propositioned me and it was completely business related with no sexual undertones at all but I didn't hold that against her because it's not her fault that she has ethics and standards and morals whereas I have but a vague memory of the same, together with an uncanny ability to place my extensive collection of Mary Moo Moo figurines into compromising positions.
Long story short … TOO LATE!
Sorry! I couldn't resist.
Lor has created a digital set of "notes" based on my words from this very blog! These notes have a very distinct, ephemeral, vintage feel to them.
Just like me!
They can be used for digital scrapbooking or any kind of digital design, really. You can click on all the images below to be brought to Studio Rosey Posey where you'll find them on sale!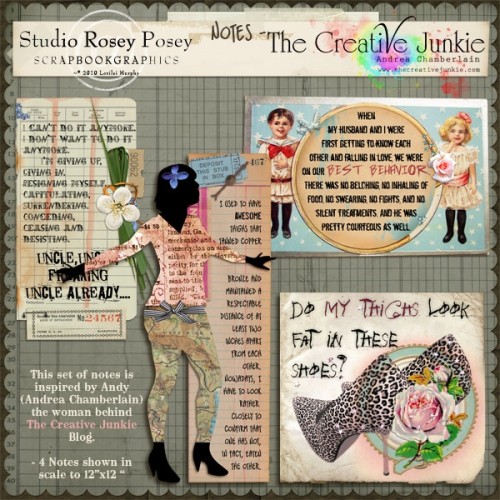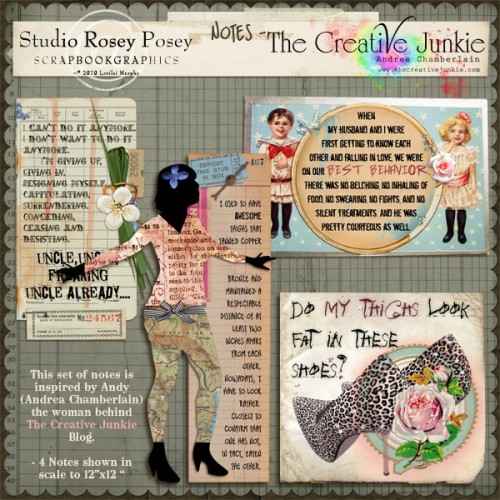 Here are some close ups of each individual file included in the download, for those of us who are seriously myopic and have to squint at our children and feel their faces with our hands while yelling WHICH ONE ARE YOU AGAIN?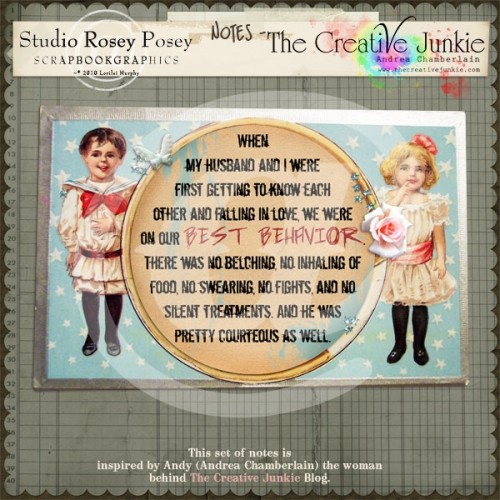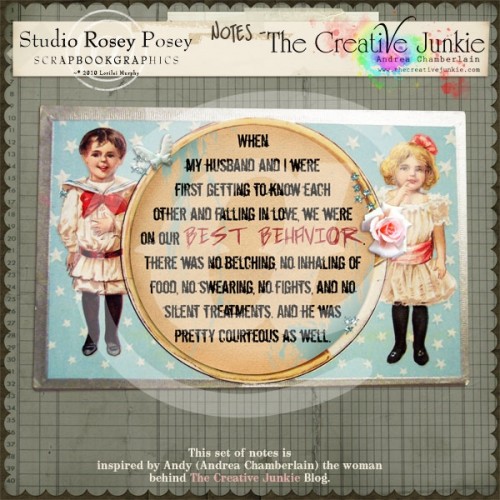 .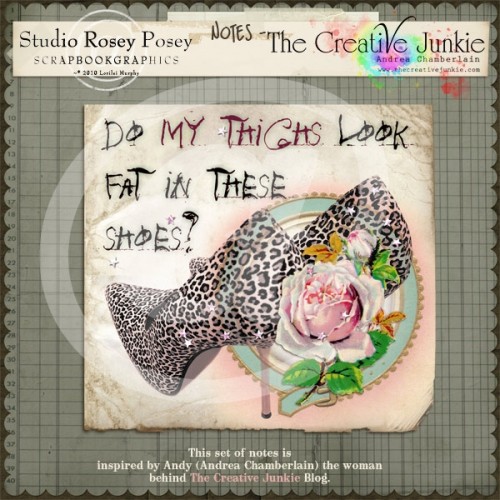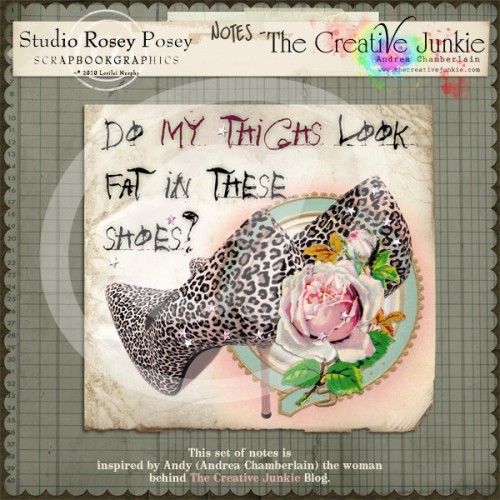 .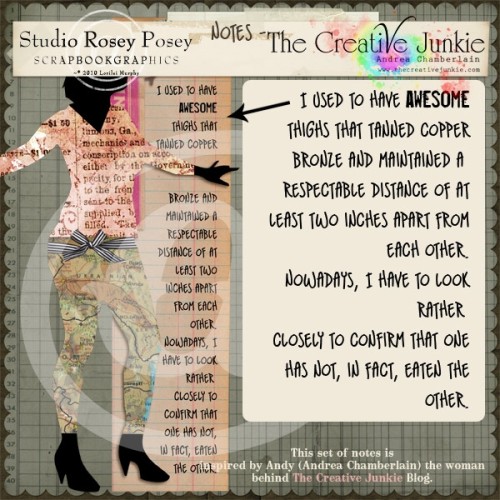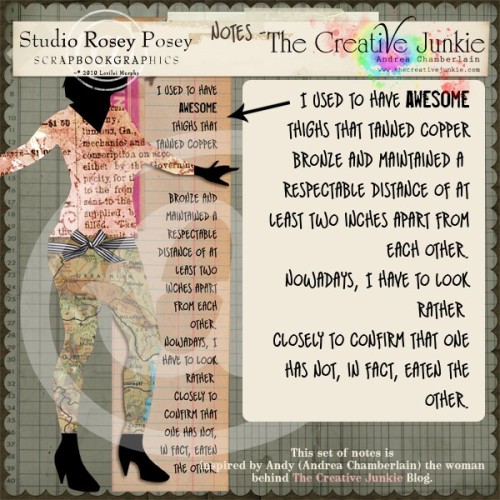 .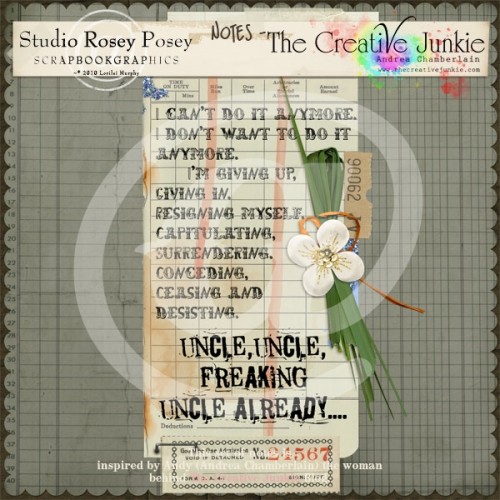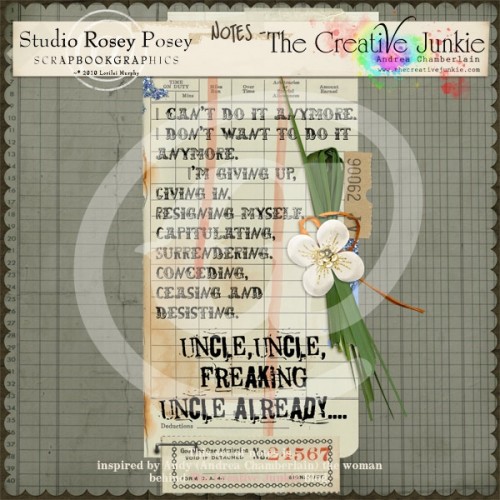 Lor has also created a printable 8.5 x 11 sheet of all four designs which can be used for hybrid crafts, art journals, altered books, cards, paper layouts and more . Click on the images to be brought to Studio Rosey Posey for details: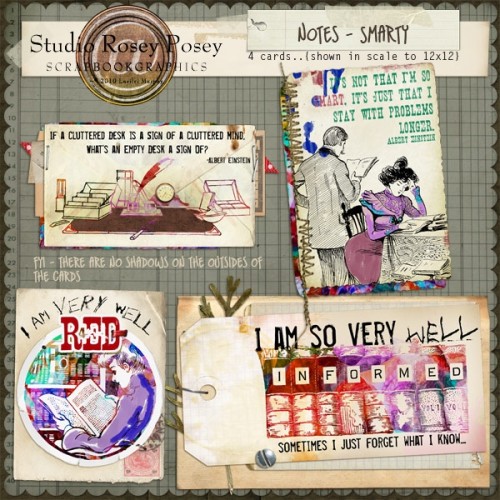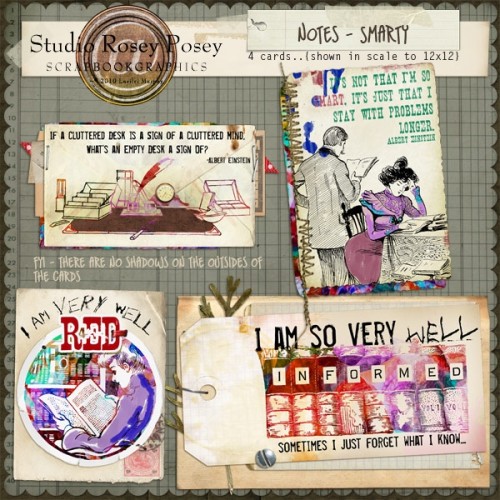 .
Here's an example of how Lor used one of the printables in her own art journal:
.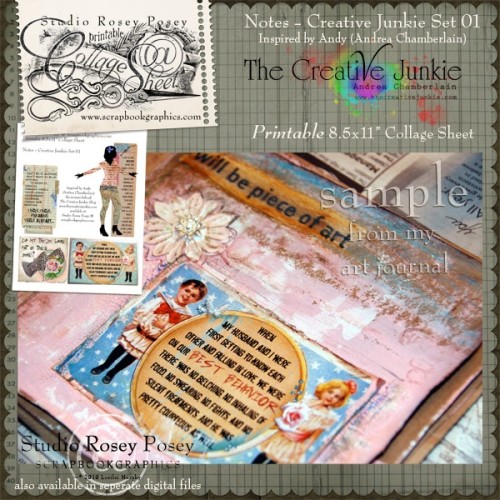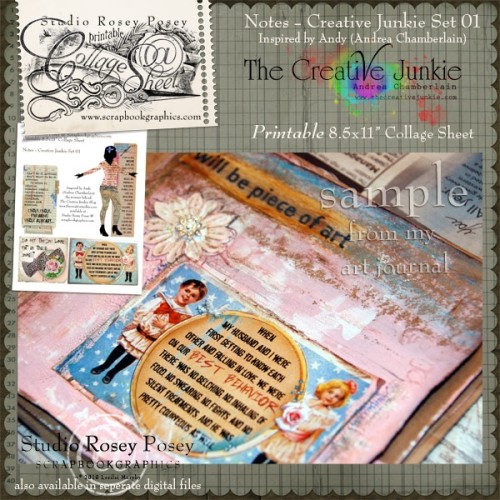 I am honored to have been the inspiration behind these designs since the last time I inspired anyone to do anything, someone got drunk and someone else got a Brazilian wax. It might have been the same person, I'm not sure. But there were definitely chickens involved. The details are kind of foggy.
Who wants a set of these notes for free? Leave me a comment letting me know you're interested and I'll choose three winners and announce them this Sunday! And hey, even if you are not interested, leave a comment anyway! Then at least I'll have something to read other than the horrified expressions on my kids faces when they realize that not only am I'm dancing to my iPod in public again but also that I don't actually care that I'm dancing to my iPod in public again. Been there, done that, got the damn t-shirt already.
Thank you, Lor, for making me almost famous and preserving my voice for eternity! My kids, however,would like to have a word with you.
.
.