The girls' bathroom remains in transition. The new tub is in and the tile has been grouted but the floor is torn up and the vanity looks like that dead sperm whale that spontaneously exploded in Taiwan a few years ago. I want Nate to replace the vanity, remove the soffit above it and cover the wall with big pieces of broken tile butted up against two large pieces of mirror in the shape of trapezoids. Nate wants me to go far away.
In the meantime, we're all sharing the master bathroom which means Nate gets to shower in the company of 53 various bottles of girly body wash, shaving gel, shampoo and conditioner, all of which he avoids like the clap because he doesn't feel like explaining to his boss why he's walking around smelling like fruit salad.
**************************************
.

Remember the $140 juicer Nate bought? It was delivered, opened and promptly stowed away in our hall closet until such time as WHO THE HELL KNOWS?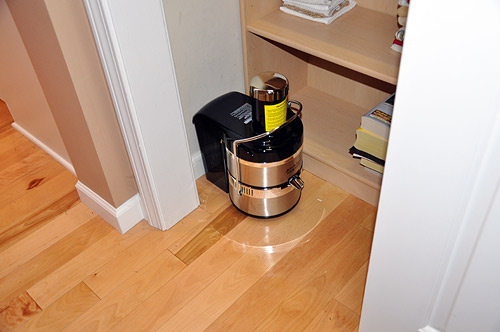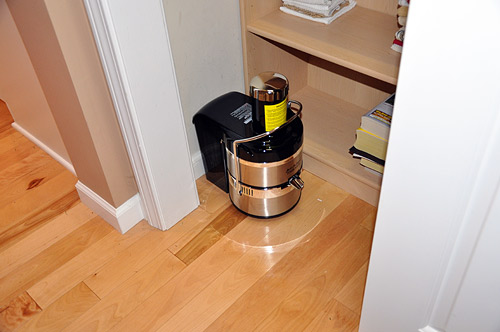 If this photo could talk, it would be screaming I TOLD YOU SO.
**************************************
.

A long time ago, I posted about Bar Keepers Friend.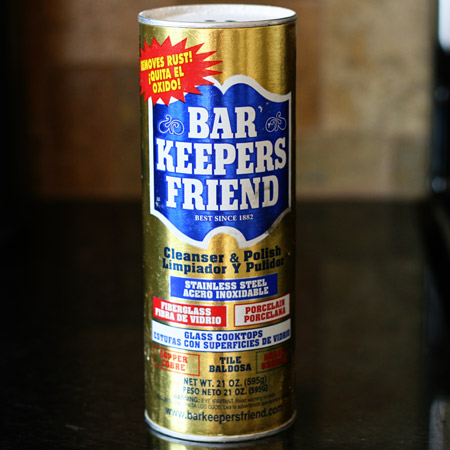 Can I just say again how much I love this stuff?
Why yes, yes I can.
I have a small skillet that apparently suffers from Ethnic Identity Disorder – it was born 100% stainless steel but insists that it is half Black.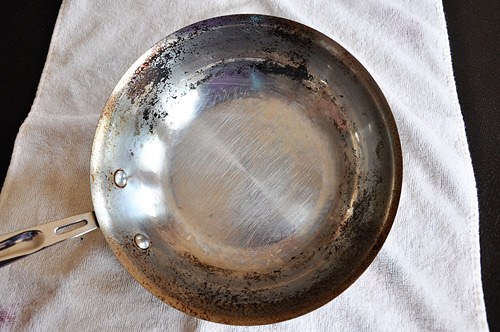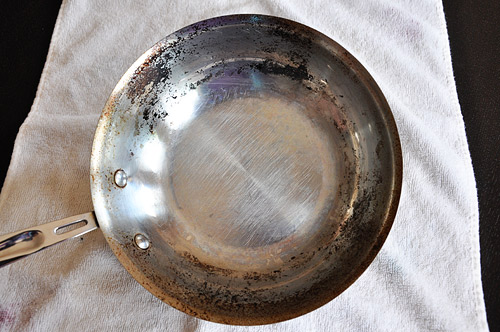 This is the skillet after soaking it for thirty minutes in hot, sudsy Dawn water, rubbing it raw with a brillo pad and Soft Scrub and having it go a few rounds with the power washer Nate uses to clean our deck.
I also yelled at it for twenty minutes straight but that seemed to have no effect whatsoever.
Kind of like my kids.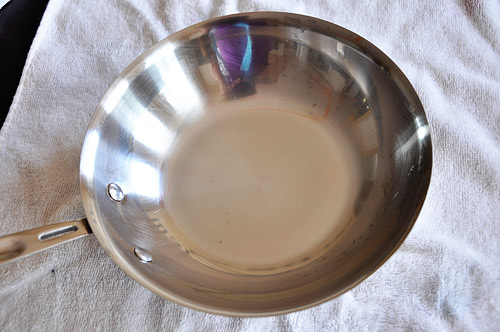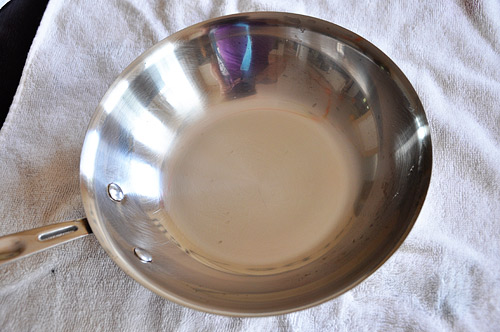 This is the skillet after five minutes of hanky panky with Bar Keepers Friend.
I know!
No, I am not a paid spokesman for Bar Keepers Friend. Although wouldn't that be nice? If it works this well on a skillet, can you imagine what buckets of the stuff could do for my putrid, shitty, scorched bladder?
I want a shiny bladder for Christmas.
Heads up, Santa.
**************************************
.

Zoe is walking around with $600 stuck onto her eyeballs. That's because she came down with a particularly nasty eye infection from contacts last year, necessitating new glasses and a frequent flier pass to the opthamologist so this year, it was highly recommended for us to try Acuvue TruEye which goes for approximately six zillion times the cost of regular contacts.
I about had a heart attack when we purchased these damn things from 1-800-Contacts at Walmart. I about had two more when my $100 rebate form was rejected by Acuvue because apparently, Walmart does not participate in their rebate program, a little fact that the manager of the Walmart optical department neglected to tell me.
Reason #1,366,349 why I despite Walmart.
Also, item #749 in my arsenal that I like to call STUFF I CAN YELL OFF THE TOP OF MY HEAD TO REMIND MY KIDS WHY IT'S KIND OF SHITTY OF THEM TO STICK ME IN AN OLD AGE HOME WHEN I TURN FIFTY.
**************************************
.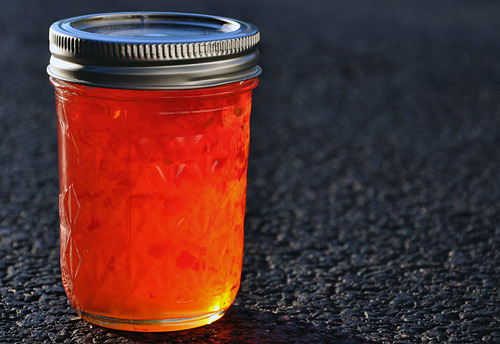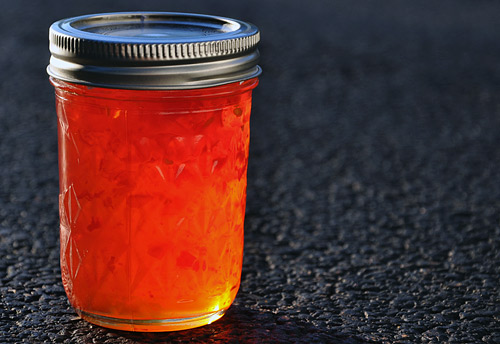 This is a jar of hot pepper jelly from my friend Barb who was nice enough to post her recipe here. It came in the mail yesterday and I loved the color so much, I ran right out to my driveway to take a shot of it and make my neighbors call each other up and whisper She's at it again. Poor thing.
Isn't it gorgeous? I don't want to open it. I want to keep it by my kitchen window and let the morning sunlight filter through it so I can stare at it instead of at confused skillets. But I'm married to man who can sense hot, spicy things across three time zones and he called me from the airport in Chicago and yelled I'M SO EATING THAT WHEN I GET HOME and then hung up.
It took me a second to realize he was referring to the pepper jelly and not me.
Because apparently, my own hotness and spiceness is not detectable past eastern standard time.
.
.