I thought I'd introduce you to some of the hills we met in San Francisco.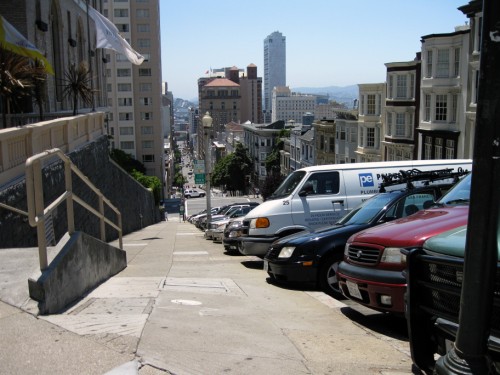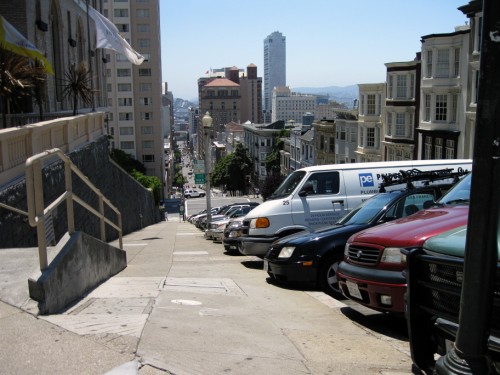 I called this one Mt. Holy Shit because (1) holy shit, look at it; (2) it's even steeper when you walk it. Steeper? Steepier? More steepy? And (3) it led right to the front doors of Grace Cathedral:
.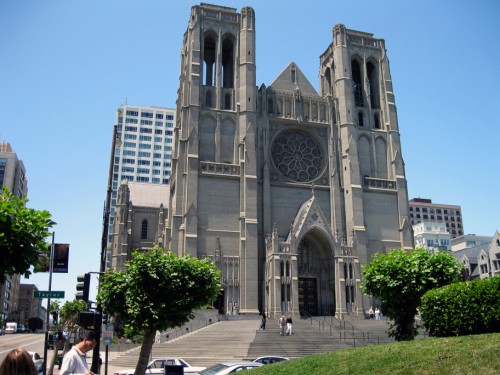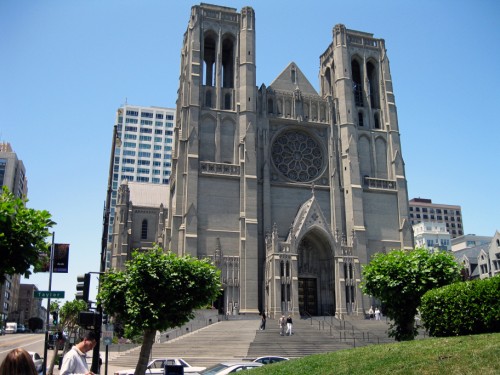 I thought it was very considerate of San Francisco to place Grace Cathedral at the top of Mt. Holy Shit because, after you get tired of hobbling up the hill on thighs and calves and ankles that are allergic to 45° angles and you sprout a blood clot that zooms from your little toe straight into your heart within 2.4 seconds and you die on top of Nob Hill of a massive coronary, it's only a hop, skip and jump across the road to your soul's eternal rest. Somebody grabs a casket on sale, somebody else rounds up a couple of pall bearers and finds out who's giving the sermon that day and *whammo* – instant funeral!
Can't get any easier than that, right?
You're pretty darn efficient, San Franny.
We wanted to take in the breathtaking views of San Francisco from atop Coit Tower and Nate decided that we would walk up to the tower because apparently, he never wanted to have intercourse with his wife again.
Walking up to Coit Tower is like walking all the way up to the planet Mars, only longer and sweatier, while wearing a two ton backpack known as Your Ass.
.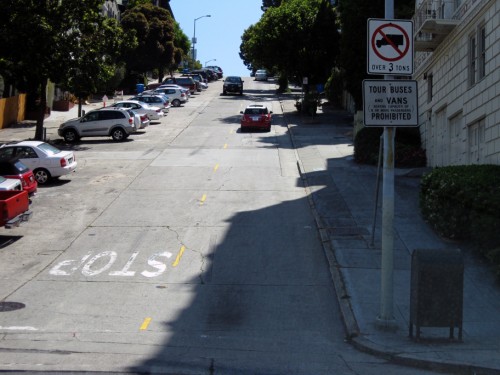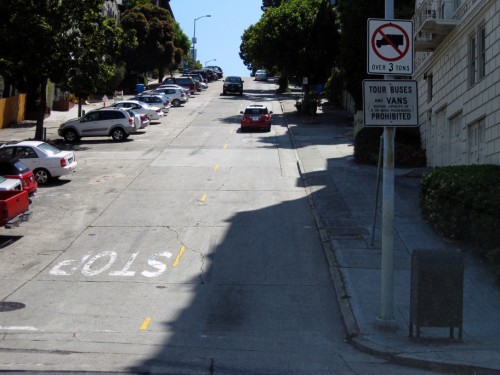 On our way, we had to climb this hill. I named it ARE YOU OUT OF YOUR FREAKING MIND?
I may have cried at the top. Or the bottom. I can't remember.
It's all a blur, really.
.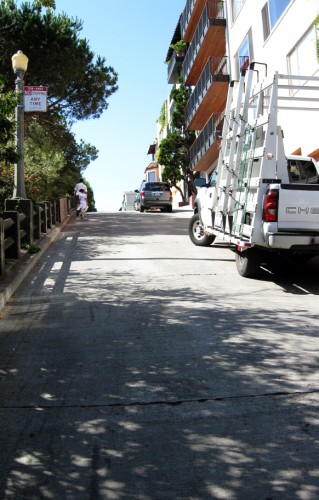 After that one, we had to climb this one. I called it BLOOD IS GUSHING AROUND INSIDE MY SKULL SO SHUT UP.
I definitely cried at the bottom of this one.
And the top.
And once in the middle.
Wait!
Twice.
.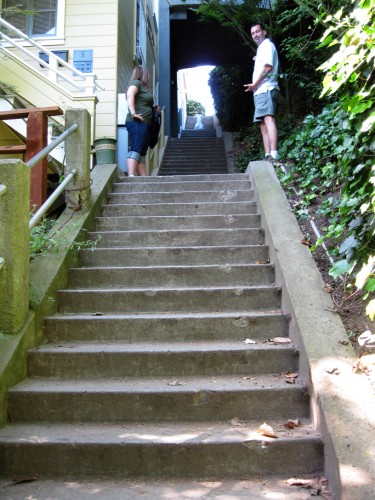 To keep tourists on their toes and guessing, there were steps! I stopped counting at 6,355 because I was delusional by then and tried calling Sarah Palin to tell her that I, too, could I see Russia from where I was standing and could I get her hairdresser's name? But Zoe grabbed the phone out of my hand before I could ask Directory Assistance for her number.
This set of steps above was called HEART ATTACKS ARE FOR SISSIES, JUST HIT ME OVER THE HEAD WITH A TOYOTA.
I totally cried everywhere on these. The foliage is green because of my tears.
Isn't that poetic?
.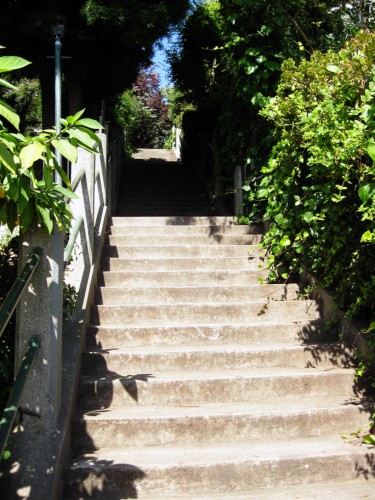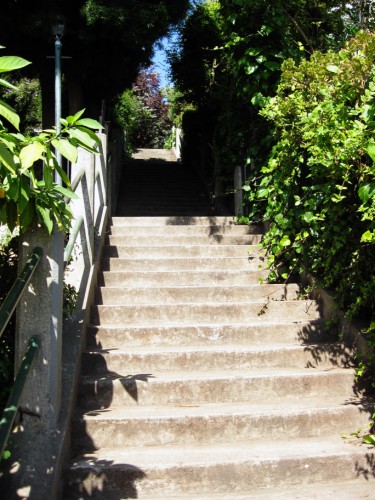 Then came this set, which I named WE ARE SO TOTALLY NEVER HAVING SEX AGAIN. EVER.
I didn't bother crying on these. Instead, when I got to the top, I planted a flag that said ANDY WAS HERE. THEN SHE KEELED OVER AND DIED.
And then I keeled over and died.
.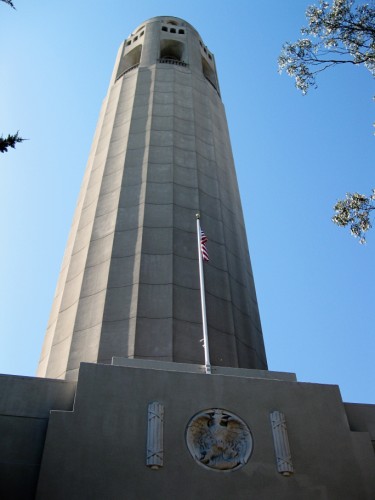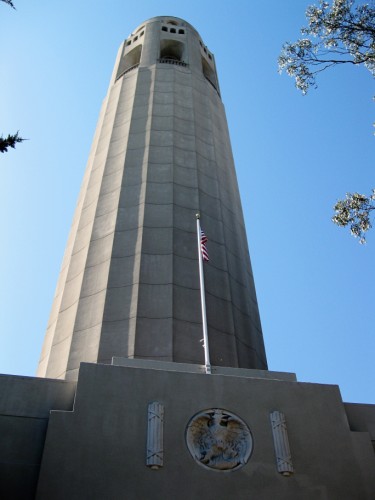 This is Coit Tower, in case you were wondering.
There was a spiral staircase inside that we had to climb to get to the top. I would have taken a picture of it but I was clinically dead at the time.
.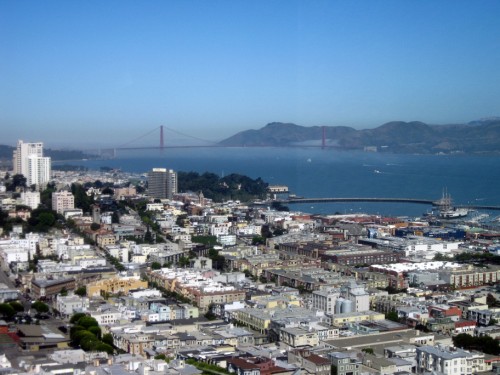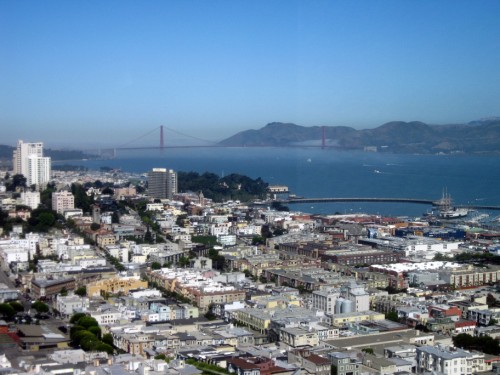 And this is one of the breathtaking views from atop Coit Tower. At least, I think it is. I was busy never having sex again and being clinically dead, so I can't be certain.
Let's say it is for expedience sake, otherwise this post will never end.
.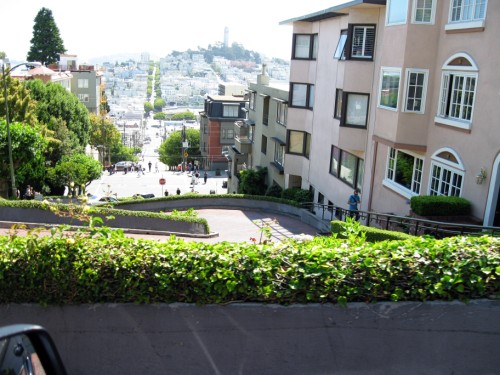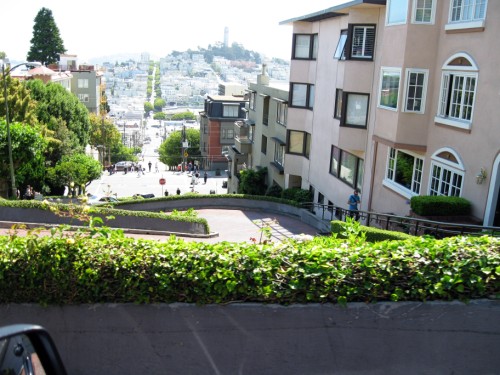 Finally, a hill we met while in a car. That's, like, my favorite kind of hill!
This one was called Lombard Street and it's the crookedest street in the world.
.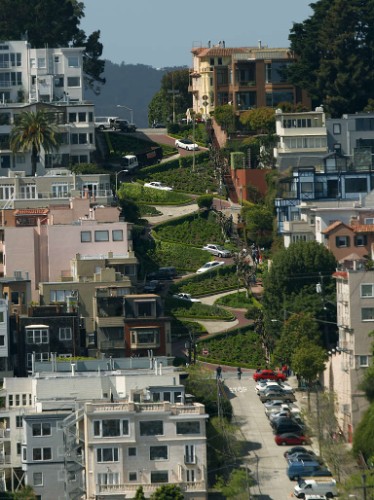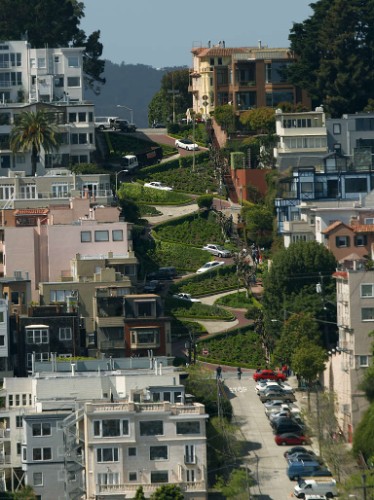 I have lots of photos of Lombard Street but I thought you'd rather see the one from Wikipedia because it actually shows Lombard Street and not my elbow or the pavement or lots of blurry things. Unlike mine, you can look at Wikipedia's photo and not get the sense that behind the camera is someone shouting GO SLOWER, I CAN'T FOCUS! WAIT! HANG ON! CAN WE STOP? DAMMIT! UGH!
.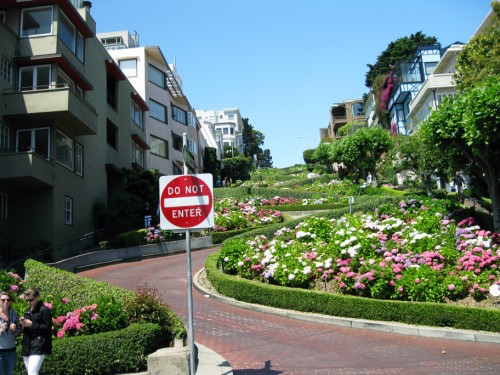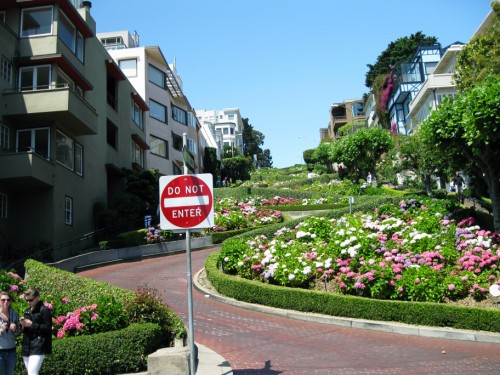 However, at the bottom of Lombard Street, I stuck my camera out the window and, without looking, pressed the shutter and managed to get this shot.
How come nobody told me the secret to taking a good picture is to be totally blind?
.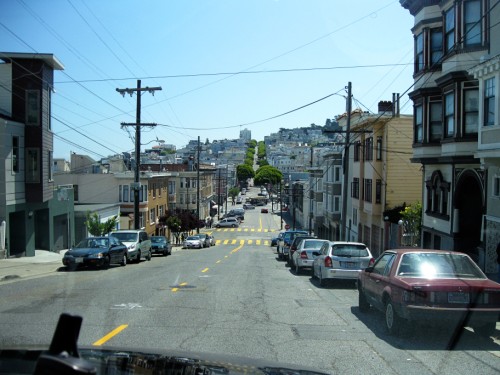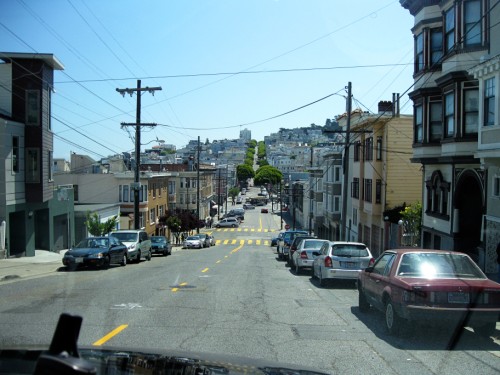 When I first visited San Francisco, I thought this was a big hill.
I was such a newbie back then.
.
.