It's been about a month since I lost my "blog giveaway" virginity. It was traumatic and nerve wracking, not to mention a helluva lot of fun. Which is more than I can say for losing my actual virginity, but that's another post entirely, one that will never make it onto this blog because my mom and dad are avid readers and as far as they're concerned, I ordered Zoe and Helena out of a Pottery Barn catalogue.
Which is exactly what I've instructed Zoe and Helena to tell me when I'm bouncing my own grandchildren on my knees.
I want to do it all over again!
Host another giveaway, not lose my virginity. What are you, nuts? Besides, my virginity is not lost. I know exactly where it is: tucked away on top of my closet in an old shoebox, along with other miscellaneous items I haven't seen in awhile, like my 24 inch waist and the ability to solve differential equations.
I pondered about what to give away this time … a ten year old Yankee candle with a burnt out wick? My adding machine afflicted with dyslexia? One of my kids?
But in the end, I decided what everyone needs is a red headed broad from Kentucky sporting a thick, southern drawl. I called all the red headed broads with southern drawls I know in Kentucky, which was just one: Martha Treadway a/k/a Krash.
Little known fact about Martha: 75% of her weight stems from the mass of red curls gracing her head. Seriously, she's got more hair on top of her head than I do on my entire body, even when I forget to shave, and I'm of Mediterranean descent so that's really saying something.
I asked Martha if she'd like to be my giveaway this Friday and she said she was sorry, but she couldn't because she was busy.
And I said MARTHA, MARTHA, MARTHA in my best Jan Brady whine because I watched one too many episodes of The Brady Bunch while growing up. This would have gone over better had Martha's name actually been Marsha but we have to make do with what we have, don't we?
So I asked, busy doing what?
And she replied, ummmmm, busy doing laundry.
And I yelled, too bad, wear icky undies for a day and do my giveaway.
And she scrunched up her face and retorted, you are SO gross.
And I responded I know you are but what am I?
And she responded, a two year old?
Then I called her a wussy.
She called me a hag.
I sent her an emoticon picking his nose via Yahoo Messenger IM.
She sent me an emoticon vomiting chunks into a paper bag via Yahoo Messenger IM.
It's lucky we're good friends.
In lieu of offering her own self up so that she could stay in Kentucky and wear clean undies, she offered up her talent instead, in the form of a piece of custom designed line art, which is the foundation of her new business called eclecticRed, found HERE.
Basically, she makes Photoshop dance. With rhythm and everything.
I want to make Photoshop dance. I can make it wiggle and jiggle if I light a fire under my hard drive and scream at it long enough but she can make it do some serious hip hop with only minimal effort.
I want to do something serious with minimal effort. Sex doesn't count. Besides, I don't have sex, being a virgin and all. Just ask Nate.
Want to see what my giveaway is all about?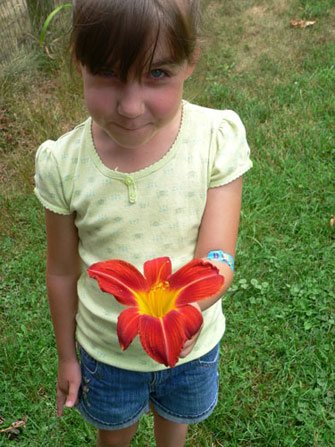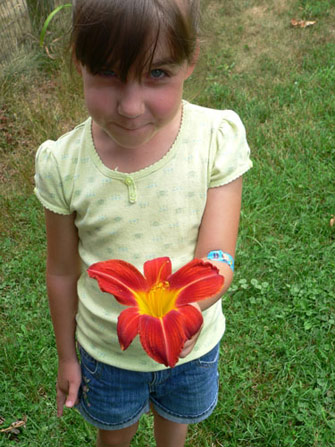 This is a photo of her cutie daughter. She picked that flower just for me, I know it.
.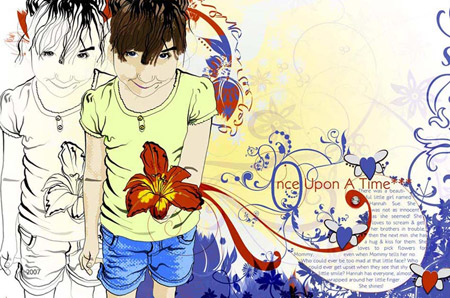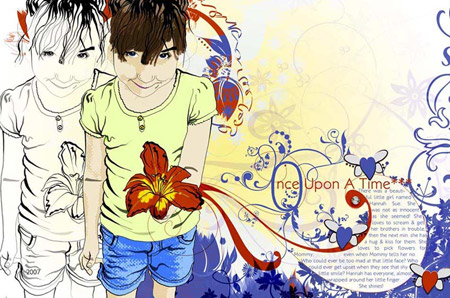 This is after Martha got her hands all over it.
I know, right? She is such a show off.
.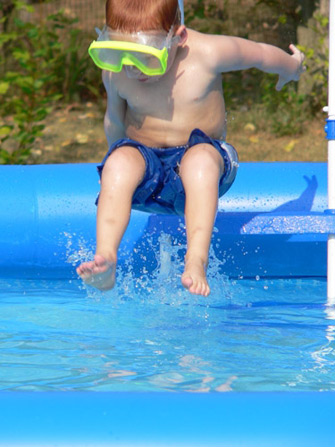 This is her cutie youngest son.
.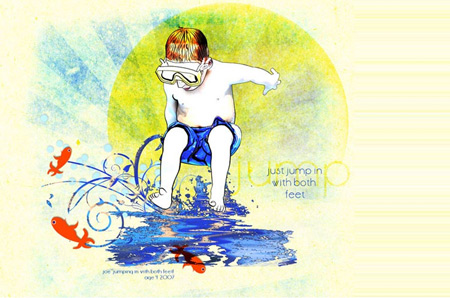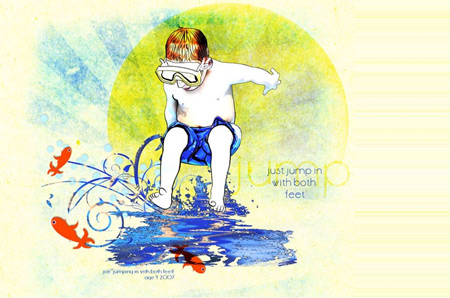 This is her cutie youngest son on Martha's Photoshop Steroids.
Any questions?
Again, that would have gone over so much better if I had a frying pan and cracked an egg into it but like I said, we have to make do.
.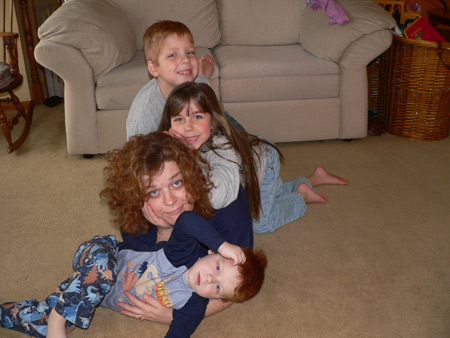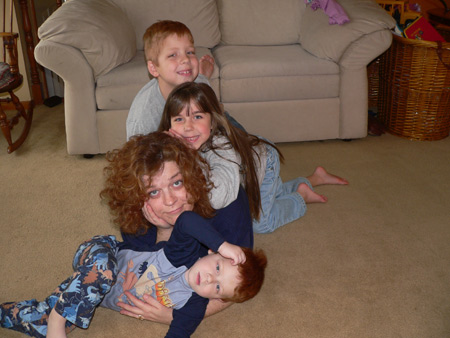 Here's Martha being tackled by all three of her offspring.
.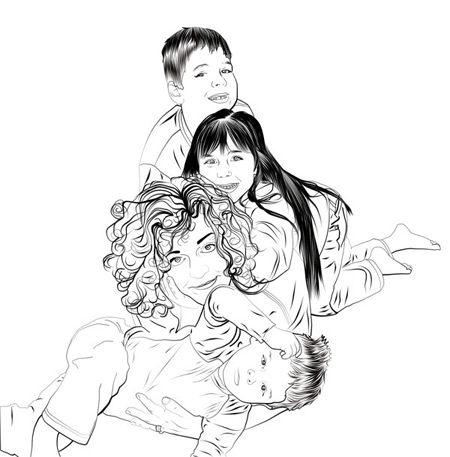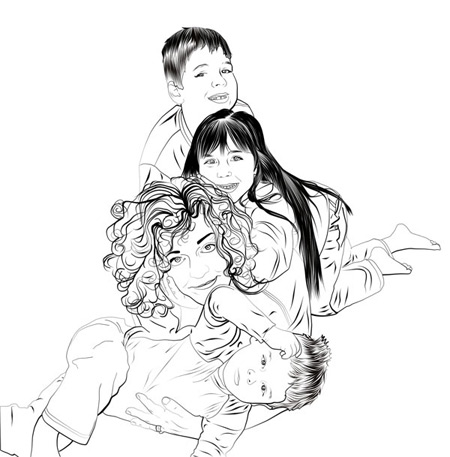 America, Martha's got talent. Somebody clue David Hasselhoff in.
And lest you think Martha uses an action or filter or plugin to get these results in an instant, think again. She draws them all by hand, using the pen tool. For those of you not familiar with Photoshop's pen tool, it's a sadistic little monster that I like to refer to as OH MY GOD, I HATE IT, I HATE IT, I HATE IT SO MUCH, GIVING BIRTH WAS EASIER THAN USING THIS THING.
She is also a lover of nature and bugs, but we won't hold that against her, OK?
.
So, what am I giving away?
One 11 x 14 custom piece of line art designed by Martha Treadway otherwise known as Krash otherwise known as Kentucky Red Head Who Won't Wear Icky Undies. All you have to do is email or snail mail her whatever photo you want her to use for the drawing.  Your kids. Your pet. Your husband. Your wife. Your house. How about the one of Aunt Mo prancing around in her skivvies and hugging a bottle of vodka?

Simple black and white rendering  -OR- full blown color chock full of design … it's winner's choice.
Oh, and the 11 x 14 drawing will come mounted on a 3/4 inch thick, lightweight board with black edging, ready to hang.

It's valued at $135. Needless to say, this ain't your mama's artwork.
Not that there's anything wrong your mama's artwork! Please don't make your mama yell at me. Because then I'll have to get my mama involved and she'll do that freakish eyebrow thing and scare everyone.
OK … here's the scoop. Pretty darn simple, actually:
To enter, leave a comment in this post telling me I'm pretty.
No entries after 9:00 pm eastern time on Sunday, February 8, because that's when I'll be running around the house, trying to find Helena's school binder and concoct something resembling her lunch out of an onion, bologna and paprika.
I'll use random.org to select one winner. As you know, I can do random like no one's business.
Would somebody please explain to me who no one is and why he owns a business to begin with?
Please don't enter more than once. If you don't see your comment right away, be patient. It will appear. DON'T BE LIKE ME AND FREAK OUT. It's unbecoming, don't you think?
I'll announce the winner on Monday!
I'm pretty excited about this and so is Martha. Actually, I believe the word she used is twitterpated.
I'm assuming that's a Kentucky thing.
.
.