Hey everyone!
I'd like you to meet Hildegard, my newest house guest:
Hi Hildy! You're looking particularly repugnant this morning, I must say.
For those of you new to my blog, I get cold sores in bulk and I'm prone to naming them and then blogging about them not only because I'm a freak of nature but because, other than "Jon & Kate Plus 8" and "Octamom," there are no better Google key words than cold sore to guarantee an orgasm of blog traffic and a healthy erection of your blog stats.
In case your interest is aroused, there are other Google key words that hit the G spot as well, but I'm going to have to think long and hard about them as I can't recall them off the top of my head at the moment.
For those of you who have been here for awhile and are accustomed to seeing my anatomy in various stages of distress on a routine basis … I'm sorry.
Hildy came to visit yesterday and parked her big, fat, ugly ass on my lip, one week before we're due to leave for San Francisco for our tenth anniversary celebration. Seeing as how my cold sores last anywhere from 2-3 weeks, I fully expect to pack her a little suitcase of her own, chock full of Valtrex and Lysine and Zovirax. I hope she doesn't need her own airplane seat, the miserable little shit.
I have had just about enough of Murphy's Law. Would someone please find Murphy and revoke his legislative powers? Because otherwise, I am going to beat him senseless.
Let's recap, shall we?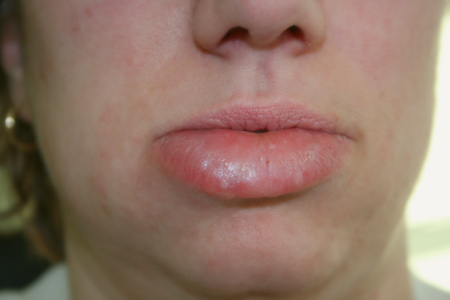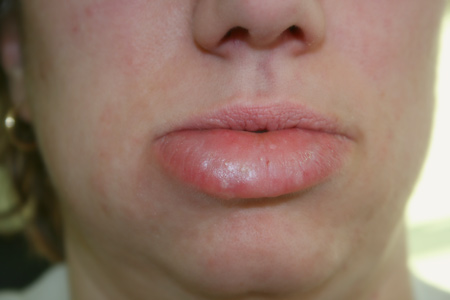 Remember Millicent? She was Hildy's twin sister who dropped in unexpectedly this past March, on the same day I was due to volunteer in Helena's classroom, take her to gymnastics, go to a meeting at Zoe's school and substitute for Bunco, which exponentially increased my chances of being noticed and thus tackled and hauled off to NASA to explain how I got an alien sucked to my face.
Milly stuck around for, oh, about two weeks.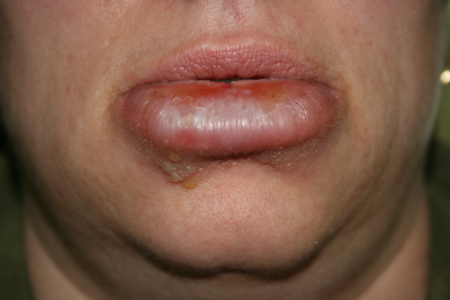 And who can possibly forget the one, the only, the incomparable Bernice?
Not me!
Bernice was the badass mother of Milly and Hildy and, I'm pretty sure, every cold sore that ever was since the dawn of time. She came to visit me on July 4th of last year, exactly six hours before I was due at a picnic where I was to be meeting Nate's friends and their families and friends, about sixty people total, for the first time. Right before we left for the picnic, I snapped this photo and cried.
Bernie sucked the life force out of me and overstayed her welcome by three of the longest weeks of my life. I never did get around to sending her a thank you note for the scar she left me. After DEAR BERNICE, SCREW YOU, YOU BIG, FAT HAG, I just had nothing left to say.
Who else gets cold sores like these? The kind they don't show on Abreva commercials lest their entire viewing audience leave their TVs to vomit? The kind that swells up half your face and gives birth to dozens of canker sores and causes your ear to throb and your eye to ache and, in general, makes you want to slam your face against the pavement until it falls off?
Anyone?
Anyone at all?
To put it in terms that Google key words understands, being a pulsing, throbbing member of the trend setting community sucks and blows.
Multiple times.
.
.