We're back!
And I'm just going to assume that big sigh I just heard on the other side of my monitor is one of relief.
With Zoe making a mad dash for the phone the instant her toe crossed the threshold and Helena and I body slamming each other to get to the bathroom first and Nate standing alone in the garage, hollering WHO'S GOING TO HELP UNLOAD, it took all of 3.2 seconds to get back into our routine. Add the 29 pounds of dirty laundry we brought home with us and it's like we never left.
I always love to spend time with my parents down in North Carolina in November. Great company, awesome food, perfect weather – mid fifties and sunshine. So much better than sitting here by myself, eating a granola bar and staring at the cold, frozen, sleety, slushy slop outside my window.
Blech.
While in Southern Pines, we did some window shopping and I added 43,296 items to my list entitled Expensive Things I Will Buy When I Win the Lottery. Not to be confused with Nate's list which is entitled Expensive Things I Will Buy Whether I Win the Lottery or Not So Don't Tell Andy.
We went to Fresh Market which is this lovely, charming, quaint, rustic, I'm out of adjectives, grocery store near my parents' house. Now, I come from the land of Wegmans, which is the Holy Grail of all things grocery, so it takes a lot for any other store to impress me. I mean, A LOT. As in, George Clooney better be working the cash register and he better bag more than my groceries in order for me to even consider buying our sustenance from anyplace other than Wegmans.
But Fresh Market came along and even though I didn't see George Clooney bagging me or my groceries, I still fell in love. With Fresh Market, that is. Not George Clooney. But that's only because I was already in love with George Clooney. Hi George! Call me.
Fresh Market had an actual cranberry bog. It lacked the panache and sophistication that only Ocean Spray cranberry bog guys in chest high rubber waders can deliver, but who cares? Wegmans, where's your cranberry bog?
Fresh Market sold herbs and spices in simple ziploc baggies for under $1.00 each. Wegmans, as much as I adore you, I have to admit, it was nice to pay for the herb instead of the jar it comes in. And that comes from a packaging junkie … slap some groovy colored cellophane on it and stick it in a hot pink and emerald green box shaped like the Sydney Opera House and I'd buy my own excrement, even if it wasn't on sale.
Wegmans, I love you to death, but you may just have to up your game a bit. Just sayin'.
Anyway …
We stayed five days and five nights under the same roof as my parents and nary one fight amongst any of us. I'm not counting those between Zoe and Helena because those are just a given and, unless there's blood or vomit involved, they no longer even register with me. And I'm not counting the 951 kicks and shoves and punches and pinches and screams of frustration I bestowed upon Nate when he snored loud enough to make me think I was seconds away from being run over by the local Amtrak train, not to mention long enough to make me wish that I was seconds away from being run over by the local Amtrak train.
When you only get three hours of sleep in five nights, death becomes a viable, if not desirable, option.
I'd have to say that the only tense moment between my mother and me arose from their garbage can: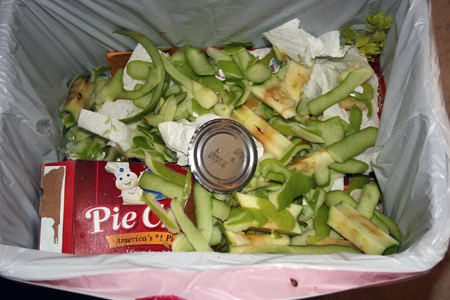 If you ask me, I'd say that this is a pile of garbage with a sticky, icky, slimy, tin can lid resting on the top. Because that's how sticky, icky, slimy tin can lids go to Heaven – amongst their brethren in the trash.
If you ask my mother, she'd yell ANDY, OH MY GOD, WHAT HAVE YOU DONE? Whereupon she will emit a primal scream of horror and morph into an NFL defensive back, barrel her way across the kitchen, slam aside anyone in her path with her titanium hip, retrieve the lid in question, rinse it off and run it down the line to the end zone where she will risk unsportsmanlike conduct by spiking said lid into the recycling bin, all while her granddaughters scream GO, YIA YIA, GO GO and Nate bellows SHE . COULD . GO . ALL . THE . WAY right before breaking for commercial.
Sigh.
Someone please come over to my house on Sunday afternoons, Sunday nights, Monday nights and Thursday nights and force Nate to turn down that monstrosity of high definition he calls TV because listening to football at 310 decibels for four hour stretches is beginning to affect my creative process. And not in a good way.
In my defense, I did, in fact, place the actual can belonging to said lid in the recycle bin. However, my mom spotted this lid with the extra set of eyes she stores in the back of her head, the very same eyes she claimed ran out of batteries around my eighteenth birthday or so.
I'm not sure why the pie crust box didn't warrant the same attention.
.