I was all set to blog the third and final installment of my Weight Watchers journey where I was going to discuss the benefits of exercise with as little profanity as possible but shit on a stick, guess the hell what, everyone?
I've got shin splints. As in, razor sharp, jagged splinters soaked in sulfuric acid. IN MY FREAKING SHINS.
I can't, in good conscience, talk positively about the benefits of exercise while sitting here with bags of frozen peas on my shins because (1)  there are no benefits of exercise when you are a moron who doesn't stretch beforehand and afterward, unless you call having your shins morph into butcher knives and commit suicide by repeatedly stabbing themselves a benefit; (2)  it's surprisingly hard to type while balancing frozen veggies on my legs; and (3) you probably couldn't hear me anyway over the shrieks of pain flying out of my mouth.
So I'll save my exercise post for later, when I don't feel so homicidal. In the meantime, I'd like to share with you a view I frequently get to enjoy from my office chair.
If you follow me on Twitter, you might have already seen one of these photos, and if you don't, SEE WHAT YOU'RE MISSING?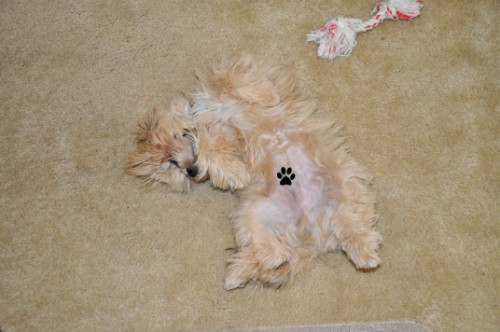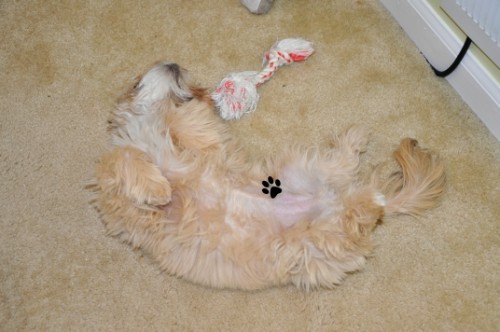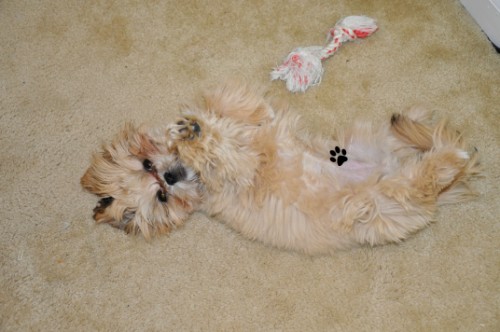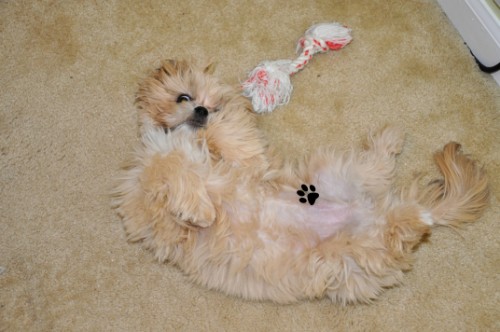 This is how Oliver sleeps 99% of the time. Kind of like Nate, except furrier. And Nate doesn't have a modesty patch. Oliver has one here because I didn't want to accidentally offend your sensibilities. Why do that when it's so much more fun to do that kind of stuff on purpose?
I'm considering permanently affixing a modesty patch to Oliver's business so that we can distinguish him from the carpet and lessen the very real potential of sucking him up in our Dyson. Can you imagine? I mean, do you have any idea how much that Dyson cost us?
.
.