As it turned out, I wasn't able to smuggle the Golden Gate Bridge into my carry on and take it back to New York with me.
Therefore, I was not detained by Homeland Security and thusly, did not experience my first ever strip search.
It wasn't for lack of trying.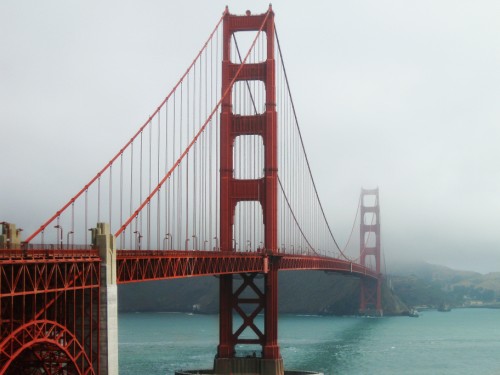 But they bolted that sucker down hard and after a couple of minutes trying to unscrew various things here and there with my eyebrow tweezers, I gave up and started to cry but no one paid any attention to me so I stopped.
I'm all about conserving energy.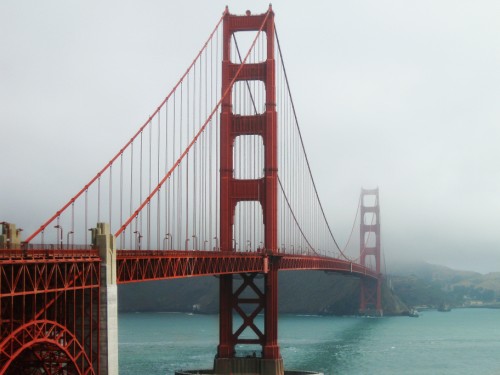 I love the Golden Gate Bridge. It's one of the reasons I love the city by the bay so much.
Well, that, and the fact that I was, and still am, a huge Journey fan and to this day, their song Lights can make me stop whatever I'm doing at the moment and relive my torrid love affair with Steve Perry for three long minutes.
I also adore San Francisco's funky houses and mammoth hills and delicious food and eclectic shopping and low humidity.
But nothing beats the Golden Gate Bridge.
I can just stand there and stare at it for hours.
Kind of like I do with the baskets of laundry decorating my living room floor.
But the bridge is prettier.
And less stress-inducing.
I hate laundry.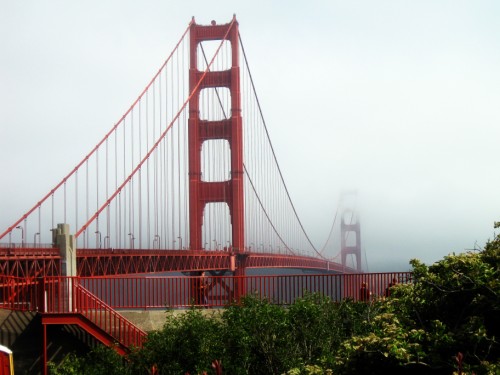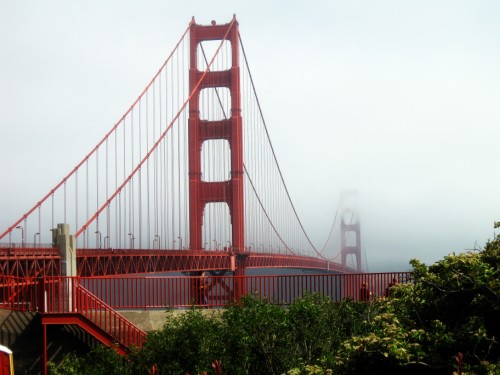 I love how the bridge plays peek-a-book with the fog.
Wouldn't it be nice if we could all look this beautiful while in a fog?
I find myself in a fog quite a bit since I hit my forties but the best I've managed to look is confused.
And occasionally unconscious.
Did you know that the bridge is painted orange vermilion, also called international orange?
I told Nate, my ultra-conservative husband who was born with THE WORLD SHOULD BE PAINTED BEIGE tattooed on his bottom, that I want to paint a room in our house this color.
He pretended to have a coughing fit and hacked up a lung just for effect.
He can be such a drama queen at times.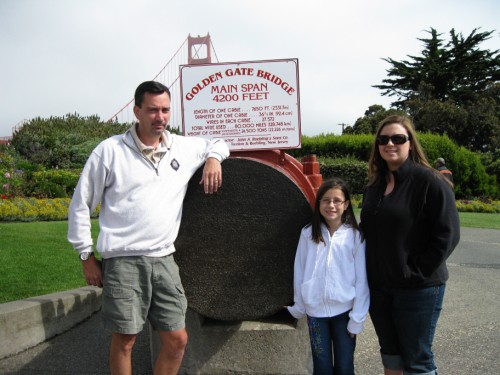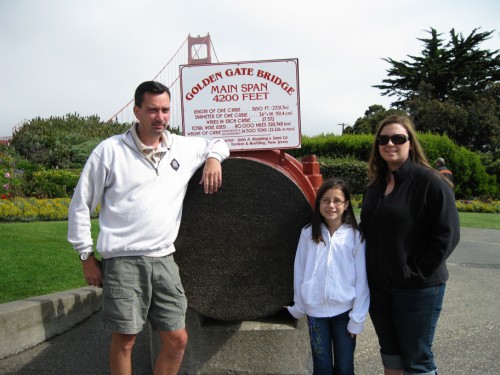 This is an example of one of the bridge's cables.
It's HUGE and made my thighs feel skinny.
Thank you, cable.
*smooches*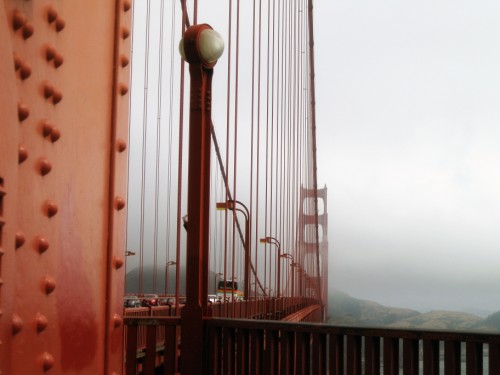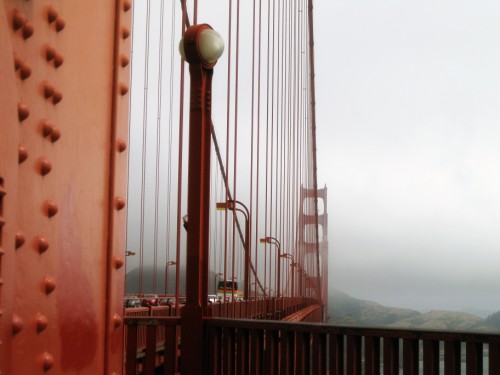 I love how the Golden Gate Bridge is delicate and graceful and dignified and powerful all at the same time.
Just like me!
Except for the delicate and graceful part.
And the powerful part, depending on how bloated I am.
I am dignified, however.
Provided my bra fits me correctly and I've avoided dairy products.
Otherwise, all bets are off.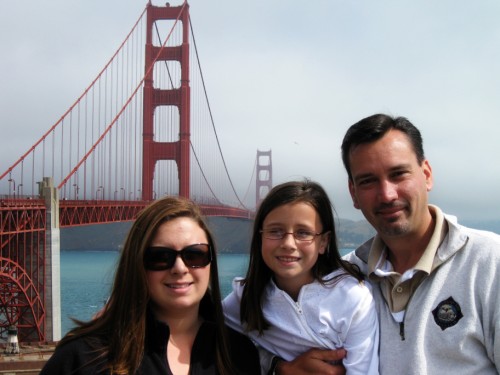 I've visited this bridge three times in the last two decades.
The first time was twenty years ago, with myself.
The second time was ten years ago, with myself and my husband.
The third time was last week, with myself, my husband and my children.
If this continues, I'll see it again in ten years time, with myself, my husband, my children and my grandchildren.
OH MY GOD.
Zoe and Helena, JUST YOU NEVER MIND. I MEAN IT.
Quick, somebody send me two nuclear armed chastity belts.
Thank you.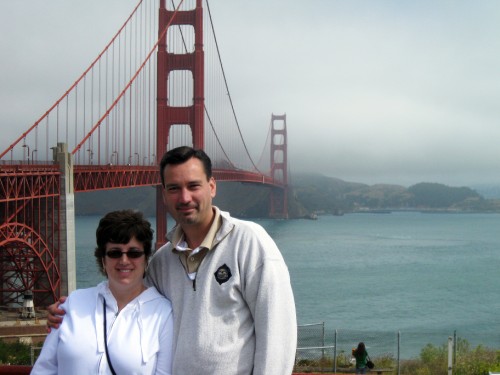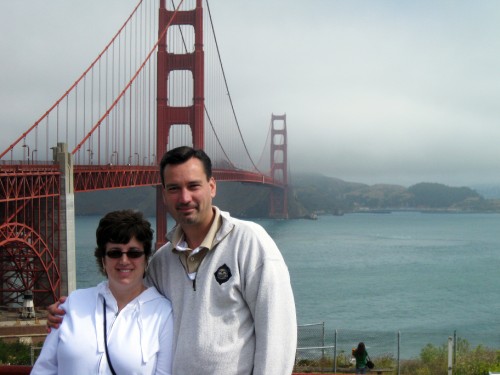 I love how Helena likes to take pictures where things are coming out of Daddy's head.
You can tell she's descended from my mother.
Because according to my mother, if you are not going to chop off someone's head entirely, then at least have something growing out of it.
My mother could have taught Annie Leibovitz a thing or two.
By the way, my camera is acting wonky. Every time it's aimed at me, it causes me to gain forty pounds.
Weird.
I hope that's covered under warranty.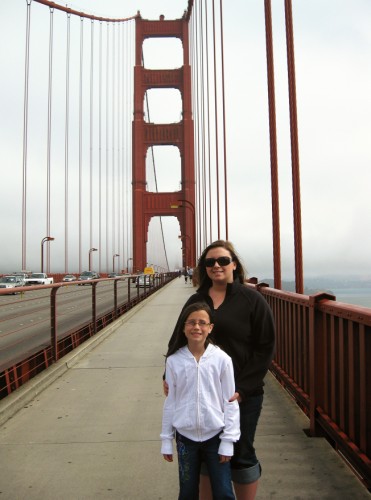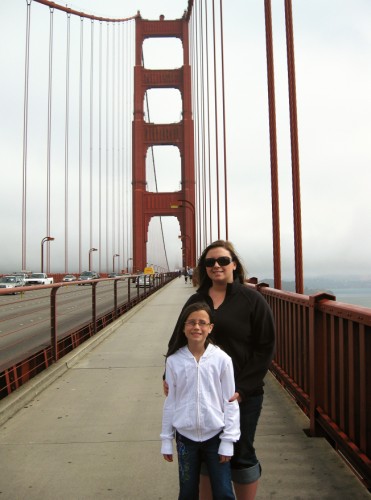 My girls were happy in this picture.
And then seven seconds later, a biker came racing up behind Helena and ran right into her, spinning her around and almost causing her to face-plant right at Zoe's feet.
Wouldn't it have been nice if the biker had apologized?
Or stopped?
That's what I thought.
Stupid biker. May her ass grow a mind of its own, together with hemorrhoids the size of soccer balls by yesterday.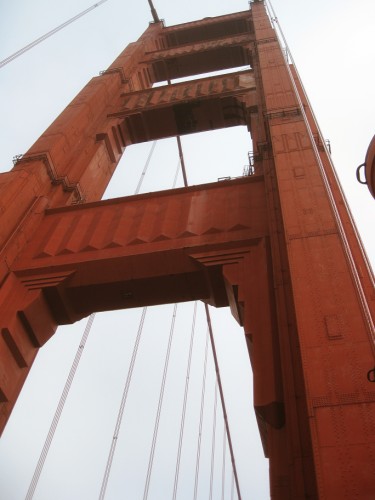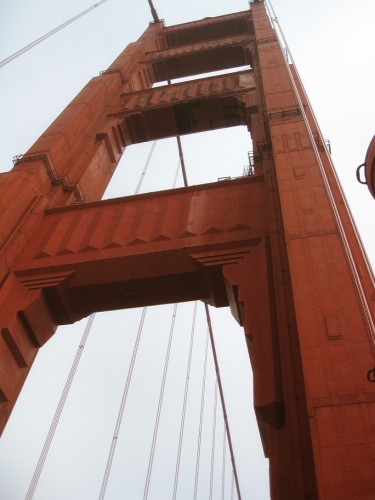 This bridge is so majestic.
So beautiful.
I wish I could have taken it home with me.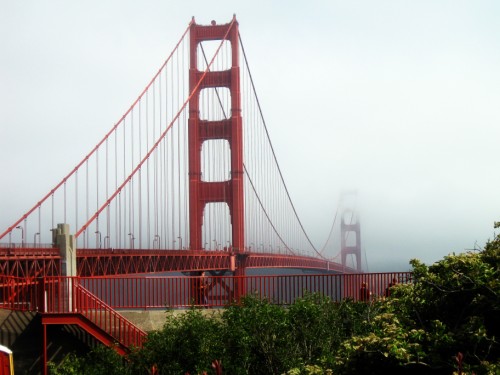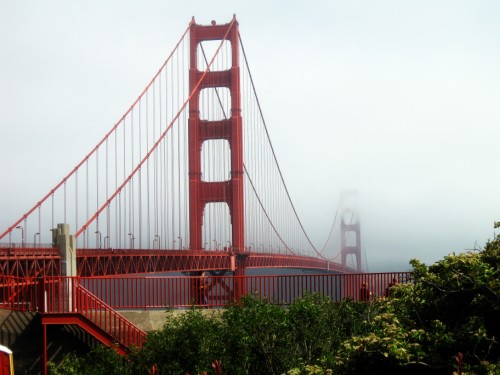 It would have looked perfect in our back yard.
.
.