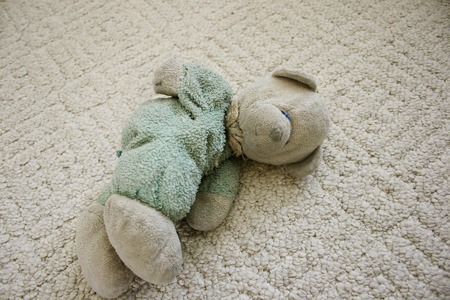 He's been a permanent fixture in our house since day one.
Day one was eight years ago.
He's a blankie with arms and legs and a head that is barely hanging on.
He's your constant companion, your source of comfort, your object of amusement and your best friend.
He's been tossed around, tossed aside and tossed out.
But only by mistake.
He sneaks into cars, restaurants, sleeping bags, and suitcases.
We think he was a covert spy in a previous life.
We are concerned that he will somehow find his way under your graduation gown.
We won't be a bit surprised to see him peeking around the podium when you give your valedictorian speech.
Or when you're sworn in as a Supreme Court Justice.
Well, maybe a little.
He aspires to be a world traveler.
In the meantime, he's been to Virginia, Boston, Lake Placid, Washington, North Carolina and even made it across the border to Canada and back.
He's found his way into the washing machine numerous times.
And the toilet once.
But only by mistake.
Sadly, no more Maytag baths for him lest he disintegrate.
And he's been banned from all bathrooms.
He's dirty, tattered, ripped, faded and, at times, emits a funky odor.
Febreze is a good thing.
He has a rattle inside which warns me whenever he tries to escape outside.
Sometimes.
He's pretty stealthy.
We've caught him playing on our swing set when he thought no one was looking.
And hitching a ride on your bike.
And playing in leaf piles.
He's always the first one at the table for dinner.
He lets out a squeal of protest when I toss him into the family room because he knows he's not allowed to eat with humans.
He's well aware of the rule that he is only to leave your bedroom to watch TV.
He flagrantly disregards this rule.
Every single day.
He is the first thing you seek when you rush into the house after school. Or after shopping. Or after playing.
Whenever.
I'm worried that you are incapable of walking from one room to another without him.
I'm worried that you are incapable of existing without him.
He's happiest when he caresses your lips and cheeks with his paw.
Your happiest when he caresses your lips and cheeks with his paw.
We're wondering if he's going to accompany you on your first date.
We won't be happy if your first date caresses your lips and cheeks with his paw.
At all.
We mean it.
Maybe we'll let Bear accompany you.
But only if he reports back to us exactly what transpires.
In excruciating detail.
But for now, he's worse than crack and I see detox in your future.
Wherever there's Bear, there's you.
Wherever there's you, there's Bear.
It's frustrating for us.
It's security for you.
So people tell me.
But every night, long after we've tucked you both safely into bed, we'll find him clutched tightly in your arms.
You look utterly content.
And it's hard to argue with that.