Remember Project Guy and the Master Bath Remodel?
And how I've lived at Lowes and Home Depot for … let's see now … eternity?
The remodel is done. Finished. Completed.
Fait accompli.
And the best part about it? Other than not having to sleep with one eye open for fear that Hannibal Lecter was lurking in the ode to Silence of the Lambs eight feet away from me? I'd have to say the fact that it was finished before Nate and I would be forced to celebrate by sucking Milk of Magnesia through straws while nodding off in our wheelchairs at the Older Than The Hills Nursing Home, as I had once feared.
Can I get a WHOO HOOO?
Taking into consideration the year it took for the remodel and the time we have spent in this house, I calculated that I have stopped, dropped and rolled my naked self from the girls' bathroom, across the upstairs hallway, under the picture window, and into our bedroom no less than 1,875 times since we moved into this house.
For those of you who are whizzes at math, I don't need to tell you that that equates to over five years.
For those of you who are my mother, I DO need to tell you that that equates to over five years. And, STEP AWAY FROM THE CALCULATOR.
And I hate to type this out loud because I know it's breaking every single oath I took when I became a blogger and my life became raw material, but you're bound to find out sooner or later so, I might as well spill my guts now…
I don't have any "before" pictures.
I know! I know! I've already kicked myself in the bum ten times, which hurts in more ways than just the obvious if you haven't stretched properly first. But feel free to yell at me anyway. I deserve it. The only excuse I have is that when Nate first drove a sledgehammer into the disgusting blue tiled walls, I hadn't yet started this blog and therefore had not called a family meeting and instructed everyone that every minutiae of their lives and all their dirty laundry, including not only the intangible but the dirty, smelly tangibles strewn across their bedroom floors, was to be considered blog fodder from that moment on.
But let's get on with it anyway, shall we?
I thought you'd never ask!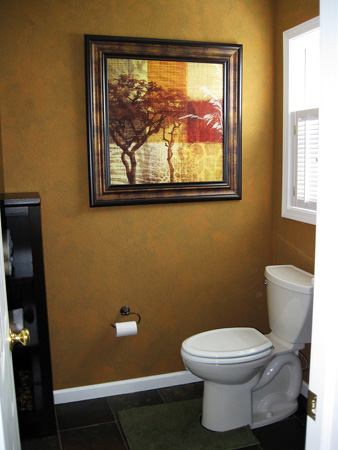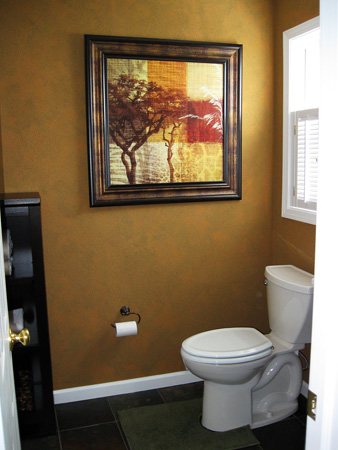 This is what you see when you first enter the bathroom. You'll just have to trust me when I tell you that in person, the wall color, called citrine granite, looks nothing like pumpkin pie vomit.
Then again, I don't like pumpkin pie and have never hurled it, so maybe it does look eerily similar.
Nevermind.
It's citrine granite and I love it and it looks beautiful when you're sitting there, staring at it. Let's just leave it at that, before we're all grossed out.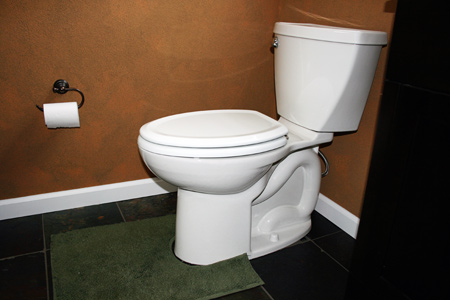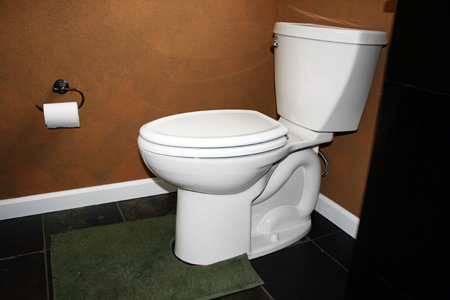 This is our high efficiency toilet, the one I described in this post HERE. I find that if I take a running head start from say, clear across the bedroom, I can pole vault myself onto it with a fair degree of accuracy, without sustaining too much bodily injury. It's 17″ high, which is just slightly shorter than my legs. Nate's legs are three stories high. Guess who picked out the toilet?
Apparently this toilet can flush something like 15 golf balls at once.
If you need that kind of power, I just have two words for you: FI-BER.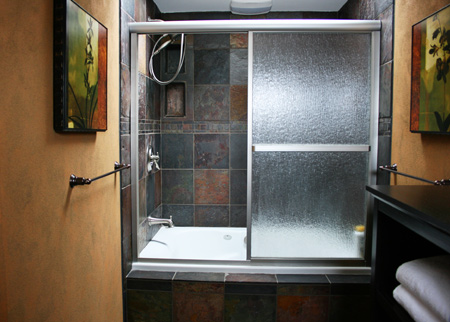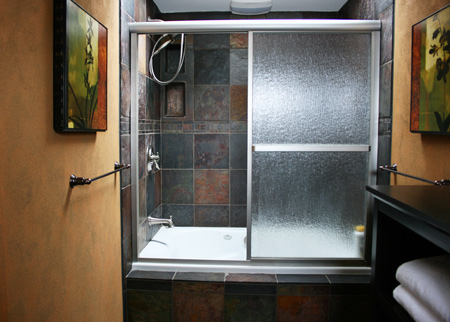 This is the front view of the tub/jacuzzi/shower unit. I can't give you a back view because then I'd have to rip out the tile and cement board backer and try to wedge myself in between two studs to get a good angle and I think Nate might voice his objection by having a stroke. Or ten.
And I suppose I could insert a joke here about squeezing myself in between two studs but we're better than that, aren't we?
I'll try to come up with one.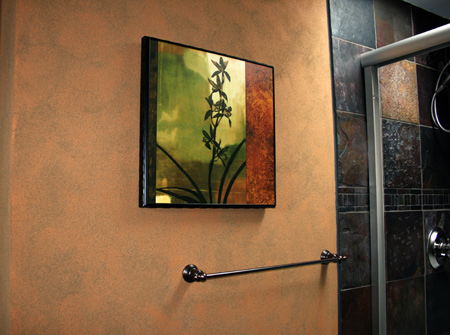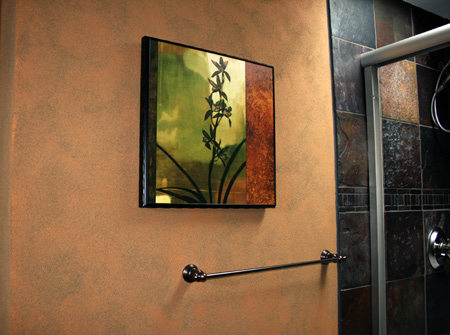 This is the wall art on one side of the shower.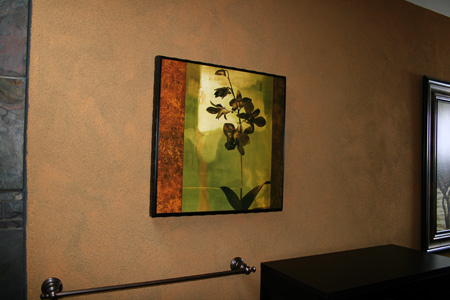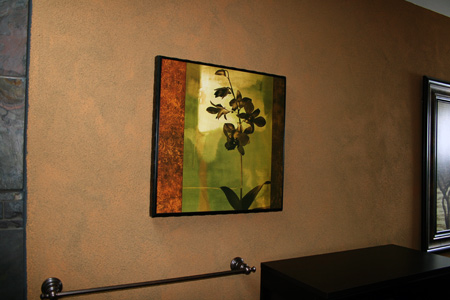 It looks suspiciously like the wall art on the other side, with just a few minor differences.
That's because I was feeling matchy matchy and bought them as a set.
Sometimes matchy matchy is so yesterday but sometimes, it's downright necessary. Especially after spending an entire day running around the city in a swirl of frustration, only to discover that no one makes anything that coordinates with pumpkin pie vomit. And I know I said that the walls are not pumpkin pie vomit but when you spend eight hours driving all over the county and find nothing that even remotely looks like the right color and you've got an eight year old with you who is barely managing to cling to life because you've sucked all the fun out of it by refusing to buy her everything at touch level, the walls are not only pumpkin pie vomit, they are GODDAMN STUPID PUMPKIN PIE VOMIT! WHO CHOSE THIS FREAKING COLOR ANYWAY?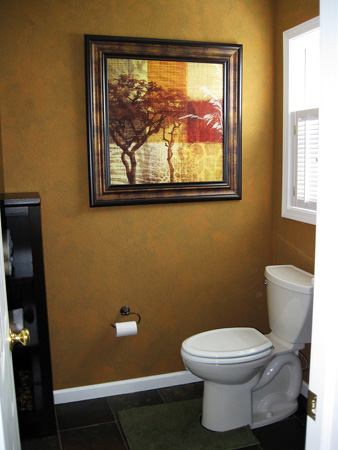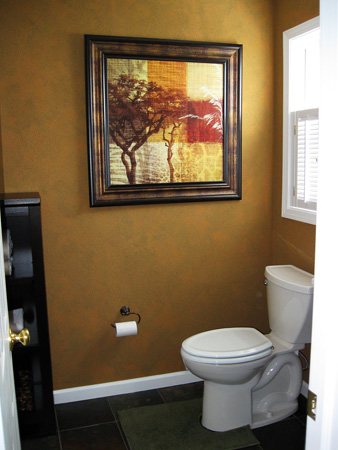 I chose that color. Citrine Granite. Good thing I did, or I'd never have reason to buy this picture.
Let's not mention pumpkin pie vomit again, OK? And I'm talking directly to me here, so I hope I'm listening.
Moving on …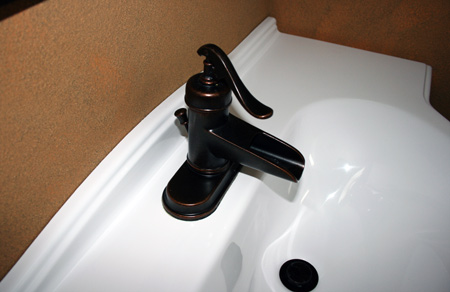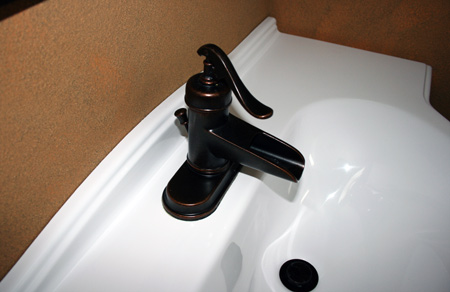 This is our faucet. I love it.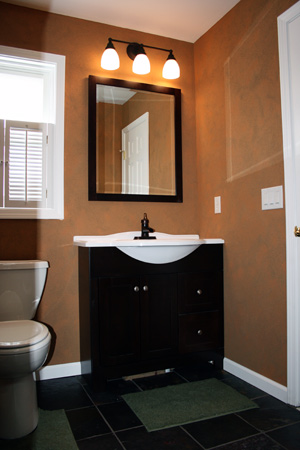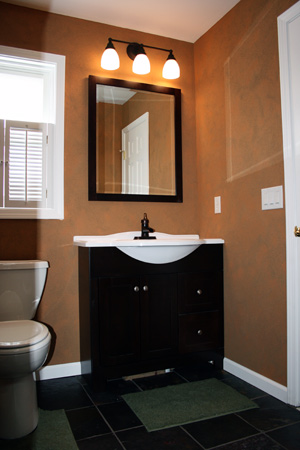 Here it is on top of the vanity. I know this is not a good picture of our vanity but my point and shoot camera had no batteries so I was forced to use my DSLR and we all know how much I hate my DSLR camera and how much it returns the favor.
It's not called Damn Stupid Little Ratshit That Costs A Lot Of Money for nothing, you know.
(pssssst: if you're new here, I hate my DSLR camera and it hates me back just as much. Maybe even more. I call it DSLRTCALOM for short. Now you know and you're all caught up with everyone else! Don't you love it when that happens?)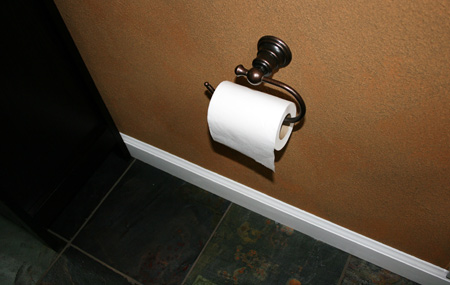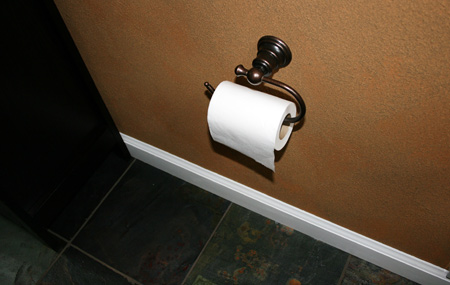 This is our toilet paper holder and I'm only showing it to you because I wanted to warn you never to get one of these.
Sometimes change rocks, like when you get caramel highlights in your hair and your eyebrows totally blend in. But sometimes change sucks rocks, like when you get caramel highlights in your hair and your eyebrows start screaming HELP! WE DON'T BELONG HERE.
What I'm trying to say is, when something works, don't fix it. Stick with the old fashioned, traditional toilet paper dispenser. You know the one … it's spring loaded and confounds husbands and scares kids, compelling them to simply leave the toilet paper rolls on the floor or on top of the dispenser or on the back of the toilet, because they know full well that if they successfully replace the roll, they will be expected by their spouses and mothers and xx chromosomes everywhere to do so from that moment on until eternity.
The new fangled dispenser above, while aesthetically pleasing, is just not functional. Simply put, it is not conducive to those who may be a little over zealous when tearing off a piece of paper because 9 times out of 10, those enthusiastic, unsuspecting people will find themselves utterly helpless to stop the roll from flying off the handle and sailing clear across the room.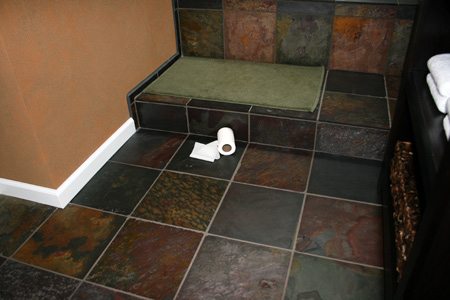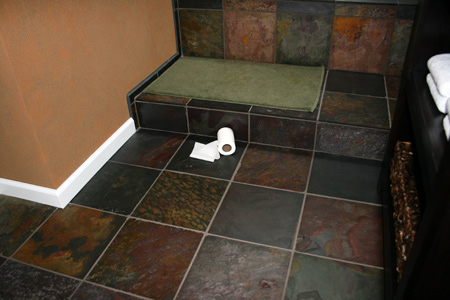 And there's nothing they can do about it, other than watch in horror.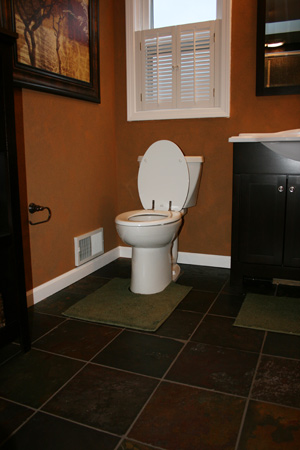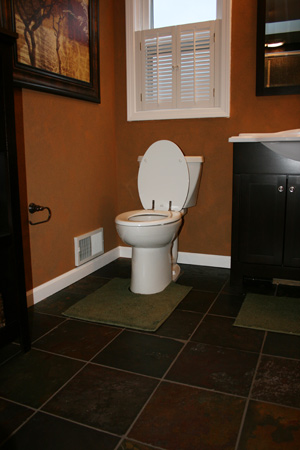 Because they're way the hell over here.
So I've heard.
And I just have one word to describe this particular scenario.
INCONVENIENT.
TOTALLY.
Sorry … two words.
So stick with the spring loaded version. It's less messy.
So I've heard.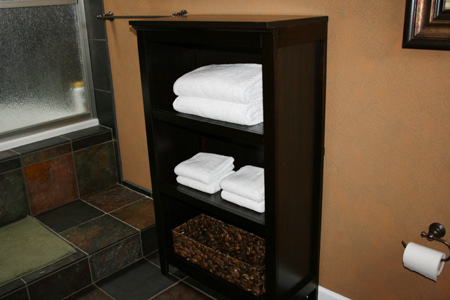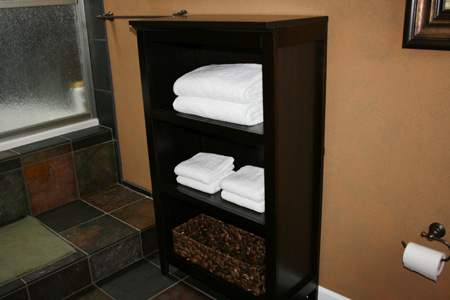 I bought new fluffy white towels. You'll notice that I only bought two large bath towels and several smaller hand towels.
This is because I must use a new towel each and every time I shower or my skin will shrivel up and rot off. I'm the one that does the laundry so I'm well aware, painfully so, of how much laundry this practice generates. I'm also aware that my mother is currently yelling I DIDN'T RAISE HER THAT WAY to no one in particular who is busy reading the paper behind her and pretending he can't hear.
Nate, on the other hand, needs one and only one bath towel and will only grab a new towel after his old one finally screams ENOUGH IS ENOUGH and stomps off to the dirty laundry basket of its own accord.
So to cut down on the sheer amount of laundry, as we are a family of four, three of whom are female, of which two use more towels than the Marriott, I use a hand towel after the shower. Yes, a hand towel. I find it works perfectly for me since my hair and skin are so naturally dry from 42 years of abuse, they've morphed into sponges and slurp up every droplet of water without much assistance. Sometimes the hand towel is actually overkill. So a bath towel is just unnecessary for me, especially because I'm not the kind to wrap it around me and walk around. I try to spend as little time as possible naked, for the good of mankind. You're welcome.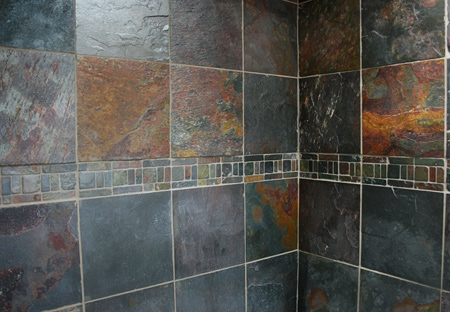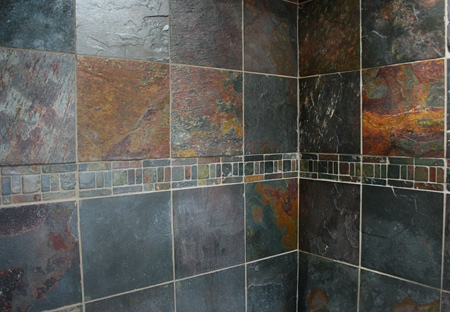 I think my favorite thing about the remodel is the slate tile. I just love the texture and the mottled colors. Sometimes I just stand in the shower and stare at it for a minute or twenty, leaving approximately 2.7 seconds worth of hot water for Nate.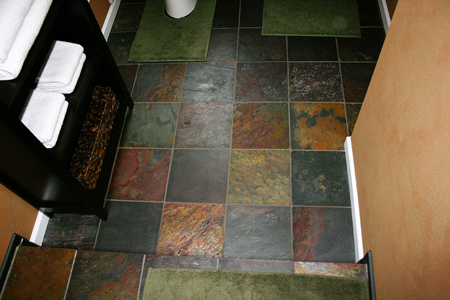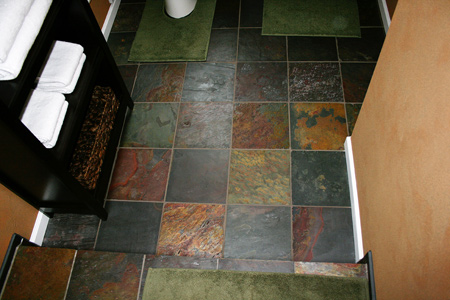 We carried the slate tile onto the floor.
And by that, I mean we used the same tile on the floor as we did in the shower.
But I also mean that we carried boxes and boxes of tile up the stairs and through the bedroom, into the bathroom and then placed them gingerly on the floor, breaking our backs in the process.
And by "we" I mean Nate.
I originally wanted an area rug for the floor but then Nate asked why in the world did I bring boxes and boxes of tile up the stairs and through the bedroom and into the bathroom and onto the floor and break my back? And I didn't have an answer for him.
I know that these earthy colors and all the texture won't appeal to everyone, but I just love them and I adore this bathroom. And I love that my beloved Nate did it entirely on his own and did such a beautiful job and even though it took longer than he originally intended, we didn't have to celebrate its completion and my entrance into menopause in the same year and that is just the coolest beans ever.
Totally worth an occasional pole vault or two.
.
.