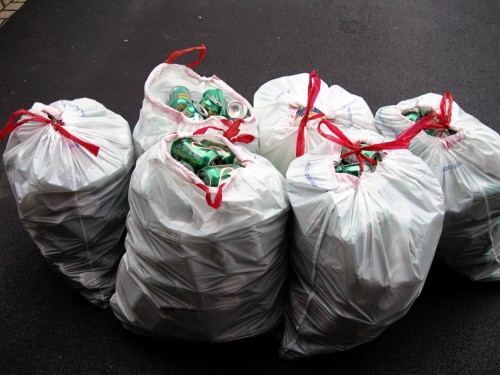 The above photos are evidence of which of the following:
We are living undercover as a landfill
Our garage smells strongly of WHAT THE HELL CRAWLED IN HERE AND DIED
Ginger Ale is a fertile slut living in suburbia
Nate's innards are vying for an "after" spot on a medical disease poster
Nate needs a hobby
All of the above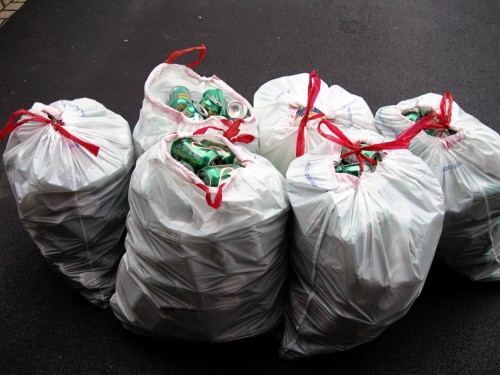 A couple of times a year, Zoe and I have a fun bonding experience while cleaning up the planet.
We haul out all of the trash bags filled with the remnants of Nate's addiction and stuff them into the trunk of my car. Then we speed off to Wegmans where we proceed to shove each can, one by one, into the recycling machines and watch Zoe's college fund almost double.
.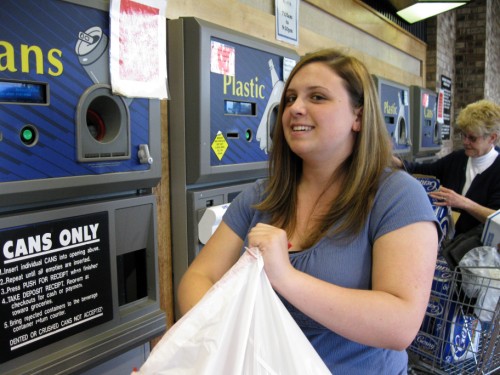 It's actually quite fun to watch it grow exponentially in a matter of fifteen minutes.
Higher learning is damn expensive nowadays but if Nate continues to suck down every single can of Ginger Ale in the tri-state area, we should have her first two years of tuition pretty much covered by Christmas. And a laptop.
Unless the economy continues to tank.
In which case, Nate will have to start mainlining the stuff.
And Zoe and I will be forced to bond and clean up the planet a few more times during the year.
Zoe doesn't mind, though. She loves to bond and clean stuff!
Except for the clean stuff part.
Unless she's paid money.
Which she's not.
So she rarely cleans.
Anything.
Right, Zoe?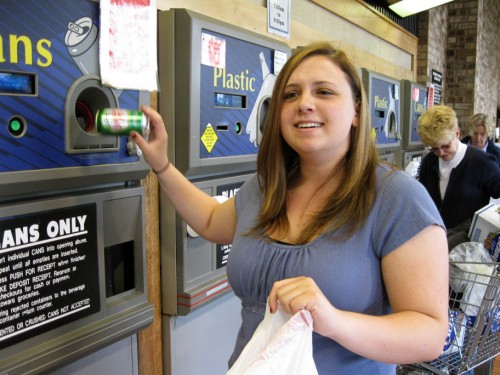 Sometimes bonding and cleaning the planet is fun!
But sometimes, it isn't.
Like when the cans are especially smelly.
Or super sticky.
Sometimes they're especially smelly and super sticky at the same time.
When that happens, Zoe has a quirky habit of screaming loud enough to shatter glass and I think little ol' grandma standing there behind her was a bit annoyed. Or a bit tipsy, considering the umpteen cases of Genny she had in her cart.
Not that I'm judging.
Hell, I think cleaning the planet would be much more fun if I were a little tipsy myself!
Cleaning anything would be much more fun if I were tipsy.
Or passed out, even.
.
Zoe and I share an extra special mother/daughter moment if a big bug happens to crawls out of a can.
That's when we both shriek EWWWW EWWWW EWWWW in unison and flail our arms wildly about and throw cans in the air willy nilly and jump all around and totally irk the bejesus out of all the tipsy grandmas within a fifty yard radius.
Then I calm down and make Zoe pick up the can and shove it in the machine.
Hey, 5¢ is 5¢.
Besides, I don't sport four dozen stretch marks and a wicked c-section scar for nothing.
And what matters most is, we're bonding. And cleaning.
Right Zoe?
.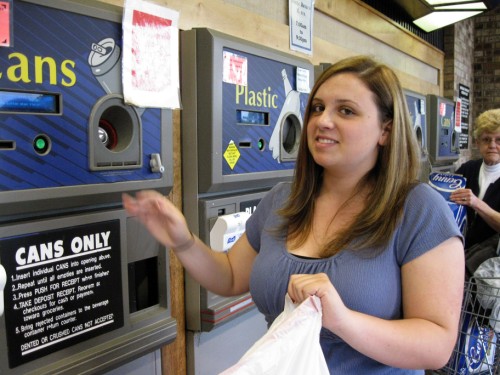 Although, there is something to be said about keeping the planet dirty and bonding over a grande strawberry cream frappucino at Starbucks while discussing various ways to earn full ride scholarships.
Right, Zoe?
.
.