Twice a year, Helena and I go through her closet and I make her try everything on to see if it still fits and she complains the whole time that it takes too long and she's hungry and she's hot and why can't she have a Facebook account and blah blah blah.
I always wind up telling her that if she would just keep the cinder blocks on top of her head like I tell her to, maybe she'd stop growing taller and maybe, just maybe, we wouldn't have to spend a perfectly good Saturday afternoon listening to me holler ARE YOU SERIOUS? I JUST BOUGHT YOU THOSE JEANS LAST MONTH! CAN'T WE JUST AMPUTATE YOUR ANKLES OR SOMETHING? BY THE WAY, FACEBOOK JUST CALLED AND SAID "BECAUSE YOUR MOM SAID SO."
I'm 5′ 2″.
My baby, who is going to turn eleven this August, is almost as tall as I am.
So so so bittersweet.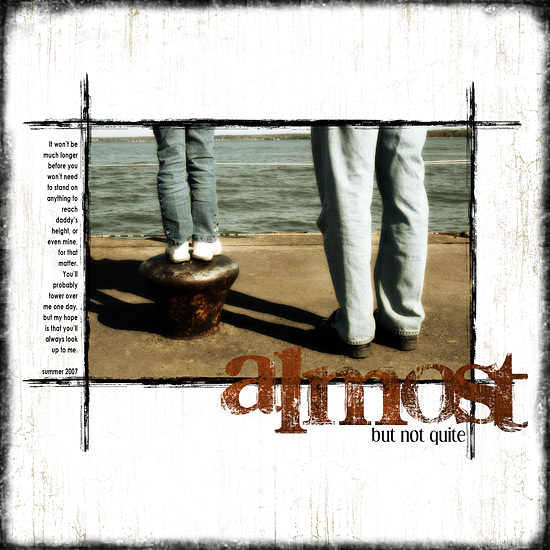 Journaling reads:
It won't be much longer before you won't need to stand on anything to reach daddy's height, or even mine, for that matter. You'll probably tower over me one day, but my hope is that you'll always look up to me. (Summer 2007)