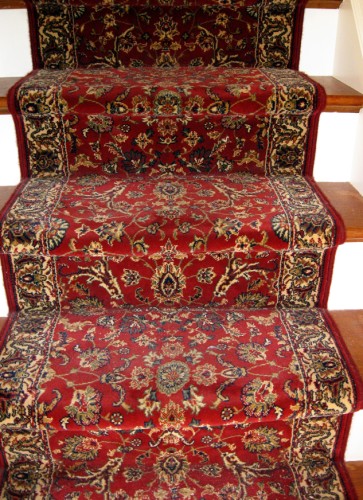 Early last November, I stood at the foot of our stairs and stared at our ugly stair runner for the umpteenth time, willing it to just go away.
But much like my thighs and fanny cellulite, it just sat there and ignored me. And in its spare time, it collected an assortment of paraphernalia, just to irk me.
Just to clarify, my thighs and fanny cellulite irk me but they don't collect paraphernalia and even if they did, I wouldn't admit it, much less say it out loud on my blog.
I do have some standards, you know.
Shocking, I know!
Anyway, my hideously ugly stair runner collected stuff.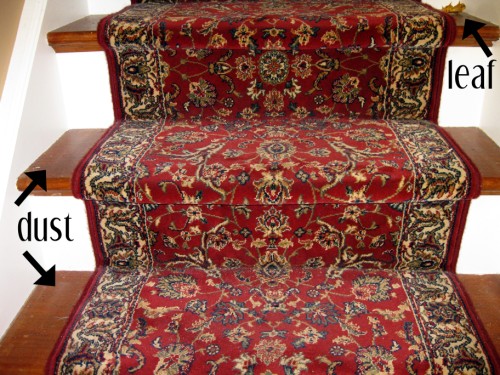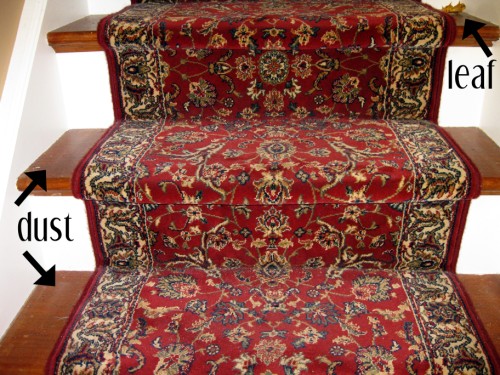 Like dust and leaves.
It was a gift left to us by the previous owners of our house. The runner, not the dust or leaves. Those were gifts left to us by our kids. And Mother Nature. And my Swiffer Duster which up and ran away from home because it was bored out of its mind.
The previous owners also left us with 6,398 feet of painted brown trim and more than twenty walls that bore the remains of Laura Ashley's projectile vomit. Who knew such nice people could subscribe so wholeheartedly to the Butt Ugly theory of design?
We painted over all the trim and got rid of the walls … well, we got rid of the wallpaper. I wanted to get rid of some of the walls but Nate overruled me, saying something like we have a mortgage on every single one of these walls and if we're paying for them, we're not getting rid of them. Sure, when it comes to demolition, he's all frugal and budget conscious but when it comes to $80 chia pets, he's all OH MY GOD, SIGN ME UP and waving our credit card around like there's no tomorrow.
Getting back to my point … because I'm pretty sure I had one … didn't I?
Oh yes, the runner. I hated the thing and since it wasn't going away on its own, I decided to take charge.
Take the bull by the horns!
Put on my big girl panties!
Take matters into my own hands!
I asked Nate to get rid of the runner.
And when he hemmed and hawed and tried to bolt out the front door, I tackled him and sat on his head and casually mentioned that I had never had a quickie on hardwood stairs before.
And he threw me across the room and yanked up that runner in two seconds flat.
Why are men so easy?
So, to make a long story short … I'd have to rewrite this post. That's not going to happen so instead, I'll just make it a photo essay with some short commentary: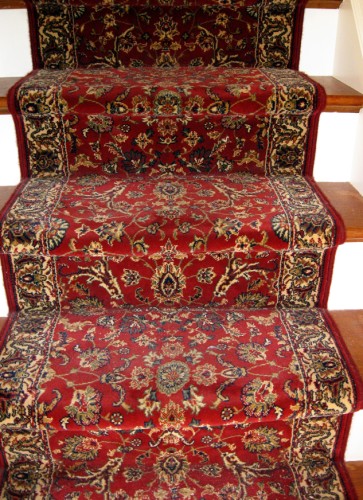 Ugly Ass Runner.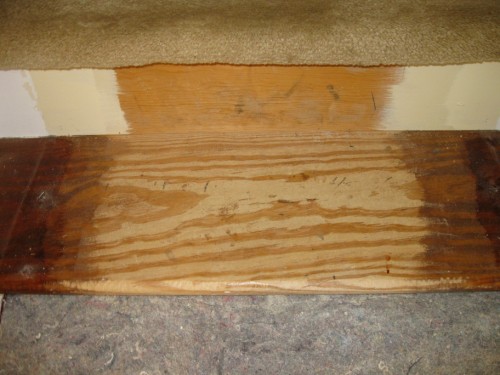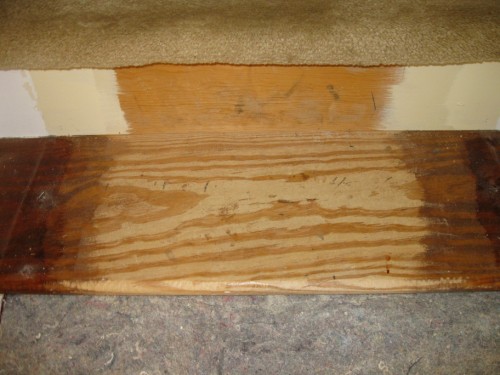 What lived beneath the Ugly Ass Runner.
Ew.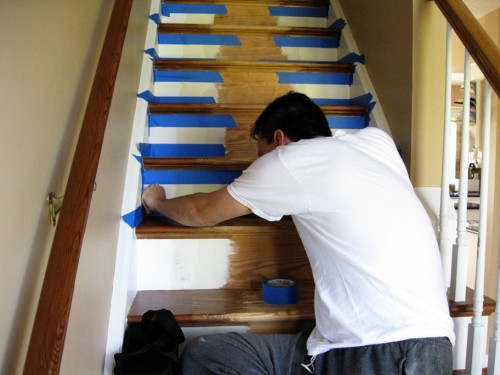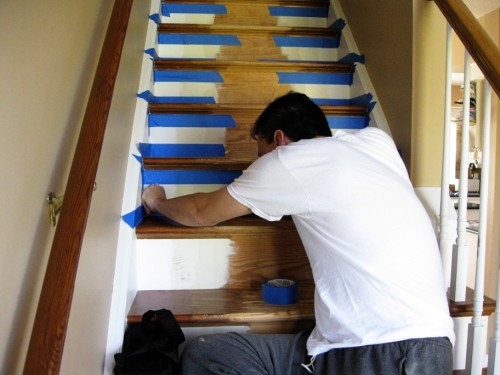 A little female porn.
*fanning myself*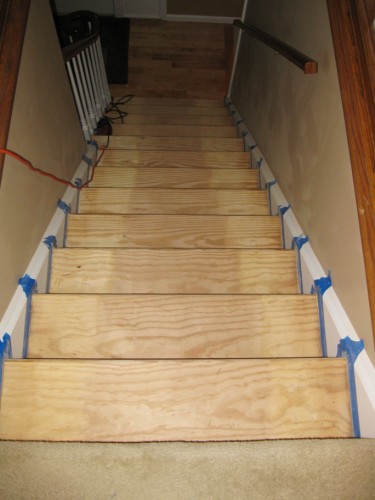 This was after 495 hours of sanding. That discoloration just wouldn't go away and we feared we'd sand all the way down to China with the same result.
It was a bit … daunting.
I was all for it but Nate reminded me that we didn't have passports or Visas or whatever else it is you need nowadays to go to China and besides, the last time I had chicken lo mein, I was in the potty all night.
He didn't use the word "potty."
By the way, I helped sand. That's right, people. In addition to my role as Chief Miss Bossy of Everything, I got my hands dirty and sanded the utter bejesus out of those stairs.
They had not one shred of bejesus left.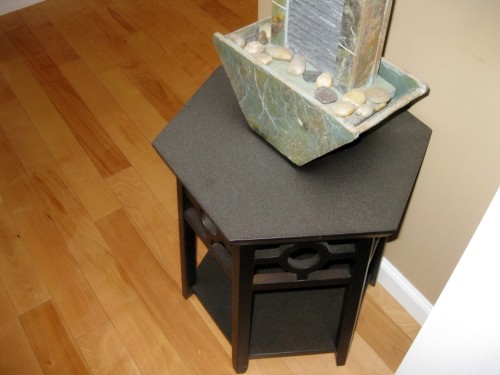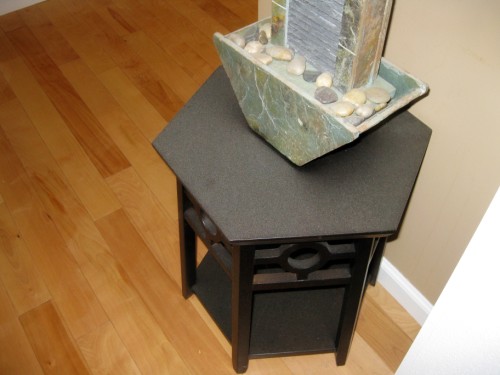 This was after 496 hours of sanding.
Or one.
It didn't matter. It was the same, no matter how long we sanded.
Rather than vacuuming our house every nanosecond, I decided to not vacuum at all until the stairs were done.
It was very liberating.
Almost as good as going braless!
But not quite.
Honestly, is there anything more liberating that going braless?
Feminists were smart.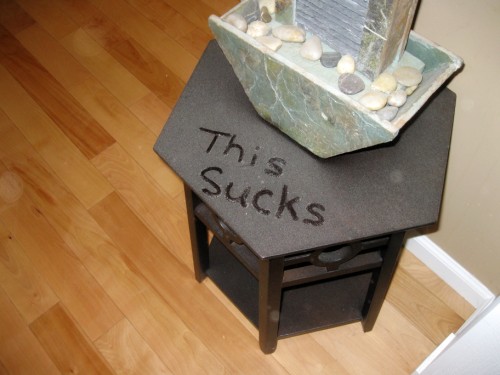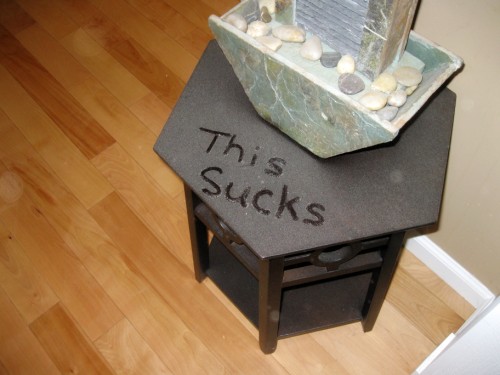 Sawdust became a permanent fixture in our household.
In fact, I think we ought to claim it as a dependent on our 2009 tax return.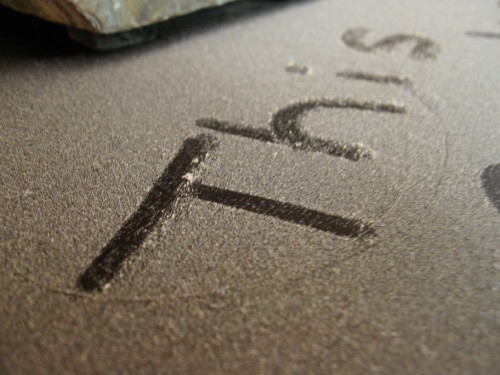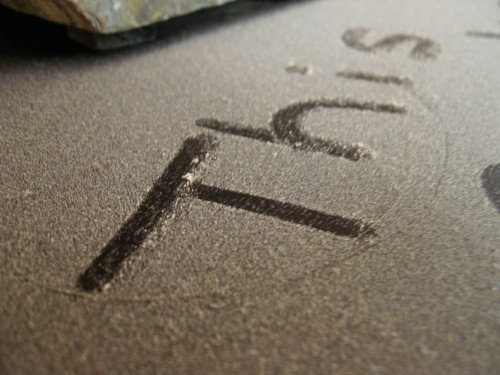 It was everywhere and covered everything. In fact, I managed to suck up enough sawdust to build my own beach on my large intestine. My pancreas has a comfy space to sunbathe and my kidneys can now play beach volleyball with my gallbladder for the next two years.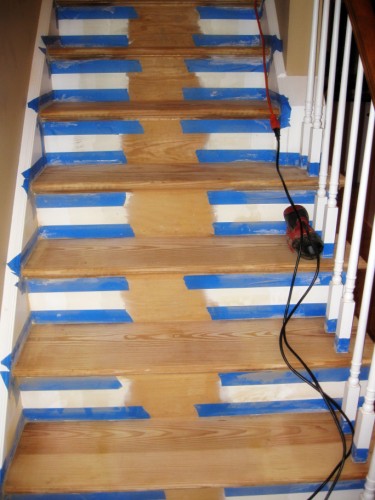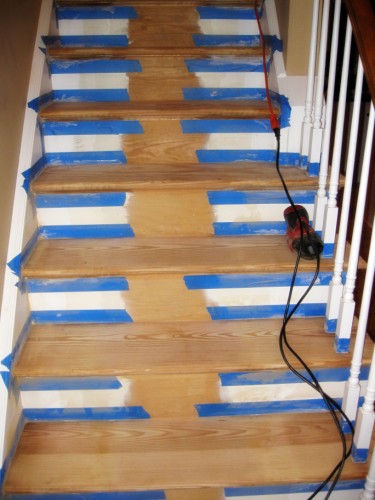 Another 95+ hours of sanding and still, the discolorations remained.
Stubborn little shits. Who do they think they are, for God's sake?
My skin?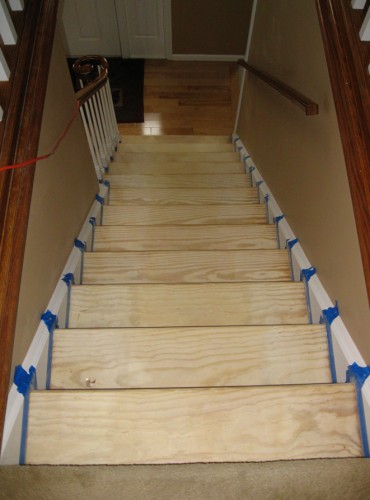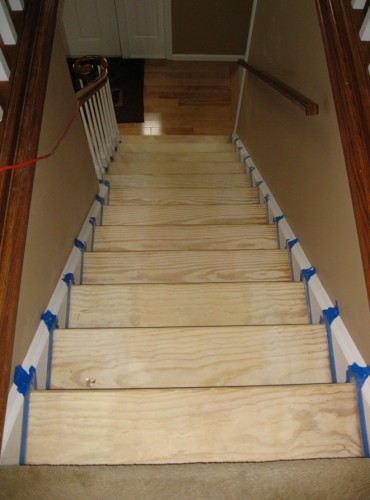 So we had to resort to bleaching them and while that didn't totally eradicate the discolorations, it lessened them to such a degree that they were manageable and it was kind of like starting with a clean slate.
I'm considering bathing in the stuff. I'd love to be a clean slate myself.
First I have to get a new power sander though.
I mean, c'mon. Have you seen my skin?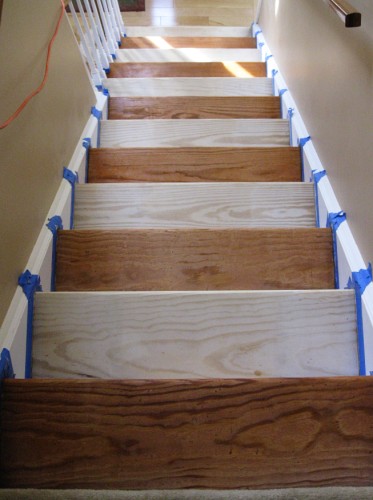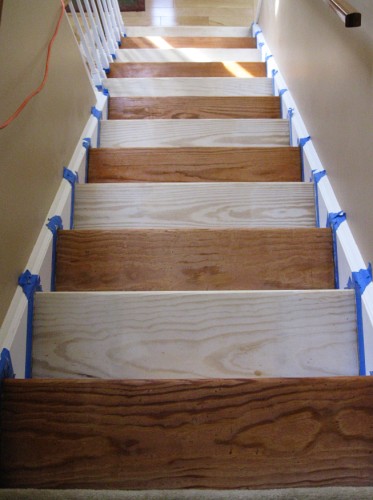 Then came the fun part: staining.
Staining stairs while continuing to use them is like an intricate dance. One partner gracefully stains alternate steps and leaves something to designate the usable ones, such as a paper towel or napkin in the corners. Then the other partner sashays onto the floor, the one who suffers from memory lapses and balance issues and Chronic Short, Stubby Leg Syndrome (CSSLS), and who yells WHICH ONES CAN WE USE AGAIN?
And … ARE YOU SERIOUS?
And … HOW THE HELL AM I SUPPOSED TO REACH THOSE?
And … ARE YOU OUT OF YOUR MIND?
And … DID YOU FORGET THAT GOD BIRTHED ME AS AN OOMPAH LOOMPAH?
And … OOPS! DAMMIT. I THINK I STRAINED MY GROIN. DO WOMEN HAVE GROINS?
I'll leave it to you to decide which partner I was.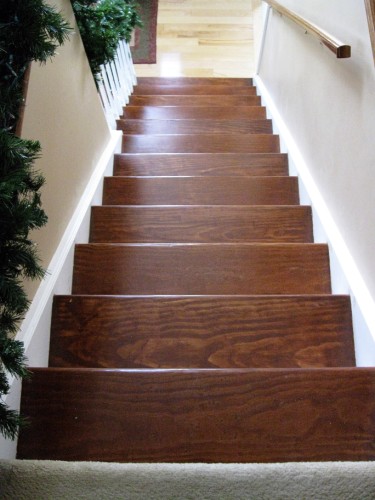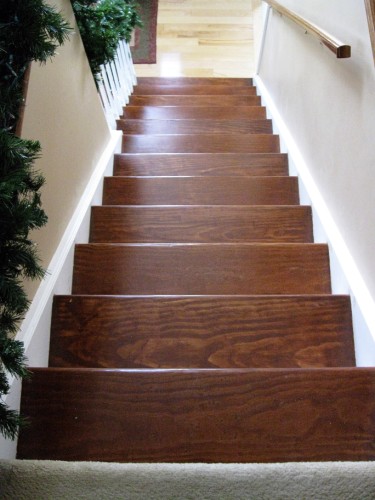 Eventually, they looked pretty good from the top view.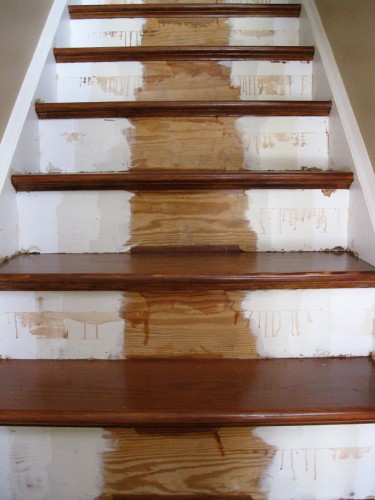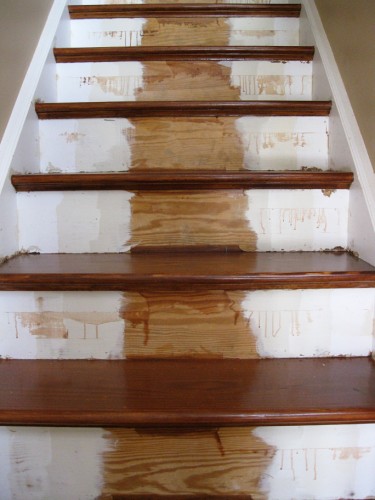 But not so much from the bottom view.
But by that point, I didn't care anymore because it was after Thanksgiving and in Andy's world, that meant we were already two weeks late in Ho Ho Ho-ing up our house and I was all "We need to swathe the banister in garland!" and Nate was all "No swathing until I'm finished with these stairs!" and I was all "Screw the stairs, I need some swathe!" and Nate was all "You don't even know what swathe means, do you?"
And then I was all I AM NOT AN IDIOT.
And then I checked dictionary.com real quick and confirmed it meant "to wrap around."
And then I was all DO TOO!
Right before I was all FINE! BE THAT WAY. DON'T SWATHE. NO HO FOR YOU.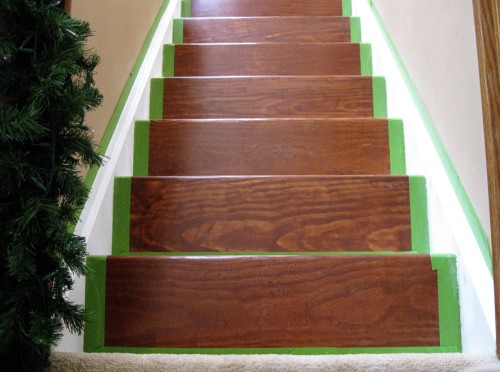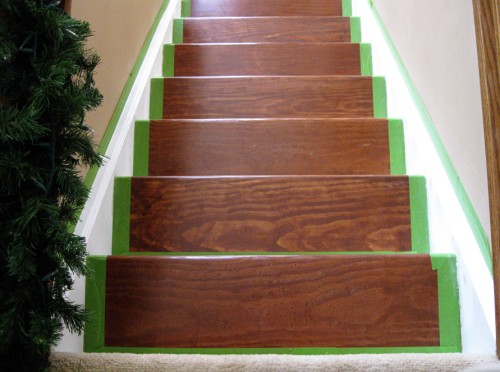 Eventually, the staining and polyurethaning was done and all that was needed was some paint retouching.
And look! Swathing! With garland!
What do you know?
Nate got himself some Ho after all.
I repeat, why are men so easy?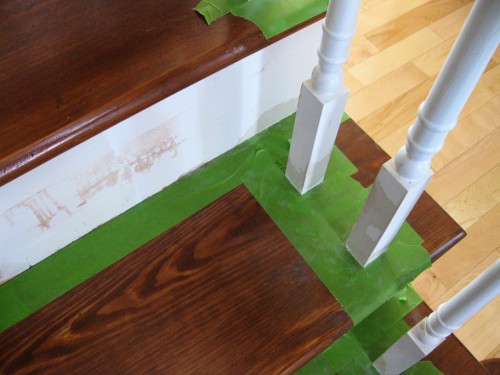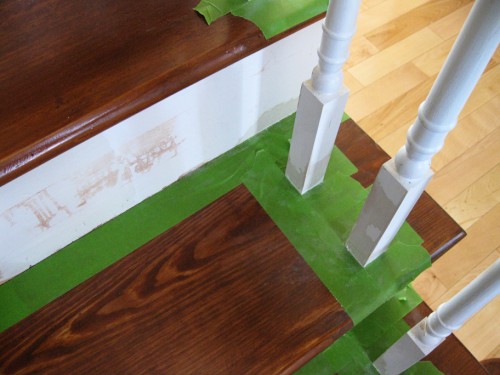 I thought it was really sweet that Nate used green painter's tape.
I think it's because he knew how despondent I was over not having our house in tip-top holiday shape and just the thought of having our stairway smothered in blue painter's tape so close to Christmas would have likely caused a blood vessel to burst in my forehead.
Nate says green was all he could find at Home Depot.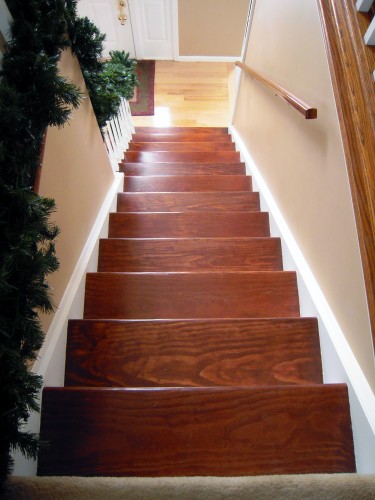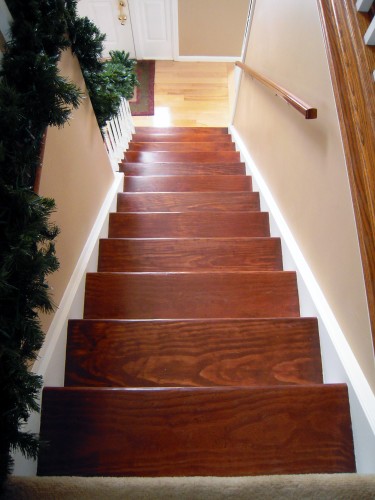 DONE. About 2 weeks before Christmas.
Yes, I wish we could have gone lighter so as to match our hardwood floors below but the discoloration, even after the bleaching process, pretty much forced us to go dark so as to decrease the chance of having that discoloration show through the stain.
I'll have to remember that for my skin.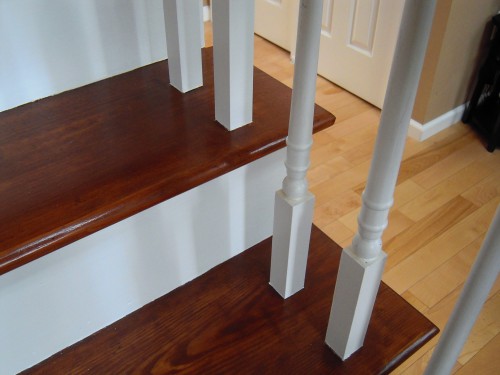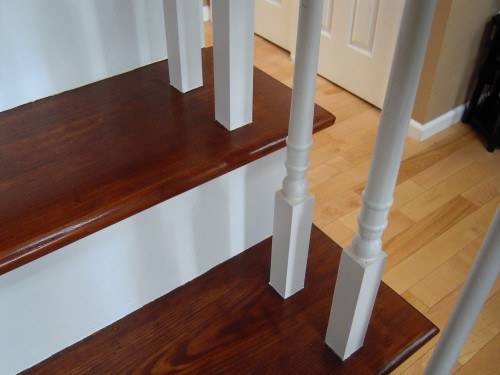 I love them.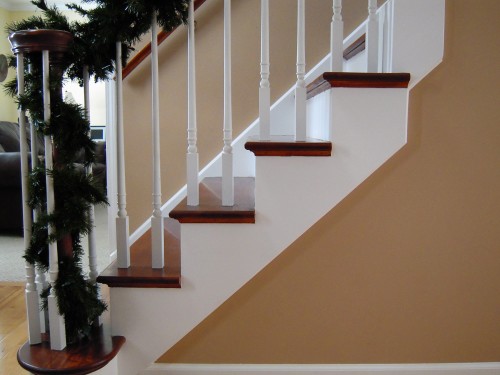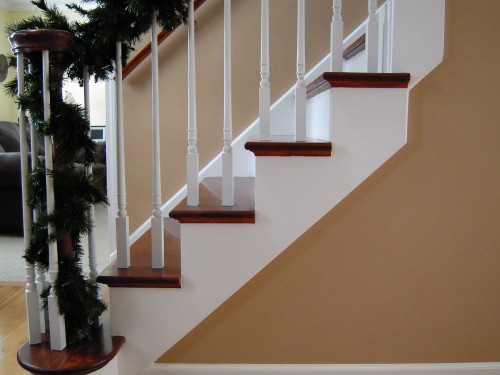 They're clean and simple and speak to me.
They say things such as WE LOVE YOU TOO and HOLY SHIT, WE'RE SLIPPERY.
Too bad Helena didn't hear them. Then maybe she wouldn't have fallen down half of them a mere four hours after they were completely finished.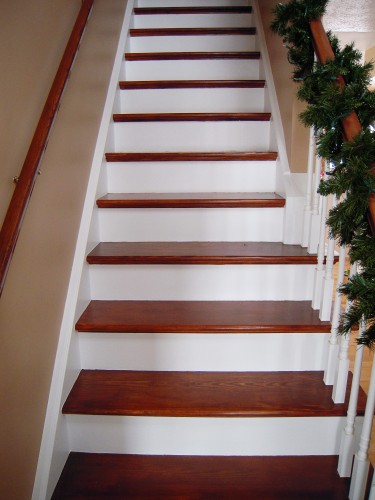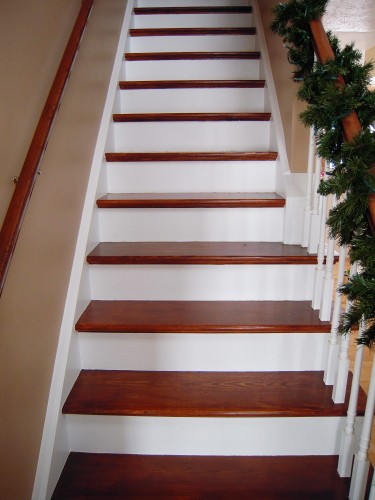 Don't worry, she was OK, no damage done.
I'll take the risk of a few dozen broken bones and compressed vertebrae and mild concussions over that hideous stair runner any day.
Besides, Santa brought everyone non-skid socks this year.
Apparently, he hated that runner just as much as I did.
.
.