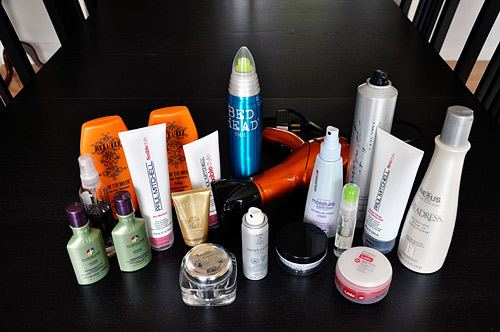 Remember when I posted this photo? Let's forget about the part where I called everyone whores and instead, let's concentrate on the fact that I love hair products. So much so that ULTA has been known to call me up on speed dial at dawn and scream OH MY GOD, THERE'S A BOGO SALE TODAY, WHERE THE HELL ARE YOU? They obviously know that if someone pays an arm and a leg every five weeks to have her hair colored, because she looks like a pregnant skunk is humping her head otherwise, she is likely more than willing to buy professional salon products to squeeze every bit of mileage out of those arms and legs because hairy, jiggly appendages don't just grow on trees, you know.
Wouldn't it be nice if they did? By the way, the ability to regenerate my arms and legs, hopefully with less hair and jiggle, is but one reason why I am such a proponent for stem cell research. Well, that and to cure disease and prevent birth defects, of course.
But mostly just to grow body parts to fund my hair.
I thought I'd share some of my experience with you but before we get started, let's just get this out of the way, shall we? No one pays or compensates me to say nice things about anything and thusly, I never have cash on me and I rarely say nice things. I whipped out my MasterCard for each and every product posted here, much to Nate's dismay. However, he knows better than to even think about blinking an eye about it because I will simply staple his eyelid open and march Oliver back and forth in front of him, decked out in his tiny $25 Buffalo Bills jersey and carrying around an $80 Chia Pet in his mouth while dragging a $140 juicer behind him.
Long time readers, you know what I'm talking about. Newbies? Let's just say that without proper supervision, Nate is prone to hopping online and buying the air we breathe. In bulk. Especially if it comes with expedited shipping.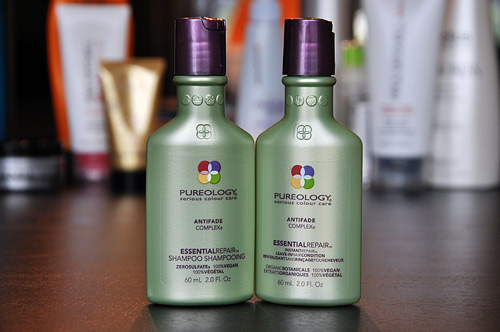 I bought a small bottle each of Essential Repair Shampoo and Essential Repair Instant Repair from Pureology to see what kind of effect they would have on my hair which tends to be a little dry. Actually, to say my hair is a little dry is like saying Lisa Rinna's lips are slightly plump. Have you seen Lisa's Rinna's lips? She is a gorgeous woman but since her unfortunate dabble with plastic surgery, her lips look like they've perpetually just given birth. And just so we're clear, I am talking about the ones on her face, not the other ones. I know. It's easy to get confused, isn't it?
My hair is so dry, kids keep jumping on my head and asking me for rides through pumpkin patches. But I have to say, I'm pretty impressed with the results I'm getting from this Pureology line. These are sulfate free, the shampoo lathers up nicely, both smell the way Halle Berry looks and they leave my hair clean and moisturized instead of begging to drink its own pee for hydration. The only beef I have is that they're pricey. And I mean pricey with a capital HOLY SHIT, HOW ABOUT I FORK OVER A KIDNEY INSTEAD? These bottles are two ounces each and cost $7 a pop. A ten ounce bottle goes for about $27.00.
Nate could buy Oliver a New Orleans Saints jersey for that price and maybe then, he wouldn't get beaten up by all the other puppies in our neighborhood.
I'm talking about Oliver's dignity here, not Nate's.
Nate proudly wears his Buffalo Bills attire and doesn't care who beats him up.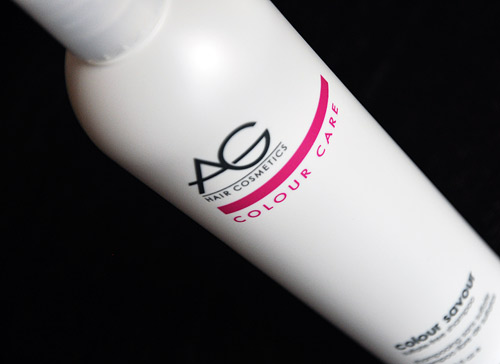 I've been searching for a lesser expensive shampoo alternative and for the last couple of days, I've been using this Colour Care shampoo from AG. I want to say this sells for $20 an eight ounce bottle? But I used a coupon so it was less than that and can I just say, coupons are full of awesome? Why yes, yes I can. This stuff smells good, lathers up a ton and my hair does not claw at its throat and suck on its own tongue for moisture afterward.
Is it weird that I give inanimate objects human characteristics?
Can hair be considered inanimate?
I haven't used this shampoo long enough to give it a definitive thumbs up but so far, I like it so let's say my thumb is at half mast at this point. Not a full-fledged thumb erection but a little excited nonetheless.
How many of you are examining your thumbs right now?
Don't lie.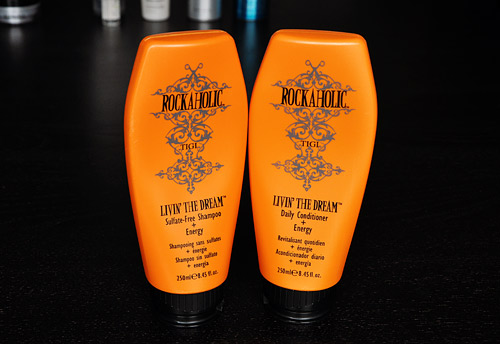 While I love, adore and want to have illegitimate children with the TIGI line of hair color, I do not like the TIGI line of shampoos or conditioners. I tried their Rockaholic line but after a couple of months of mediocre results, I found myself hopping online at ancestry.com to double check that my hair was not, in fact, a direct descendant of the Scarecrow from Wizard of Oz.
As I typed that, it just dawned on me why no one wants to pay me to be their spokesperson.
Aren't epiphanies fun?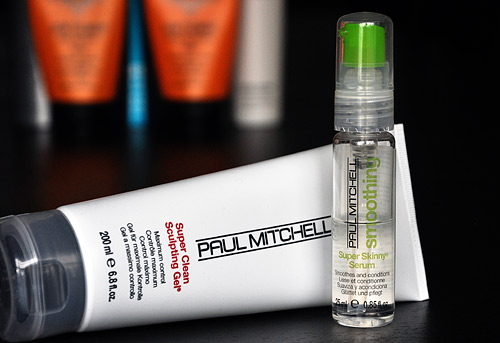 Two more products, Paul Mitchell Super Clean Sculpting Gel and Super Skinny Serum, that I'm not likely to buy again. The sculpting gel was supposed to deliver maximum control for hard-to-hold styles and the serum was supposed to leave my hair smooth and shiny.
Help! We've fallen and we can't get up! <———— these two products falling well short of expectations.
*thud* <———— the same epiphany from before, punching me in the throat.
On the plus side, I'm going to slather the serum all over my body and hope that Super Skinny Serum lives up to its name in that regard.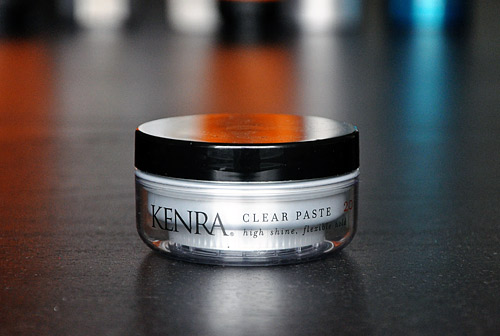 This is Kenra Clear Paste. I have shorter hair and I'm always on the lookout for products that can make my hair piecey or funky without leaving it feeling tacky. And by tacky, I mean sticky. Or tasteless. Either one. I had been pretty happy with Kenra's texturizing taffy for awhile but I wanted something with a little more … I don't know … oomph? This paste is rated a 20 on Kenra's hold index which ranges from zero to 26 with 26 representing a maximum hold so I figured a 20 would give me plenty of oomph.
I have to say, I wasn't too impressed with it on my dry hair. I actually think the texturizing taffy, which is rated a 13, holds style better on dry hair. But this paste rocks on wet hair. I apply it on my towel-dried hair and then blow dry and it gives me great control over my 1,001 cowlicks. Anything that allows me to herd those stupid cows with a hair dryer instead of a cattle prod is a big huge plus in my book. That would be the same book that instructs me to STOP ELECTROCUTING YOURSELF WITH CATTLE PRODS, YOU BIG MORON on page 63.
I'm not even sure if I'm supposed to use this paste this way. The directions say simply "work through damp or dry hair and style" but I think they might mean style with fingers and not a hair dryer set on high.
But who cares?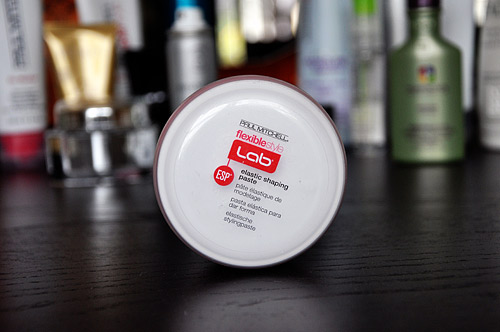 Out of all the hair products I own, this one is, by far, my absolute favorite. It's Paul Mitchell Elastic Shaping Paste and it's the closest thing I can find to an orgasm in a jar because to my knowledge, (1) Anderson Cooper doesn't come in a jar; and (2) Nutella has no styling properties of which I'm aware although I wouldn't completely rule out smearing it all over my head for a few hours, in case anyone wants to conduct a scientific experiment. Actually, I'm willing to do this with Anderson Cooper as well. Anything in the name of science, I always say.
This paste is simply phenomenal. After I finish blow drying my hair, I take about a dime's worth of this stuff, rub it between my hands and then … well? The best way I can describe it is "mush it around" all over my hair. And when I say mush, I mean smoosh and mash as well. I firmly massage it all over my head, rubbing it in and kneading it throughout my hair for a good thirty seconds. Technically, you could liken it to giving your head a quickie hand job but as luck would have it, I'm not a very technical person.
You're welcome.
After I mush it all over my head, I simply piece my hair wherever I want it and it stays where I put it. It's like it's flipping all those wretched cowlicks the bird and telling them to go screw themselves. And best of all? This stuff is cheap. With an ULTA coupon, I think I paid under $11 for the jar and it lasts me a good five or six months. Even at full price, which I think is around $13, this stuff is a total bargain. Especially when you consider that when my hair is short enough, this paste has enough holding power to eliminate the need for hairspray.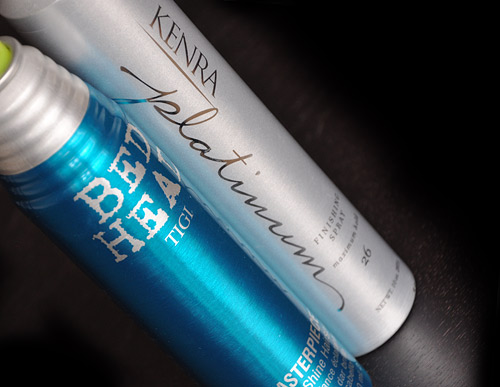 Sometimes, however, the hair atop my head grows as fast as that on my legs which is pretty damn fast considering I can sprout a five o'clock shadow on my calves by noon. Under these circumstances, I always turn to two of my favorite hairsprays: TIGI's Bed Head Masterpiece Massive Shine Hairspray and Kenra Platinum Finishing Spray. Not really much I can say about these two products other than they offer mega hold and shine. Emphasis on the mega. The phrase "helmet head" comes to mind. They're definitely not for those of you who want maximum hold *and* the option to let your significant others effortlessly run their hands through your hair without having to listen to them yelling OUCH, getting splinters and ultimately pulling out chunks of your hair while trying to extricate themselves.
Nothing says romance like playing cowboys and Indians on date night and having your spouse scalp you in the heat of the moment, right?
On a side note, I think the defense department ought to seriously consider issuing every soldier a few cans of this stuff. A few spritzes on their helmets for extra protection and you can kiss those traumatic brain injuries goodbye.
*BIG SMOOCHES*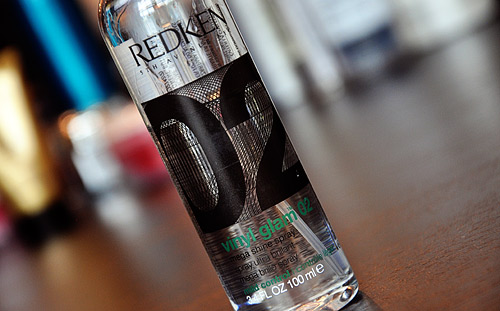 Redken Vinyl Glam. For those occasions when I want to give my hair a little extra boost of shimmer and shine in the middle of the day and really, who can't use that every once in a while? Unless you're a brooding, smoldering vampire standing in direct sunlight in the middle of a crappy movie in which case, you automatically come all sparkly. For the rest of us mortals who can actually act, this stuff is cheap and it delivers.
Just like me!
Except for the delivery part. I've only delivered two things in my life and they're both at risk of being sold to gypsies if they don't stop yelling each other to death.
Your turn! What products do you use in your hair?
Or am I the only hair product whore among us?
.
.