I've decided on something and that alone is worthy of celebration because do you know how long it typically takes me to decide on anything without falling into analyze/paralyze mode? Approximately 7.3 weeks. This explains why it took me over a month to decide on the color of our foyer and why I have 32 frames with no pictures in them. And why Nate and I haven't had sex in almost two months.
Kidding! About the sex thing. The foyer and frame things are totally true but not nearly as interesting, I think.
So, I've decided that every so often, when I get that certain urge, I am going to write about stuff I love. Don't worry … I won't plaster Anderson Cooper all over my blog. I save him for other urges.
Kidding!
Sort of.
It is my hope that doing this kind of post occasionally will serve two purposes: (1) inform my readers of things which could vastly improve their lives, thereby validating my claim of being a productive member of society despite all evidence to the contrary; and (2) help me keep track of this kind of stuff because do you know how quickly I can forget about something over which I was obsessed last week?
One week.
Get it? That was a trick question, in case you didn't catch it. Don't worry, I didn't catch it either until I typed it and then I was all GOOD ON YOU, ANDY and gave myself a standing ovation.
As you know if you're familiar with my blog, I love to browse Etsy. I find the coolest things there, once I weed through all the crocheted vaginas. I stumbled across this one artist a few months ago when I was searching for stuffed animals and I just fell flat on my face in love with her store.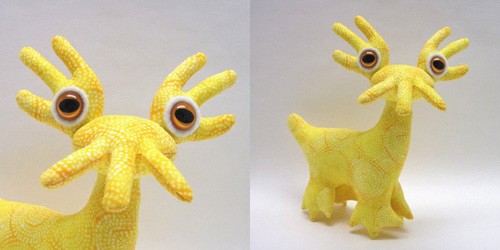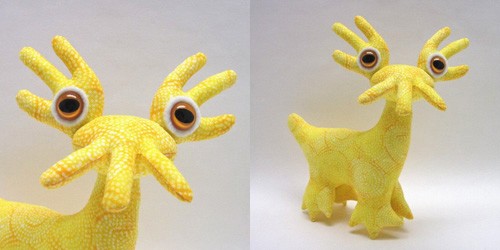 She's Lindsey Banker and she runs an adoption center for aliens at Etsy called Adopt an Alien. And not just any aliens. The cutest aliens I've ever seen. This one is named Canary.
They appeal to the quirky side of me. The side that isn't always up on the latest fashion trends and doesn't always fit in. The side of me that battles 832 cowlicks and tries in vain to compensate for a lopsided lower lip. The side of me that yells I AM NOT AN ANIMAL. I AM A HUMAN BEING. I AM A MAN.
Except that I substitute "woman" for "man" just so there's no confusion.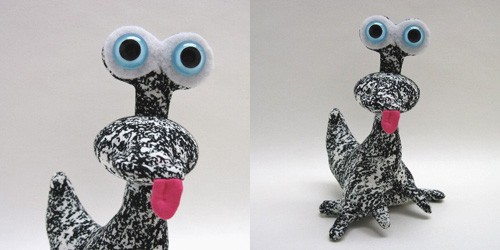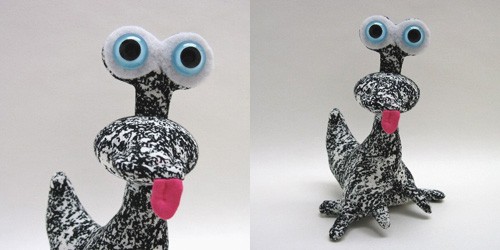 This one is Oreo.
I'm not a child anymore but if I were, I'd be all over these and I wouldn't share and I'd probably be typing this from my chair in my time-out corner.
I think what I like most about these aliens is that they're sweet, cute and adorable but not in a traditional way.
Just like me!
Stop laughing.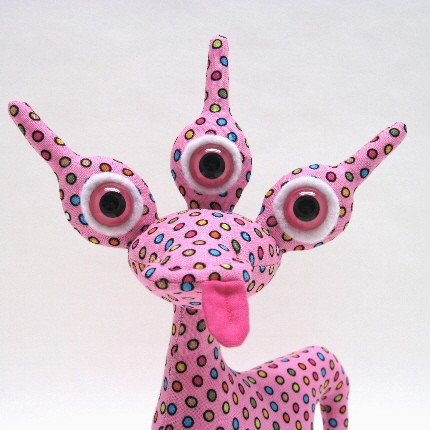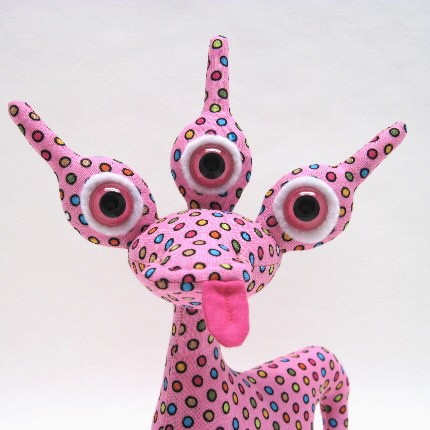 They're different, not mainstream. You aren't going to find these at your local Target and I love that! Take that, corporate America! Score one for the little guy! Woman! Indie artist!
You get my point.
I mean, just look at this one! What's not to love?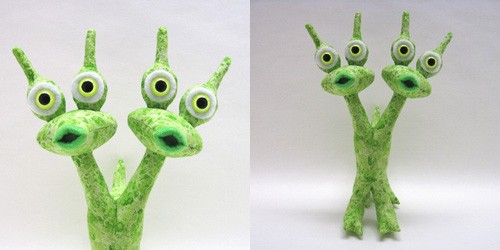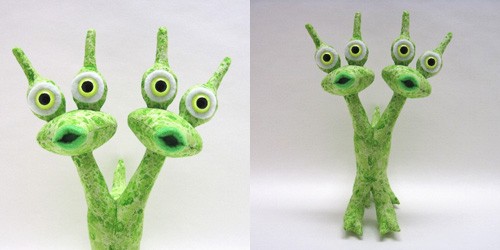 See what I mean?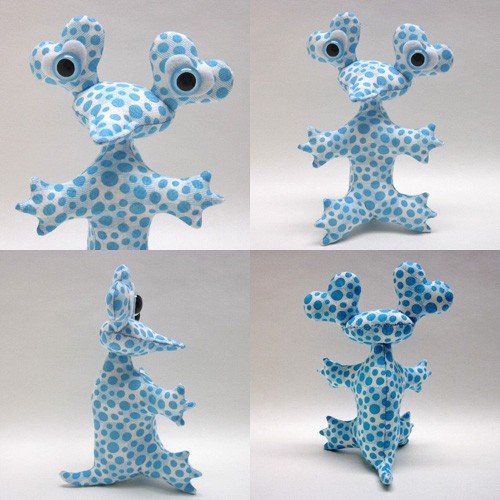 I wish I could say that I'm affiliated with Adopt an Alien in some way, shape or form because that would mean someone is associating with me out of choice and not out of some misguided sense of moral obligation simply because she shot me out of her womb or I shot them out of mine or he took a vow before God without checking my warranty first.
But I'm not. Lindsey Banker has probably never visited my blog, has no idea who I am and is probably wondering who the hell is copping a squat all over her site in two hour increments.
So before I get arrested for cyber stalking, go check out all the aliens up for adoption. One might turn out to be your child's best friend. Even better, it's already potty trained and requires no neutering!
The alien, not your child.
Just in case there was any confusion.
.
.