.
I have not been able to do laundry in three days and it's not because I've refused to do it on principle although I would be completely justified based on the sheer number of filthy, smelly, sticky pairs of socks and underwear wadded up inside dirty shorts and jeans alone. Some might even say that it is my moral, nay … my ethical obligation, on behalf of moms everywhere, to stage a protest and perhaps go on strike until such time as my family gives in to my demands and stops dropping trow in one fell swoop.
But no, the reason at hand for the 75 cubic feet of laundry currently fornicating and breeding on our closet floors is because Nate is busy installing ceramic tile in our laundry room and there's simply not enough room in there for his meticulous nature and my OCD tendencies.
I'm not complaining.
That will come tomorrow, when I'm sorting and washing and drying and folding until the cows come home and I have to do all their laundry too.
In the meantime, the only thing that's getting folded around here is Helena's tongue.
I leave you with the post I wrote last year on this very subject.
Happy Sunday, everyone!
********************************
Why can't she fold laundry like she does her tongue?
.
The other day, my youngest daughter came running up to me and started hopping up and down excitedly, shouting that she had the coolest thing ever to show me. She demanded I get my camera and I was all over it because cool stuff never happens around me. I returned with my camera and she said "are you ready?" and I said "yep" and she said "are you sure?" and I said "I'm sure" and she said "are you really really sure?" and I said "honey, c'mon, I'm getting old already" and she said "what does that mean?" and I went all Nike on her and shouted "JUST DO IT!" and she shouted "OK" and then she proceeded to break her tongue.
And I dropped my camera and yelled "Oh my God, what the hell are you doing?"
And she said "aaagh! ag aarr!"
And I said "What?"
And she said "Mom! Bad word!"
And I said "Who the hell cares, what in the name of holy hell are you doing with your tongue?"
And she said "aaaarrrhhh eeeeeh ooooo?"
And I said "What?"
And she said "Isn't it cool?"
And I said "STOP DOING IT THIS MINUTE OR YOU WILL BREAK IT AND I'M NOT GETTING YOU A NEW ONE."
And she said "I'm not breaking it! I'm just folding it! Look! I can do it over and over! See? It doesn't hurt!"
And I saw her do it over and over again. And I'm not sure if I should be proud or worried or grossed out.
So far, I've decided to be none of the above and have no opinion whatsoever. I'll wait to see what everyone else thinks and then holler "I KNOW, RIGHT?!"
In the interim, I will document it for posterity so I can be ready when and if that day ever comes when she is told by some idiot at recess that she can't do anything special to which I will respond "Hey, no one else I know can fold their tongue in half so you tell him/her/whomever to take that and stick it where the sun don't shine" because I just live for those moments when I am both motherly and eloquent. They don't happen very often. At all.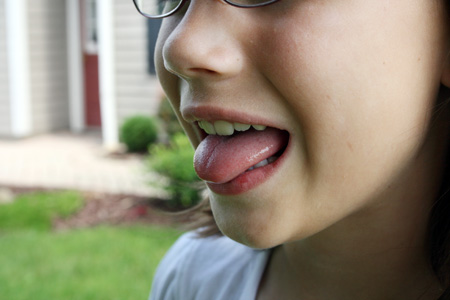 Here she is, sticking out her tongue. Nothing is happening yet. Kind of boring, actually. But just you wait.
.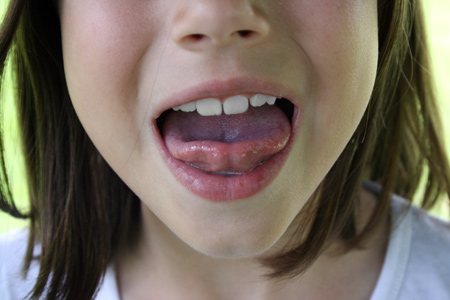 Here she is, just starting to bend it. I think it looks kind of weird, but who am I to judge? I'm just her mom. My opinion doesn't count. And I just remembered, I'm not voicing an opinion until everyone does.
.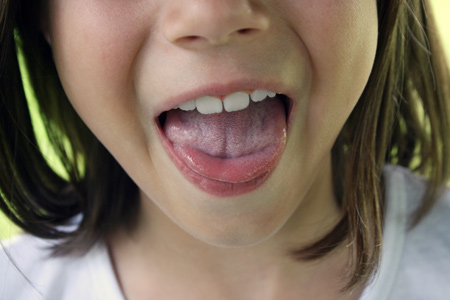 Here she is … it's almost there … just a bit more to go …
.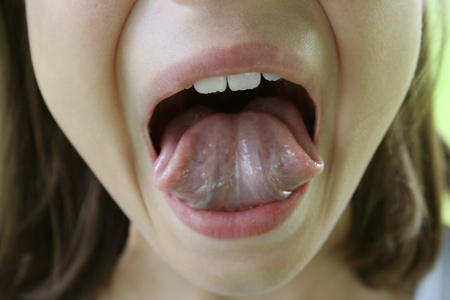 *BAM" – there it is in all its folded glory. Forgive the blurriness, she does it so fast that it kind of freaks me out and causes my hands to shake and my stomach to heave.
.

Here's a side view, just in case you haven't grasped the magnitude of this event. No wires, no tape, no glue. Nothing holding that tongue down except sheer will and determination and some freakish genetic anomaly.
Does anybody else do this? Is this normal for an eight year old girl?
I have no idea where she gets this so I'm going to say it's from Nate's side of the family because … well, just because. Unless somebody says it's a sign of extraordinary talent or the mark of a gifted child in which case it most definitely came from mine.
So, what do you think? Should I be proud? Should I be worried? Should I be throwing up? Should I be typing this from the emergency room?
She can also wiggle her ears. Just thought I'd throw that out there in case it matters.
.
.