I still don't have any photos of our master bath remodel to show you because it's nowhere near done and it's too hard to maneuver in there, what with all the boxes of slate and the shop vac and Nate and the gigantic slow-moving mass known as me.
I'm hoping it will be done in the next month or so and then I'll have some photos for you, provided I can get myself to move out of my way.
In the meantime, I thought I'd show you some before and after pictures of our kitchen and dining room, because I have absolutely nothing else to blog about.
Would someone please tell my family to do something remotely interesting so I have something to write about? I'd be ever so grateful. So would all of you. Right? I know it. Don't lie.
On second thought, lie. Lie like a dog.
WOOF.
Thank you! I feel better now.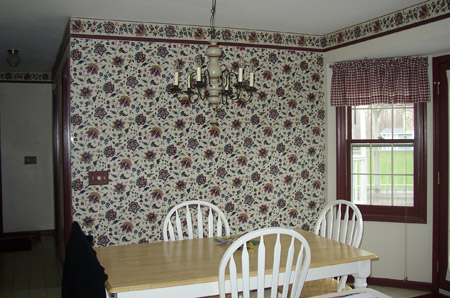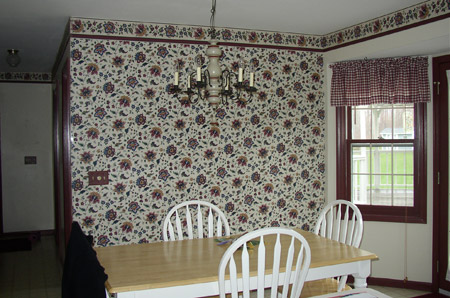 CAN YOU HEAR ME? IT'S SO LOUD IN HERE, I HAVE TO SHOUT.
HOW ABOUT NOW?
This was our kitchen when we moved in. Can you say for shit's sake, what the hell? Because that's exactly what I said when I first saw this wallpaper.
Shhhhh. Did you hear that? It was the wall's muffled cry of PLEASE GOD, GET ME OUT OF HERE.
I asked the previous homeowners exactly when Laura Ashley tripped out on acid and threw up all over their kitchen. They didn't know.
They also didn't know how that thing got on their ceiling and why it was holding candles.
By the way, that dark brownish red paint you see? It was all over the house.
As in, everywhere you saw.
I'm not sure what look they were going for … possibly Rectal Bloody Stool?
Again, for shit's sake, what the hell?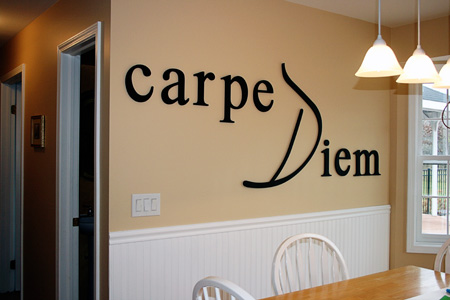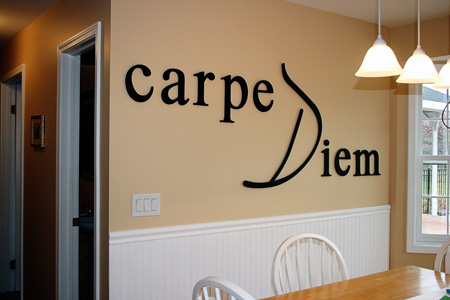 This is what it looks like now.
Nice and calm and serene.
Except for those occasions where the wall stares at Nate during dinner and screams at him to SEIZE THE DAY.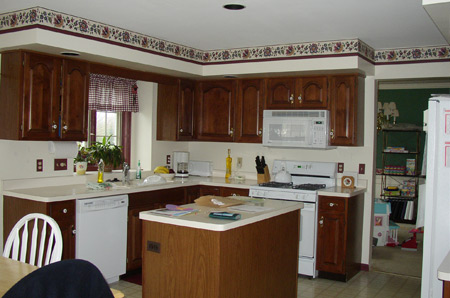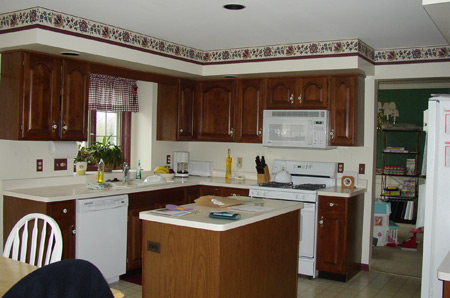 More brown paint, including painted brown electrical outlets.
More of Laura Ashley's chemically enhanced vomit on the walls.
Another brown dingy checkered valance. Ugh.
I won't even mention the cabinet doors falling off their hinges or the gouged and peeling countertops or the stained and chipped sink.
Actually, I guess I will.
And the linoleum?
Oh my God. The linoleum. I think it was white once. Maybe during the civil war?
I used bleach, SOS pads, Soft Scrub and several toothbrushes and still, you'd have been hard pressed not to yell WHO PUKED ALL OVER THE KITCHEN FLOOR?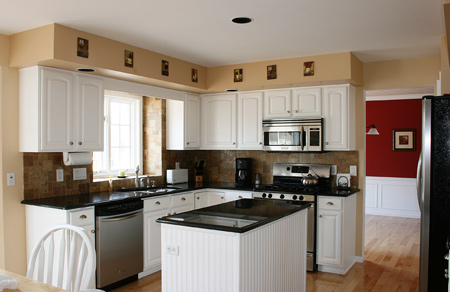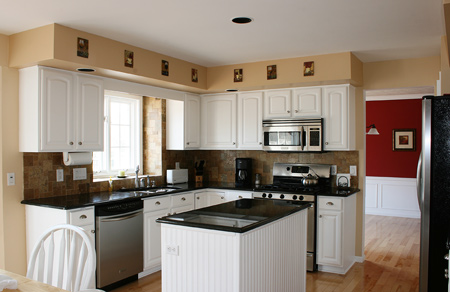 This is our kitchen now.
Well, except for the mountain of crap on the island and the 137 glasses and dishes gracing our sink and the empty ginger ale cans and cereal boxes strewn about and the homework binders dropped here and there. All that stuff is missing. That is, until this afternoon when the three other homo sapiens who live here come home.
Why are homo sapiens so messy?
We painted the cabinets and when I say we, I mean Nate. But we didn't feel like painting dozens of cabinet doors and drawers so we replaced them with new doors and drawers and when I say "we" I again mean Nate.
It was a very long, tedious, drawn out process and we were very impatient during this time and we kept insisting that we hurry it up because we didn't like looking into our cabinets and seeing naked dishes and glasses and pots and pans 24/7 and when I say "we"  I mean the kids. I was perfectly OK with it, as long as I didn't open my eyes for two months.
As a side note, say doors and drawers ten times fast.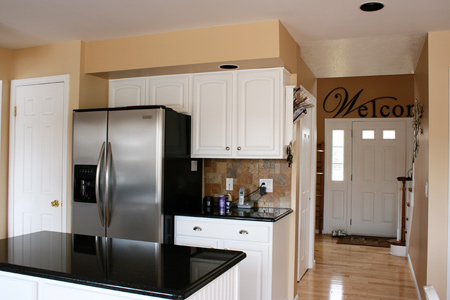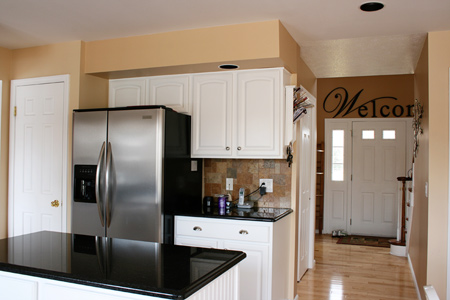 I love our countertops. They're black granite and they're shiny with great curves.
I was shiny once with great curves.
And now, may we have a moment of silence for my waist. Thank you.
Nate and I actually agreed on the black granite color with no argument. I know! I marked the day on the calendar and alerted CNN but Anderson Cooper won't take my calls anymore. I'm hoping Wolf can talk some sense into him. I mean, what's a little restraining order amongst friends? Get over it, Anderson.
Call me.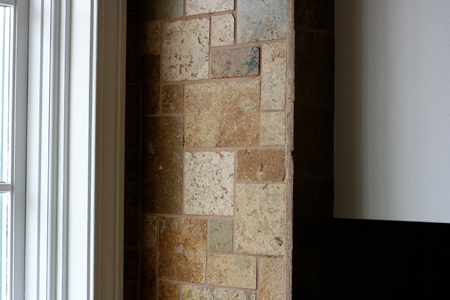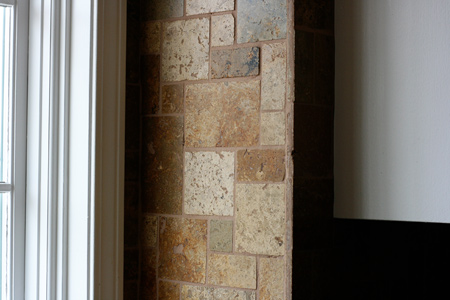 This is the tile backsplash we installed.
Do I even need to qualify the royal "we" anymore? I didn't think so.
Nate had to cut up all these tiles himself. I think there were approximately a million of them. He'd measure, run out, cut, run in, install, measure, run out, cut, run in, install, ad nauseam. I soon became accustomed to carrying on entire conversations with the back of his head.
Nowadays, I carry on entire conversations with his hairline because that's all I can see since his crackberry is permanently affixed to his face.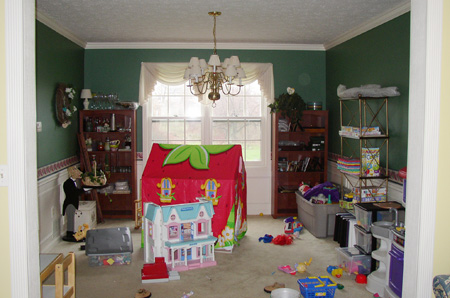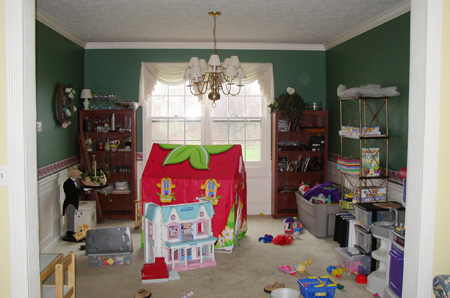 This was our dining room.
We didn't eat in our dining room. That's because we had a little girl named Helena who came out of my uterus with her umbilical cord attached to Toys R Us.
Check out the dark green paint and more wallpaper border. And carpeting.
Did I mention the previous owners kept a bird in this room?
Birds and carpets don't go together. It says so in The Big Book of Common Sense You Numnuts, sold at Barnes & Noble near you.
What do we say about birds and carpet? C'mon everyone! FOR • SHIT'S • SAKE • WHAT • THE • HELL?
And that thing that was on the kitchen ceiling and holding candles? I think it engaged in a little asexual reproduction because there's its spawn on the dining room ceiling.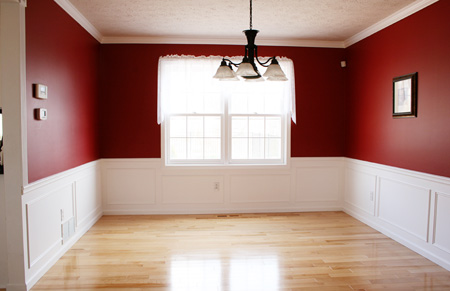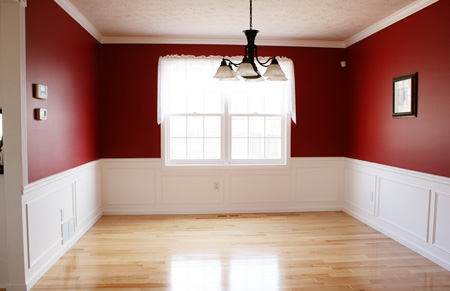 This is our dining room now, which is just a fancy schmancy name for an empty room that serves no purpose but looks awesome. At least, in my world. Just once, I'd like to have a dining room that has a dining room table in it that doesn't fold up and get stored in the basement when Christmas is over.
I'd apologize for the blown highlights on the windows but by this point, I know you expect nothing less of me.
We bought the light fixture at Lowes. No asexual reproduction going on in this house anymore!
None that I'll talk about anyway.
I love our hardwoods. If we ever have to sell this house for any reason, I am ripping out every single plank and packing them in my suitcase.
.
That's it! I do have some before photos of our living and family rooms but I'll wait to show you those until I can take some after shots and I can't take after shots until Nate is finished re-painting and installing built-ins and that won't happen until I convince him that his ARE YOU INSANE? I AM NOT DOING THAT sounds exactly like COOL BEANS, WHEN CAN I START?
.