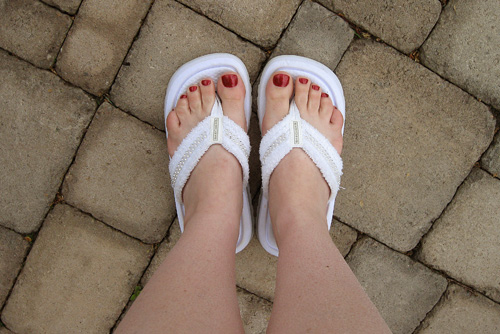 .
The above photo is evidence of which of the following:
Albinos are partial to sparkly flip flops
Tree trunks can sprout feet
Someone has never been introduced to exfoliation, a loofah sponge and/or tan in a can
I'm Not Really A Waitress is the best name for a nail polish EVER
I had absolutely nothing to blog about today
.
I recently returned from a short stay in Pedicureland and despite the embarrassing discovery of a thin row of leg hair that was missed during the deforestation of my legs that morning, I had a wonderful visit and it is entirely possible that once I finish writing this post, I will pack everything valuable I own into my purse and move there.
Right about now, my former mother-in-law is staring at her computer monitor in shock and yelling to my former father-in-law something along the lines of OH MY GOD, MIKE. SHE DOES TOO HAVE FEET! I KNEW IT! YOU OWE ME A CAR.
That's because my former in-laws never once saw my feet during the entire time I dated, married, and subsequently got divorced from their son. That would be the same son who also never once saw my feet in the eight years we were together.
That's because, with the exception of those that happen to be attached to little babies, I do not like feet.
Babies have feet that are made out of soft, supple, brand new skin with itty bitty toes that look like miniature peas which give me a recommended daily allowance of vegetables every time I gobble them up.
Adult feet look like … feet.
I consider adult feet a necessarily evil. Yes, we need them to walk. But is that any reason to flaunt them? We need our lungs too, but I'm not about to stick them in some flip flops and parade them around town for the whole world to ogle.
And don't even get me started on hairy man feet. In sandals.
*thud* <——— me, passing out from the utter grossness of it all.
I was raised with a mom who had what could very well be described as the ugliest feet on the face of the planet, as well as the universe and quite possibly several other galaxies that haven't yet been discovered. And to this day, my dad's feet give my mom's some fierce competition.
I just knew that it was only a matter of time before my own feet went all Cinderella on me and turned into pumpkins. Big, decaying, blackened, twisted, gnarled gourdes that I'd have to drag around with me. Until I died.
Thus was born my self-induced paranoia of my own feet and the assumption that, as far as my first husband, former in-laws and the world in general were concerned, my legs just ended in bloody stumps that I shoved into sneakers.
But then two things happened.
Number one:
I got divorced and met Nate. And he insisted on seeing my feet and I insisted that he rip off both my legs and bash me about the skull with them as it would be far less excruciating. And then we wrestled and he pinned me down and yanked off my socks and stared at my toes. I tried to gouge his eyes out with my thumbs but he sat on my forearms so I simply laid there and shrieked at the top of my lungs, willing the earth to just open up and swallow me whole, hideously repulsive feet and all.
Could our courtship have been any hotter?
But as it turned out, he did not vomit while scrutinizing my feet. Even my pinky toes didn't freak him out, the same type of pinky toes that my twin brother tried in vain to have surgically straightened but which stubbornly reverted right back to piggy tail-ness when no one was looking.
And then Nate did something that I had only encountered in nightmares involving my death, embalming and a horny, necrophiliac mortician.
He rubbed my feet.
Have I mentioned that Nate has opposable thumbs like you would not believe? To this day, it is not uncommon to see me chasing Nate around the house, tackling him and sticking my feet in his face, begging for a foot rub.
Could our marriage be any hotter?
Number two:
I had my first pedicure, otherwise known as DON'T BOTHER ME, I'M BUSY HAVING AN ORGASM.
It was meant to be a challenge to myself, to see how long I could last while some stranger examined, touched and manipulated my feet. I thought I could manage maybe 45 seconds tops, before I rammed the technician's nose into her brain and ran screaming out the front door.
Ninety minutes later, I was on the phone with my bank, determining the equity in our house and calculating the approximate number of pedicures it would buy me.
In Pedicureland, I can sit back in a chair and have it give me a shiatsu massage and relax in the knowledge that the chair won't expect to have anything of its own massaged after David Letterman is done with his Top Ten.
In Pedicureland, someone rubs and kneads my feet for fifteen minutes without hoping or expecting to get anything of their own rubbed or kneaded, let alone for fifteen minutes.
In Pedicureland, I can have an actual conversation, with words and everything, without ever once having to utter the phrases (1) Smell it yourself; (2) Why are you interrupting me if you are not throwing up or hemorrhaging?; or (3) BECAUSE I SAID SO.
I leave Pedicureland a brand new person. Reborn with pretty feet.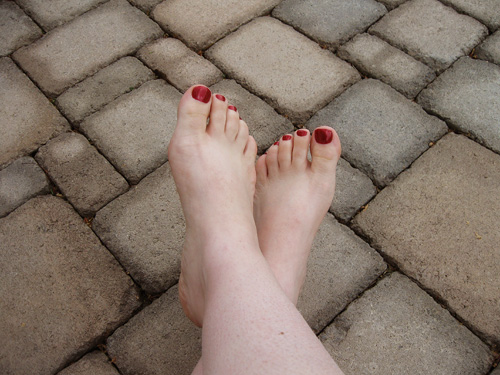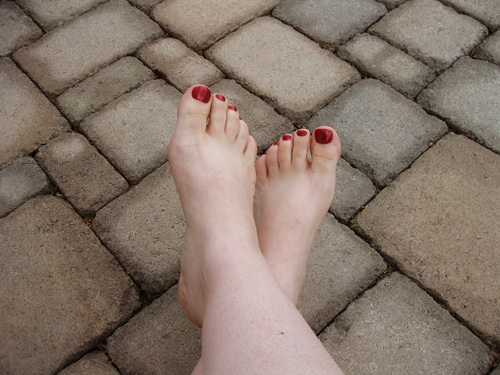 I think pedicures could cure cancer.
At the very least, it cured my foot phobia. If I have a pedicure, I can actually stand to look down at my own feet, provided I can get past the double d's blocking my view. I can even glance at other people's feet and not have to fight the urge to peel the corneas off my eyes.
This is progress for me. Slow but sure. Baby steps. Taken with pretty toes dipped in I'm Not Really A Waitress.
Now if they could just outlaw hairy man feet in sandals. Because as far as I know, there is no cure for that anomaly yet.
.
.