I have approximately 471 things to do today before the girls get home from school so unfortunately, I do not have time to blather on and on and on and on as I typically do in this blog.
Did I just hear a collective sigh of relief?
Among other things:
I need to grocery shop because apparently, the six other times I shopped this week were insufficient. I don't know what it is about this house but whenever I bring food into it, it lasts for about seven minutes and then it's gone and all I hear is THERE'S NOTHING TO EAT IN THIS HOUSE. I am so tired of hearing that, I swear to God. The next time they whine that they're starving, I'm going to duct tape my debit card into their mouths and let them chew on that for awhile. Did I mention I'm cranky? It's because I haven't had my snack. And that's because there's nothing to eat in this house.
I need to do laundry because I cannot see the floor in my laundry room and that's never a good sign. Who knows what could be buried there? By the way, has anyone seen Helena lately?
Speaking of Helena, I need to play Littlest Pet Shop with her because there's only so many times I can tell her "not right now, later" before she comes to realize that later really means never and can you imagine the emotional upheaval in her future when she's texting her boyfriend and he signs off with " C U L8R" and she has a meltdown because she believes the love of her life just up and dumped her for no reason at all? That's assuming they're texting. Who knows what form of communication they'll have thirty years from now when she's actually allowed to date.
I need to return movies to Blockbuster which means I need to find someone to ride shotgun because when I return movies to Blockbuster, I drive up next to the store and have whoever is occupying my passenger seat get out of the car and deposit the movies in the drop-off box. I've tried flinging the movies into the drop-off box from my seat when I'm all alone but all that really accomplishes is hitting an unsuspecting passerby in the head, thereby proving to the universe that I was never cut out to play ball. I suppose I could actually park my car and walk to the depository … (pause, tap my fingers, think really hard) … nah, that won't work. But I'm proud of myself for even considering that option.
I need to go to the bank so that I can deposit money into our savings account so that Nate can come home tonight, hop online, transfer the money into our checking account and pay bills. Yes, I could deposit it directly into checking but I really enjoy getting that receipt proving that our savings balance actually can increase, even if it happens only once in a blue moon and then only for a few hours. I smooth it out and stare at it and contemplate framing it.
I need to register Zoe for swimming. She's swimming JV this year for the first time ever but that only lasts for about two months. After that, she'll be swimming for our local swim club until June. She's been swimming for about four years now and it's such great exercise. I should do it. If they ever invent a swim club where I can swim by myself with no spectators in 90º water with the deck air conditioned to 75º and I can wear something loose fitting that covers me from my neck to my knees and there's complimentary lasik thrown in so that I don't have to wear prescription goggles, I will be all over it.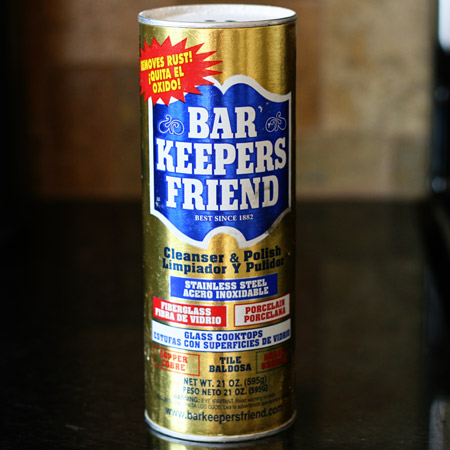 I need to scrub my stainless steel pots and pans and sink with Bar Keeper's Friend. Have you ever seen this stuff? It is simply amazing. And no, we don't own the company. Hah! Wouldn't that be nice? To own a company? Any company? But no, we don't own this company, or any company for that matter. And we don't know anyone who works for this company. And we don't have stock in this company. And the company is not paying me to say nice things about them because no one pays me to say nice things about anything – to whom do I speak to rectify that situation? Anyway, I got this at Bed, Bath & Beyond with a 20% coupon and it's been the best $3 investment I have ever made. I use it every so often on my Emerilware stainless steel pots and pans because no matter what I cook in them or how I cook with them or how I clean them afterward, they always wind up stained. Emeril, if you're out there, please note that the *BAM!* factor of your pots and pans leaves a lot to be desired. There's something kind of sad about *BAM!*less pots and pans. But every once in a while, I sprinkle some of this stuff on them and clean them with hot, sudsy water and all of a sudden, I can see the reflection of the space shuttle in them. They *BAM!* like never before. I'm going to try bathing in the stuff and see if I get the same results. Wouldn't it be nice to *BAM!* like never before?
I need to season my cast iron skillet AGAIN. Seriously, I am this close to shouting I HATE YOU, I HATE YOU, I HATE YOU and driving over it with the Durango. I won't bore you with the details now … I'll save those for another post. How lucky are you?
I need to organize my office. This is one of those things that never actually gets done no matter how many times I say it. Kind of like "I need to lose weight" or "I need to vacuum."
So, there you have it! A small sampling of what I will be doing today. It's an effort to stop the tidal wave of enthusiasm welling up inside of me at the moment. Good thing "get a colonoscopy" isn't on my list because if it were, I honestly do not think I could restrain myself from shouting with glee and jumping all over my house in fits of excitement and then what would my neighbors think?
And it just struck me that despite my aforementioned misgivings, I am apparently more than capable of blathering on and on and on and on today.
What's on your TO DO list? Do you even have one? If not, you should seriously consider getting one.There's nothing like writing down your best of intentions and then falling short of them on a daily basis. Keeps you humble.