It's Wednesday, which means …
It's not Friday, and …
It's not Saturday, therefore …
I can't count on pizza for dinner, which means …
A BIG DAMMIT, because …
I have to actually cook something, which entails …
Physical and mental exertion, both of which …
I ran out of Monday, along with peanut butter, so …
ANOTHER DAMMIT, because now …
I have to figure out a meal which …
Everyone will eat, and which …
Hasn't been served ten times already this week, therefore …
I will cry, and …
Trip over five laundry baskets, which are …
Chock full, on my way over to the pantry, which is  …
Chock empty, because …
IT'S WEDNESDAY. HELLO? But hope springs eternal so …
I will peek into my freezer, and …
Stare at one hot dog and three tater tots, which means …
DAMMIT, DAMMIT, DAMMIT, because now I need to …
Yank on my big girl panties and …
Suck it up, and …
Get dressed, and …
yell SHIT ON A STICK repeatedly, all of which leads up to …
Yet another trip to Wegmans.
.
I'm considering having my mail forwarded there.
OK, on to the winner of the $200 Quickutz.com shopping spree!
First, a huge THANK YOU shout out to everyone who participated. You guys made me feel so much better by either having no idea what a 401K was (lucky you) or giving me permission to hock up a loogie on it and flush it down the loo.
I love that word, "loo." So fancy. Makes me want to get all gussied up before I go pee.
And to all of you out there who do not shave your legs every day ((waving)) … A TOAST TO WOOLY MAMMOTHS EVERYWHERE. May we grow strong and prosper.
Group hug!
OK – here we go:
I used random.org and asked it to spit out a random integer between 1 and 190, inclusive, (which was the total number of comments I received by 5:00 pm eastern time, and please, somebody tell me why I cannot get WordPress to display eastern standard time correctly in my comments? Is it a daylight savings thing? Or am I just a moron?) and this is what it spewed forth at me: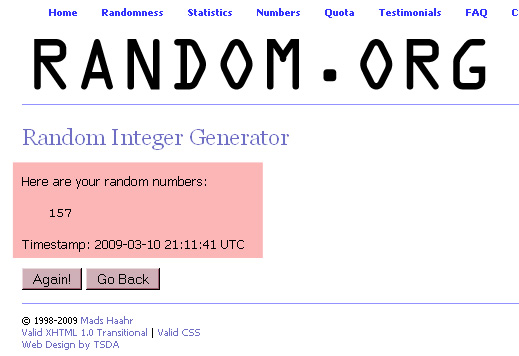 and the comment corresponding to that number was: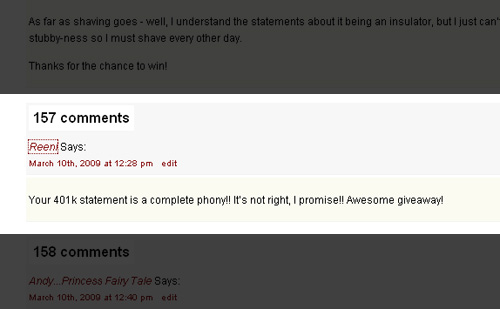 Congratulations Reeni! Contact me at admin@thecreativejunkie.com so I can fill you in on all the details! Now go forth and be crafty. Oh, and if you could, tell everybody you meet that I'm a size 6. I'd appreciate it.
Off to Wegmans. They just called, wondering where I am.
.