Earlier this week, I took Zoe to a new salon in the village for a hair and makeup consultation because prom is next week and between the dress, shoes, alterations, pedicure, manicure, jewelry, ticket and limo, we haven't spent enough money. All that hollering and squalling Zoe was doing the moment she was sprung from the womb? That was newborn for PROM IS ONLY 6,235 DAYS AWAY, GUYS! JUST A HEADS UP! ALSO? CAN SOMEONE CUT THIS CORD OFF ME? BECAUSE, EWW.
By the way, who watched the prom episode of Parenthood last month? Afterward, who briefly considered locking her daughter in the basement until she turns forty? Or, at the very least, discreetly stitching a nuclear chastity belt into the seam of her dress?
I knew not knowing how to sew was going to bite me in the ass one day. Right now, my seamstress mother is yelling I TOLD YOU DUCT TAPE ISN'T THE BEES KNEES, DEAR. And my dad is yelling WE'RE HAVING DUCK AND BEES FOR DINNER? WHY?
The salon was on Main Street and for only the third time in my life, I was forced to parallel park, the first being my driver's test twenty-eight years ago and the second being last year, which is the subject of the post I leave you with.
Happy Sunday, everyone!
.
*************************
In my defense, the curb was only three inches high. It's not like we needed a parachute or anything.
(originally published May, 2010)
.
Last night, we arrived at Helena's softball practice to find that the only available parking spot was located alongside the curb, between two parked cars.
After I executed a somewhat questionable 17¾ point turn, I made an executive decision, one that I think we can all agree with …
.
.
.
.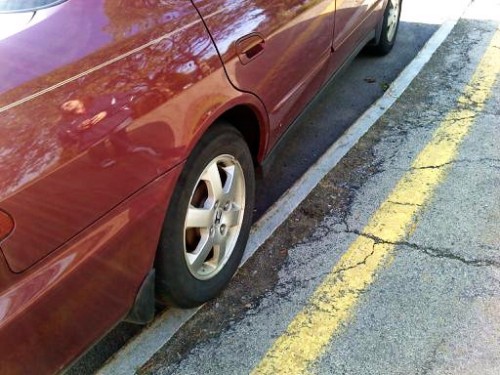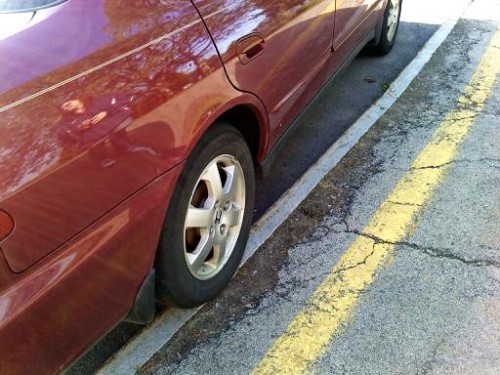 I should not be the one to teach Zoe how to parallel park.
Amen.
.
.