About a year and a half ago, I wrote this post where I lamented my cholesterol levels and my aversion to setting limits and my inability to manage goal weight because I am genetically incapable of moderation. I could lose weight with no problem but maintaining it was an entirely different story, a story brimming with failure, loathing and cheesecake, culminating in a size 16.
After I wrote that post, I decided to embrace the chub because, well, why the hell not? I don't smoke. I don't do drugs. I don't even drink anything stronger than water. No coffee, no pop, no iced tea. I don't text while driving, I don't watch porn, I don't have my nails done, I don't sleep around, I don't buy lottery tickets, I don't collect anything other than dust and I'm not into shopping sprees unless it rains down $100 bills and when was the last time that happened? I mean, other than in Nate's mind before he hops online with a credit card? Except for Real Housewives, food is the only vice I enjoy! If I'm going to die, I'd rather do it fat and happy than thin and miserable, right? So I continued to lumber toward the plus size department, popping my Simvastatin and following it down with a pasta carbonara chaser.
And then two things happened.
First, we took a trip to New York City where this occurred: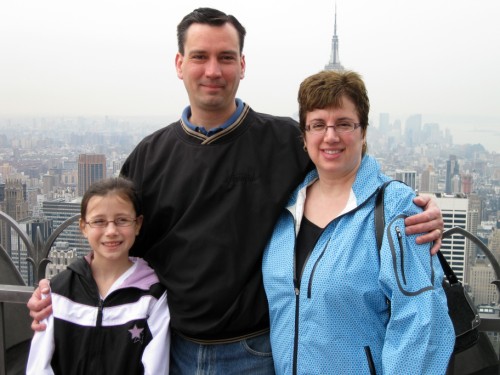 For the moment, let's ignore the Empire State Building sprouting from my head, shall we? And the haircut that looks like I went ten rounds with a rabid weed whacker and lost. And the fact that Nate looks like PeeWee Herman's uncle.
Let's concentrate on the fact that while I am quite a bit shorter than Nate, I am at least twice his girth. If this photo were a map, I'd be the Atlantic Ocean.
Second, we went for ice cream at the canal, where this occurred: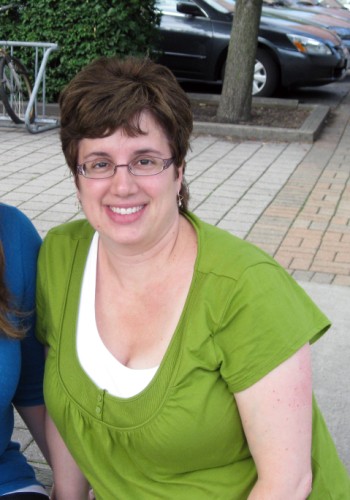 I spy a watermelon with arms. And cleavage.
When I saw these photos, I simply could not believe I was looking at me. Me. Where the hell had I gone? I mean, besides up to the dessert bar far too many times? When I asked Nate how he could have let me get to that point, he had nothing to say for himself other than "I love you, no matter what the scale says," to which I responded EVEN WHEN IT SAYS OH MY GOD, GET THE HELL OFF ME, YOU'RE GIVING ME A HERNIA? WHAT THE HELL KIND OF HUSBAND AND SMALL APPLIANCE OWNER ARE YOU?
And so in August, 2009, I experienced a whopping case of déjà vu and commenced my second journey with Weight Watchers and last week, this occurred: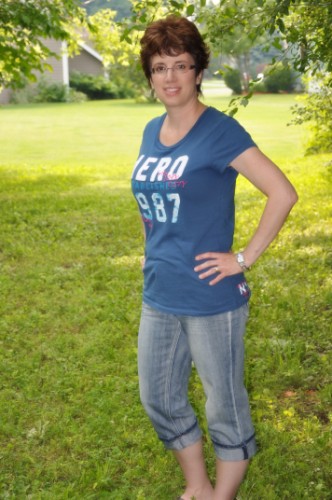 The first time around with Weight Watchers was seven years ago and then, it took me less than five months to not only lose forty pounds but to maintain it for six weeks and become a lifetime member. This time around? Not so much. It took me ten months to simply lose those same forty pounds thus proving my theory that losing weight after forty is not so much a bitch as it is a raging, hormonal, vitriolic, scum infested, fetid, shit spewing, soul sucking, castrating hag.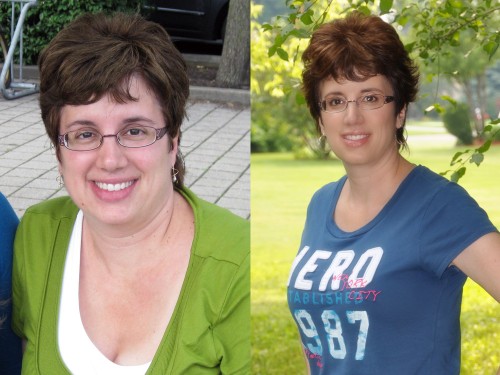 Over the course of ten long months, I lost forty pounds, three chins, two spare tires and went from a size 16 to a size 8 and sometimes, on those few days a month when neither Mother Nature nor I are on the rag, a size 6.
I feel … well, lighter! Not as sluggish. I hollered HOLY SHIT, WHERE THE HELL HAVE YOU BEEN? I MISSED YOU GUYS to my neck and ankles when I first spotted them and now we're inseparable. I don't wheeze when I go upstairs or put on pants. I can give myself a pedicure without passing out. And I can now see my legs when I'm shaving in the shower which results in a lot less sightings of Chewbacca around these here parts.
A few observations about this journey:
It was much harder to lose the weight this time around because my metabolism turned forty a couple of years ago and since then, suffers from narcolepsy. But unlike the typical narcoleptic who experiences brief episodes of sleep, my metabolism lapses into a coma for weeks at a time. Sometimes I had no choice but to *shock* it back into reality and I did this by eating a big, honkin' piece of peanut butter pie every now and then because, as it turns out, defibrillators aren't hanging under lock and key on walls in restaurants and malls simply for the taking. It's near impossible to ask for a defibrillator without some nosy busy bodies getting into your business, demanding to know what you're going to use it on and more often than not, narcoleptic metabolisms don't meet the threshold. Whoever made up that rule is probably thin and can suck in his stomach and actually see it move. So let me rephrase. Whoever made up that rule is probably thin and can suck it. Period.
It also took me much longer to lose the weight this time around because I was not obsessed with counting points as I was seven years ago. I admit, I may have used Twitter and Facebook and this blog to allude to my belief that eighteen points a day was akin to Nazi sadism but, all in all, points did not consume me.  Seven years ago, I would have sooner bitten off my own feet and grilled them with some asparagus, even though I loathe asparagus, rather than risk the excess points associated with boxed macaroni and cheese. But this time, I reigned in my OCD tendencies and ate whatever I wanted, watching my portion control and tracking my points. Sometimes I even went over my daily point allotment and much to my surprise and relief, the world did not come to an abrupt end in a fiery inferno. I'm proud to say that no one was woken up by a 2:00 a.m., phone call only to discover some starving lunatic on the other end screaming OH MY GOD, HOW MANY POINTS WERE IN THAT TORTILLA CHIP I HAD AT LUNCH?
I detested it and did everything in my power to avoid it but, I eventually bit the bullet and even though I gagged and wretched and just about choked to death on the goddamn thing, I … ugh, it's hard to even say it …  exercised. I know! You don't have to tell me. The only thing worse than exercise sweating is sweating for no reason at all, right? I started out by walking on the treadmill for twenty minutes at a time, worked my way up to walking outside, then did a walking/jogging/crying combo for a time, then a walking/jogging/hysterics/for-God's-sake-someone-shoot me-and-end-my-misery medley until eventually, I was jogging two miles a night, 3-4 times a week. Still am. Don't get the wrong idea, though. It's not pretty. I'm not an athlete and the only thing that comes naturally to me is blinking so it's not like I can finish with my run and then immediately do other stuff like stand upright or talk. But, after the delirium and hallucinations subside, I wind up feeling damn good about myself and that's enough to make me want to do it again.
I'll write another post detailing the foods and snacks I ate and some other tips that I learned along the way, in case any of you are interested. For now, I'm enjoying looking down and actually seeing my feet without resorting to using magic mirrors. Seeing as how I'm on maintenance and it was maintenance that drop kicked my ass all over the kitchen last time around, I'm not going to raise my fist on this blog and proclaim anything ridiculous like As God is my witness, I'll never be fat again. Not only because I don't want to set myself up for public failure but also because it's really hard to type with one hand. Besides, honestly? There's no fun in going all Scarlett O'Hara when Nate continues his refusal to dress up as Rhett Butler. I mean, really. What's the point?
.
.